Heptabase 1.0
Introduce Heptabase 1.0, as well as our preliminary plans for Heptabase 2.0.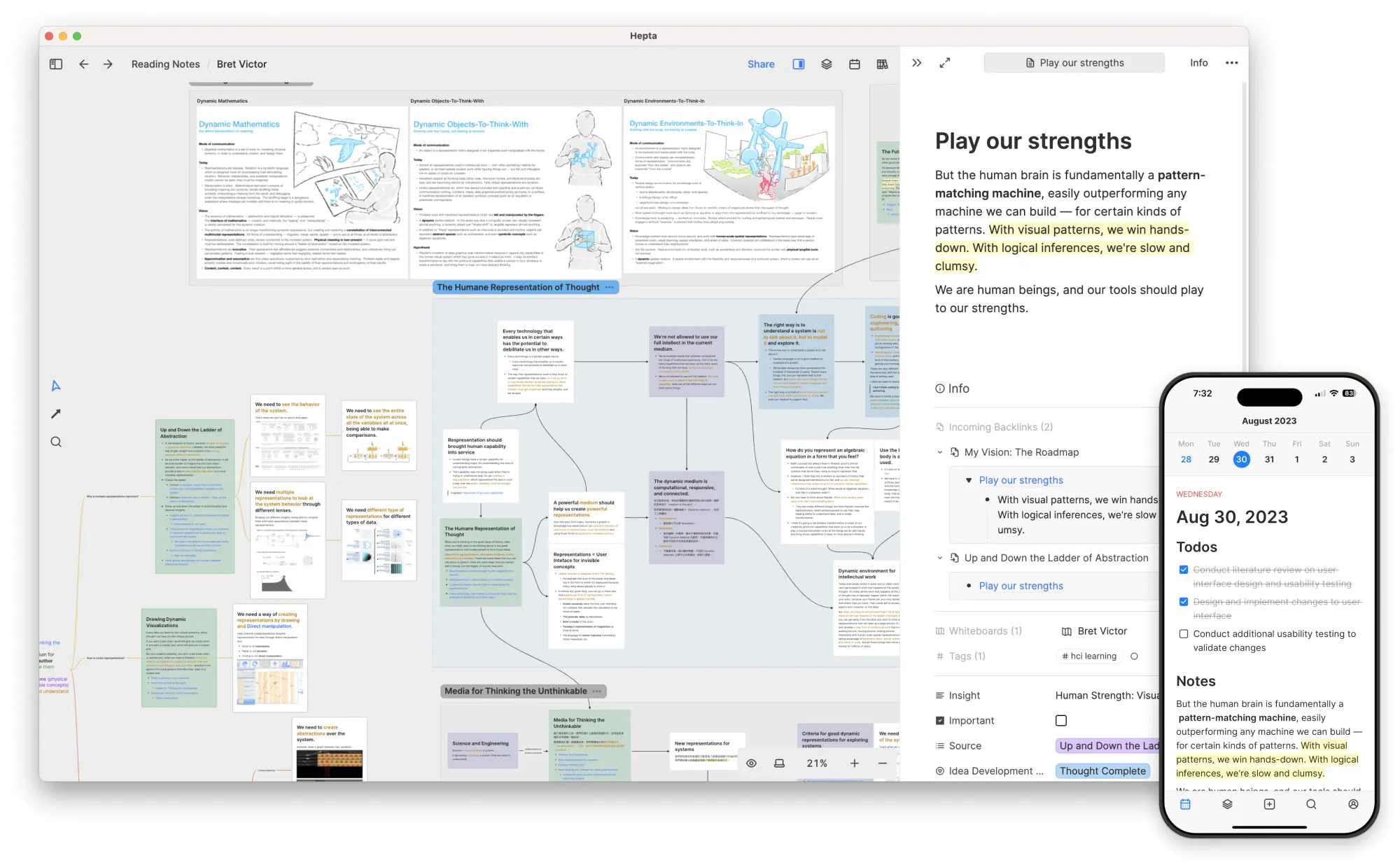 Introduction
After undergoing eight months of closed alpha testing and eighteen months of public beta, with the product iterating through over three hundred versions, I'm excited to announce that we've officially launched Heptabase 1.0 today! If you've never used Heptabase before, you can now register for a one-week free trial!
In this article, I will share what problem Heptabase 1.0 aims to solve, for what types of people. I will also cover the core features included in Heptabase 1.0, the current state of Heptabase as a company, and our thoughts and plans for the future of Heptabase 2.0.
The Problem Heptabase 1.0 Focuses on Solving
Heptabase's vision is to create a world where anyone can effectively establish a deep understanding of anything.
We understand that this is a grand vision that needs to be executed in multiple phases. In the knowledge life cycle of "exploring → collecting → thinking → creating → sharing," we aim to first address the "collecting → thinking → creating" phases with Heptabase 1.0. Therefore, we have positioned Heptabase 1.0 as the best tool for learning and researching complex topics.
The most crucial use case for Heptabase 1.0 is to help you analyze, understand, and digest complex literature, integrating this knowledge with your own ideas to create high-quality outcomes. For example:
Product managers, founders, executives, and other team or business leaders use Heptabase to research niche market knowledge, organize business information, oversee company projects and product lines, and use this understanding to drive project, product, and business development.
Engineers, designers, salespeople, lawyers, financial analysts, investors, journalists, and other skilled professionals use Heptabase to manage development requirements, organize design ideas, track client status, cross-reference legal documents, build investment theses, manage company relationships, and analyze current events, so that they can create better output in their professional work.
Researchers, graduate students, doctors, and other domain experts who need to publish academic papers use Heptabase to read papers, organize knowledge and ideas in their field, develop research frameworks and procedures, analyze and summarize experimental data, and use this understanding to produce research outcomes and discoveries.
Authors, screenwriters, game developers, video content creators, teachers, consultants, and other creative users often use Heptabase to organize writing materials, design storylines and game worlds, plan video scenes and scripts, and develop teaching and consultation content. This helps them deliver better works to their audiences.
Students, job seekers, self-taught learners, and people who like to learn new things in their non-working hours use Heptabase to organize courses and reading notes, improve professional skills, research their own topics of interest, and manage life and work inspirations and ideas.
Regardless of which type of user you are, the essential use of Heptabase is the same: to help you establish a deep understanding of any topic you care about and use that understanding to achieve your most important goals.
Core Features of Heptabase 1.0
In Heptabase, our goal for version 1.0 is to provide the best experience for "thinking," while seamlessly integrating it with the "collecting" and "creating" phases. As a design-driven company, we believe that only the best user experience can foster the deepest understanding. The best user experience includes:
Every detail of the user interface and microinteraction should be as friendly, polished, and intuitive as possible.
Features that are sufficient to allow users to achieve meaningful workflows, but not so many that users find them complicated;
All features are carefully and cohesively designed around a better method for learning and conducting research;
The product should be ready-to-use "out-of-the-box," with a low learning curve. Users shouldn't have to spend much time setting up a productivity system;
The overall integrity of the product should be strong. Every moment the user experiences after subscribing, every email they receive, and every official document they read should all be carefully designed.
Drawing an analogy to operating systems, what Heptabase aims to achieve is an Apple-level product experience. If the majority of users can get into the flow of thinking as soon as they open the product, then Heptabase is ready to release its version 1.0.
Under this product philosophy, Heptabase 1.0 focuses on helping users accomplish the following five things:
Learn and Research Complex Topics Deeply and Visually.
We have built the best whiteboard for learning and researching complex topics. You can easily break down lengthy card notes into atomic concept notes that help you see the connections between all the knowledge and concepts of a topic. You can organize the structure of topics using Nested Whiteboards; use Sections to group cards on the whiteboard and see the big picture; use Mindmaps with auto-layout to quickly adjust your understanding of a topic; and use custom arrows of various styles to fully represent your thinking process.
In addition to all the whiteboard features, we have also developed spatial algorithms such as Card Space-out, Section Auto-grow, Fit-to-content, Tidy Up, and Keyboard Navigation to help you focus on thinking without being distracted by cumbersome layout work.
Easily Capture Any Form of Knowledge and Ideas
Heptabase's block-based card editor supports all kinds of block types you can imagine, including to-dos, tables, images, audio, video, files, math formulas, code, headings, foldable lists, quotes, dividers, dates, etc. We also support bi-directional links between cards, dates, and whiteboards, and have designed an info section to present the context of backlinks. Any content written in the card editor can be exported as Markdown files at any time.
Systematically Manage Large Amounts of Homogeneous Data
Heptabase's Tag and Property features can help you systematically manage homogeneous data such as literature, meetings, contacts, tasks, etc. You can use Table and Kanban views to view cards managed by tags and properties. The Table view is great for displaying key information from a large number of cards at once, while the Kanban view is great for tracking the progress of important projects.
Fluidly Digest and Understand Literature
We believe that the highlights made by users while reading are crucial material for subsequent learning and research. Therefore, Heptabase 1.0 not only supports importing PDF files and Readwise annotations, but users can also create highlights and annotations from text and areas in PDF files, placing them on the whiteboard for analysis or embedding them in cards as references.
Capture and Access Knowledge Anytime, Anywhere
We want to ensure that our users can use Heptabase anytime, anywhere. Therefore, since the closed alpha stage, Heptabase has been an offline-first desktop application, supporting mainstream operating systems like Mac, Windows, and Linux. Last October, we launched real-time cross-device syncing, and in January, we launched a full-featured web app. In August, we continued to roll out full-featured mobile apps on the App Store and Google Play. We also upgraded our search engine in July of this year for the desktop, mobile, and web versions of Heptabase. This upgrade enables you to search through tens of thousands of notes in less than a second.
Current State of Heptabase as a Company
Heptabase was founded in September 2021, and the team has gradually expanded from three to six people over the past two years. We believe that a smaller team has a higher execution speed and agility, which is especially critical during periods of early product iteration.
We raised nearly $1.7 million in seed funding from top Silicon Valley investors such as Y Combinator, HOF Capital, Kleiner Perkins, and Moving Capital in early 2022. However, unlike many Silicon Valley software companies, we have been cash-flow positive since our first year of operation. We have not spent any investor money over the past two years; all company expenses are fully funded by our revenue, which has been growing at a rate of at least three times each year without any marketing spend.
A healthy financial status allows Heptabase to operate the company and iterate the product long-term without needing to raise additional funds. The cash reserves we hold also enable us to conduct various experiments that can help us achieve our vision without worrying about survival pressures. We also believe that a sound financial situation will allow users to use Heptabase more confidently, without having to worry that poor company operations will force them to relocate the notes and content they've accumulated.
At present, Heptabase 1.0 has only completed about 10% of the company's vision. We still have a long way to go, and we continue to prioritize sustainability as our highest operational principle.
Future Plans for Heptabase 2.0
Heptabase 1.0 is just a starting point. In the coming months, we will continue to actively iterate Heptabase, pushing it towards version 2.0. For Heptabase 2.0, in addition to continually enhancing the capabilities of whiteboards and mindmaps to provide users with the best "thinking" experience in the world, we will allocate more resources to upgrade the experience in the "collecting" and "creating" stages.
Our Iteration Direction for the "Collecting" Stage
More Types of Cards: Currently, users can embed images, videos, audio, and other file formats in Heptabase cards. However, these files cannot exist as independent cards like PDFs or have annotations added to them. As we provide more types of cards, users will be able to convert these files into corresponding card types and place them directly on the whiteboard for annotations. Literature will not be limited to just text but can include any multimedia format.
Easier Web Resource Capture: In addition to PDFs and multimedia, many users now gather the majority of their research material from the web. Therefore, we will invest resources to develop functionalities for reading, capturing, and annotating web resources, allowing users to seamlessly integrate this into their Heptabase whiteboard thinking process.
Better Readwise Integration: Heptabase 1.0 allows you to place Readwise highlights on the whiteboard or within cards, but it does not support sorting or merging highlights from the same literature. We recognize that this workflow is crucial for some users who like to manage their reading notes with Readwise, and we will upgrade this experience before 2.0.
Improved Inbox: While the Heptabase Journal helps you quickly capture ideas, it does not clearly distinguish between ideas that need further development and those that are only useful in the moment. We are considering integrating an Inbox-like mechanism with the Journal to help you separate ideas that you want to develop in the future.
Faster Loading Speed: The initial loading speed of Heptabase's web app is a bit slow. Although the mobile app starts more quickly, it still takes 1–2 seconds. We will continue to improve loading speeds through various engineering techniques, such as on-demand loading and reconstructing certain logic with native components.
Our Iteration Direction for the "Creating" Stage
Better Task Management: We understand that many users need to manage a large number of tasks and to-do lists while using Heptabase to facilitate deep thinking and turn it into actual output. To make this process smoother, we will provide sufficiently versatile yet not overly complex task management features. For example, we will provide users with the capability to query to-do lists with specific conditions from a large number of cards and journals. We will also build features to let users group, pin, and clear tabs on the left sidebar according to type and importance. We believe that through a series of upcoming upgrades, users will increasingly enjoy the experience of completing tasks and producing output from their thinking.
Better Querying: During the process of creation and output, we often need to refer to other materials for cross-referencing. While Heptabase currently supports putting multiple cards on the right sidebar, we believe there is much room for upgrading the referencing capabilities. We will continue to upgrade the functionality of the tag and property system (e.g., offering cross-tag relation properties) and allow users to use various filters like tags, properties, keywords, block types, etc., to automatically query cards and blocks, placing them on whiteboards or the card's right sidebar for better referencing.
More Export Formats: Through numerous user interviews, we have found that users with creative needs often want to export their content in different formats. Although Heptabase currently only supports Markdown exports, we plan to support a broader range of export formats in the future, including PDF, HTML, Docx, Latex, and image files, among others.
Editing History: In many cases, we may need to refer to a card's past editing history during the creation process to uncover content we initially thought was unnecessary but later found to be important. While the current Heptabase can help users revert all data back to a specific point in time, it does not yet offer single-card history retrieval. This will be one of the key features we'll be spending time developing in the upcoming weeks.
Integration and Application of AI: The emergence of ChatGPT has changed our lives and the way we handle information. From simple grammar and word edits to chatting with a knowledge base and discovering new connections, these capabilities that we crave during the creative process have become affordable and feasible after OpenAI released its API. We will closely monitor the evolution of GPT technology and gradually offer users more advanced solutions for incorporating AI into their creative workflows, all while safeguarding their data.
In addition to upgrading the "collecting" and "creating" experiences, we will also begin preliminary experiments in connecting the "creating" stage with the "sharing" stage as we move toward version 2.0. This will enable users to exchange knowledge with each other more effectively. We have already conducted many user interviews and have preliminary designs for this aspect. Once we begin implementing early prototypes, we will share further updates with all of you.
Closing Thoughts
This article introduce Heptabase 1.0, as well as our preliminary plans for Heptabase 2.0. If you are interested in the long-term vision of Heptabase, please refer to My Vision: The Roadmap. Our vision is to create a world where anyone can effectively establish a deep understanding of anything, and we are excited to finally take a significant step towards this vision today with the release of Heptabase 1.0!
With the official launch of Heptabase 1.0, we are also offering a free 7-day trial. You can download the latest version of the app on the Heptabase official website and start your free trial immediately. We invite you to experience this product, which has already gained love and approval from a large number of beta subscribers, and join us on the journey to the next phase of Heptabase!
---
前言
在經歷了八個月的封測和十八個月的公測、產品迭代了超過三百個版本後,今天我很開心終於能宣布:Heptabase 1.0 已經正式推出了!如果你過去未曾使用過 Heptabase,現在註冊即可體驗一週的免費試用!
在這篇文章裏,我會分享 Heptabase 的 1.0 版本專注在幫助什麼樣的人解決什麼樣的問題、這個版本具備哪些核心功能、Heptabase 作為一家公司的現況,以及我們對於未來 Heptabase 2.0 版本的想法和規劃。
Heptabase 1.0 專注解決的問題
Heptabase 的願景是打造一個任何人都可以有效地對任何事物建立深度理解的世界。
我們深知這是一個宏大的願景,需要分成多個階段執行。在「探索 → 收集 → 思考 → 創作 → 分享」的知識生命週期中,我們希望先透過 Heptabase 1.0 來打通「收集 → 思考 → 創作」這三個環節。也因此,我們把 Heptabase 1.0 定位成一個能幫助你學習和研究複雜主題的最佳工具。
Heptabase 1.0 最核心的使用場景是幫助你分析、理解和消化複雜主題的文獻資料,將這些知識與自己的點子整合在一起,進而產出好的成果。舉例來說:
產品經理、創業者、公司高管等團隊或企業的領導人會用 Heptabase 來研究細分市場的知識、梳理業務資料、綜觀公司的專案與產品線,進而推動專案、產品和業務的發展;
工程師、設計師、銷售人員、律師、金融分析師、投資人、媒體業者等各行各業的專業工作者會用 Heptabase 來整理開發需求、梳理腦中靈感、追蹤客戶狀態、研究法律文件、建構投資理論、管理公司人脈、分析時事議題,幫助自己更好地達成專業工作;
學者、研究生、醫生等需要發表學術論文的領域專家會用 Heptabase 來閱讀論文、整理研究領域的知識和靈感、發展研究架構和步驟、分析和歸納實驗數據,進而產出重要的研究成果和發現;
作家、編劇、遊戲開發者、自媒體創作者、教師、顧問等時常需要創作和教學的創作型用戶會用 Heptabase 來整理寫作素材、設計劇本和遊戲世界觀、規劃影片流程和腳本、開發教學和諮詢內容,幫助他們把更好的作品交付給受眾;
學生、求職者、自學者和其他日常有學習習慣的用戶會用 Heptabase 來整理課程和閱讀筆記、精進專業能力、自學感興趣的主題、處理生活和工作上的靈感和想法。
不論你是以上哪一類用戶,Heptabase 的用途本質上都是一樣的:幫助你對每一個你在乎的主題建立深度理解,並利用這個深度理解去達成你最重要的目標。
Heptabase 1.0 的核心功能
在 Heptabase,我們對於 1.0 版本的期許是在「收集 → 思考 → 創作」這三個環節中,把「思考」這個點的體驗做到世界最好,並同時確保「思考」的體驗能流暢地與「收集」和「創作」這二個環節對接起來。作為一家以設計驅動的公司,我們認為只有最好的用戶體驗才能造就最深度的理解。而最好的用戶體驗包含:
產品的介面和每一個細微的互動要盡可能地友善、精緻、直覺;
產品的功能要足夠讓用戶達成有意義的工作流,但又不能多到讓用戶覺得複雜;
產品的所有功能要自然地透過設計整合在一起,支撐一整套能幫助用戶學習和做研究的方法論;
產品應該開箱即用,學習成本必須盡可能地低,用戶不需要花一堆時間去「搭建生產力系統」;
產品的整體性要強,用戶從訂閱後遇到的每一個畫面、收到的每一封 Email、閱讀的每一篇官方教學文檔都應該精心設計過。
如果以作業系統來比喻,Heptabase 想要做的是 Apple 等級的產品體驗。當大部分的用戶都可以在一打開產品便進入專注思考的心流狀態時,Heptabase 就可以發佈 1.0 版本了。
在這樣的產品哲學之下,我們在 1.0 版本專注在幫助用戶做到以下五件事情:
視覺化深度學習和研究複雜主題
我們打造了世界上最適合用於學習和研究複雜主題的白板。在 Heptabase 的白板中,你可以輕易將內容很長的卡片筆記拆解成原子化的概念筆記,幫助你看透一個主題下所有知識和概念之間的關聯;你可以用嵌套白板(Nested Whiteboard)組織主題之間的架構;用區間(Section)來將卡片在白板上分群、幫助你理解大局;用心智圖(Mindmap)自動佈局概念卡片、幫助你迅速調整對一個主題的理解;用不同風格的自定義箭頭完整地呈現你的思考狀態。
除此之外,我們還開發了卡片互推(Card Space-out)、區間自動成長(Section Auto-grow)、內容自適應(Fit-to-content)、迅速整理白板物件(Tidy Up)、鍵盤瀏覽(Keyboard Navigatioon)等空間演算法,幫助你專注在思考上、不被繁瑣的佈局工作所干擾。
輕鬆記錄任何形式的知識和想法
Heptabase 基於區塊(block)的卡片編輯器支持各種你能想像到的區塊類型,包括待辦事項、表格、圖片、音訊、影片、檔案、數學式、程式碼、標題、收合列表、引用、分隔線、日期…等等。我們還支持卡片、日誌、白板之間的雙向連接,並設計了一個資訊專區來呈現反向連結的上下文。所有在卡片編輯器寫的內容,都可以在任何時候被導出成通用的 Markdown 文件。
有系統地管理大量的同質性資料
Heptabase 的標籤和屬性功能能幫助你更有系統地管理同質性資料,例如文獻、會議、人脈、任務等資料。你可以使用表格和看板視圖來查看由標籤和屬性管理的卡片,表格視圖非常適合一次性展示大量卡片的關鍵信息,而看板視圖則非常適合用來管理重要專案的進度。
流暢地消化和理解複雜主題的文獻資料
我們認為用戶在閱讀時做的重點標記是在後續的學習和研究過程中非常重要的素材,所以 Heptabase 1.0 不僅支持導入 PDF 檔案和 Readwise 註解,用戶還可以對 PDF 檔案中的文字和區域建立新的筆記,將它們放到白板上分析或是嵌入卡片中作為參考文獻。
在任何時間、任何地點皆可記錄和查看知識
我們希望我們的用戶在任何時間、任何地點都可以使用 Heptabase,因此打從封測階段開始,Heptabase 就是一個不需連網、可以離線使用的桌面應用,支援 Mac、Windows、Linux 等主流的作業系統。我們在去年十月推出了跨裝置的即時同步、今年一月推出全功能的網頁版、今年八月在 App Store 和 Google Play 上接續推出了全功能的手機版。不論是桌面、手機還是網頁版的 Heptabase,我們都已在今年七月升級了搜尋引擎,讓你可以在一秒內搜遍數萬份筆記中的所有區塊。
Heptabase 的公司現況
Heptabase 的公司成立於 2021 年九月,團隊人數在這二年間從最初的三人逐漸擴展到六人。我們相信愈小的團隊能有愈高的執行速度和機動性,而這在早期產品高速迭代的期間尤其至關重要。
我們在 2022 年初向 Y Combinator、HOF Capital、Kleiner Perkins、Moving Capital 等許多一流的矽谷的投資機構和投資人籌集了將近 170 萬美元的種子輪資金。然而,與許多矽谷的軟體公司不同,我們打從成立公司的第一年便已將現金流轉正。在過去二年期間,我們沒有花過任何投資人的錢,所有的公司支出全數都是源自公司的營收,而公司的營收則在沒有投入任何行銷費用的前提下以每年至少三倍的幅度在穩定成長。
健康的財務狀態使得 Heptabase 很早便可以在不需要籌集更多資金的情況下長期經營公司、迭代產品;我們持有的現金儲備也允許我們在不需要擔心生存壓力的情況下做各種能幫助我們達成願景的實驗。我們也相信,健全的財務狀況能讓使用者更放心地投入使用 Heptabase ,不用擔心公司營運不善,導致自己累積的筆記與內容又需要搬家找別的地方放。
在當前,Heptabase 1.0 的產品大約只完成了公司願景的 10%。我們還有很長的路要走,也一直將永續經營作為公司營運的最高準則。
Heptabase 2.0 的未來規劃
Heptabase 1.0 僅僅是一個起點。在未來的幾個月中,我們將繼續緊鑼密鼓地迭代 Heptabase,將它推向 2.0 版本。對於 Heptabase 2.0,除了持續進化白板和心智圖的能力、幫助用戶獲得世界上最棒的「思考」體驗外,我們將投注更多的資源升級「收集」和「創作」這二個環節的體驗。
我們計畫在「收集」環節上的迭代方向
更多的卡片類型:在當前,用戶雖然能把圖片、影片、音訊等不同的檔案格式嵌入在 Heptabase 的卡片中,但是這些檔案沒辦法像 PDF 一樣以卡片的形式獨立存在、被添加註解。當我們開始提供更多的卡片類型時,用戶將能把這些檔案轉換成對應的卡片類型、將它們直接放到白板上、對它們做註解。文獻將不僅止於文字,而是可以涵蓋任何的多媒體格式。
更方便地擷取網路資源:除了 PDF 和多媒體外,我們知道有許多用戶的研究素材主要來自網路。因此除了增加卡片類型以外,我們也將投注資源開發閱讀、擷取和註解網路資源的功能,讓用戶能將閱讀這些網路資源的過程與在 Heptabase 白板上的思考過程完美銜接。
更好的 Readwise 整合:現在的 Heptabase 雖然能幫助你將 Readwise 的註解放到白板上或嵌入卡片中,但是尚不支援將相同文獻的註解按順序排序、合併單張卡片。我們知道這個工作流對於某些喜歡用 Readwise 管理閱讀筆記的用戶來說是非常重要的,因此將在 2.0 前升級這部分的體驗。
更好的收件箱:Heptabase 的日誌雖然能幫助你快速地捕捉想法,但它並沒有明確地區分哪些想法需要經過後續的整理、哪些想法只在當下有用。我們正在思考將一種類似於收件箱(Inbox)的機制與 Journal 整合,幫助你能更好地將「未來需要處理」的想法從 Journal 中區分出來。
更快的載入速度:Heptabase 當前網頁版的初始載入速度較久,而手機版冷啟動的載入速度雖然快很多,但也需要 1–2 秒的時間。我們將在接下來的日子透過按需加載以及將特定組件原生化等各種工程技巧來持續提高載入速度,幫助用戶在靈感來臨時可以立刻捕捉自己的想法。
我們計畫在「創作」環節上的迭代方向
更好的任務管理:我們知道許多用戶在將 Heptabase 的深度思考轉為產出時,會需要管理大量產出相關的任務和待辦清單。為了讓這個過程更加流暢,我們將提供夠用但又不過於複雜的任務管理功能,例如將特定條件的待辦清單從大量的卡片和日誌中過濾出來、將左側欄的分頁按照類型和重要性分群、釘選、清空。我們相信透過接下來一系列的升級,用戶們將會更加享受完成任務、產出重要成果的體驗。
更好的資料調用:在創作和產出的過程中,我們常常會需要調用參考資料做交叉比對。雖然 Heptabase 現在支援將卡片多開在卡片分頁的右側欄,但我們認為「調用資料」的能力還有許多可以升級的空間。我們將持續升級標籤和屬性系統的功能(例:提供跨標籤的關聯屬性),並讓用戶可以使用標籤、屬性、關鍵字、區塊類型等各種不同的過濾條件來自動調用需要參考的卡片和區塊,將這些參考資料放到白板上和卡片右側欄中作更好的資料比對。
更多的導出格式:我們在大量用戶訪談的過程中,發現有創作需求的用戶時常會需要將創作的內容導出成不同的格式。雖然現階段 Heptabase 只支援 Markdown 的導出,但我們將在未來支援 PDF、HTML、Docx、Latex 、圖片檔案等更多格式的導出。
編輯的歷史紀錄:在很多情況下,我們在創作的過程中會想要參考一張卡片在過往的編輯歷史紀錄,從中挖掘出原本以為不需要、但後來覺得重要的內容。現在的 Heptabase 雖然能幫助用戶將全部資料重置回過去的某個時節點,但尚不提供對單張卡片的歷史紀錄檢索。這將是我們在接下來會花時間開發的其中一個重點功能。
AI 能力的整合與應用:ChatGPT 的出現改變了我們的生活,也改變了我們處理資訊的方式。從最簡單的文法和字詞修改,到與知識庫對話、發現過去未曾發現的重要靈感,這些我們在創作的過程中渴望獲得的能力都在 OpenAI 釋出 API 後變得便宜且可行。我們會密且關注 GPT 技術的演進,並在保護用戶資料的前提下,逐步提供用戶更多將 AI 導入創作工作流的進階方案。
除了打磨「收集」與「創作」的體驗以外,我們也將在邁向 2.0 的過程中,開始初步地實驗將「創作」的環節與「分享」的環節對接起來,讓用戶們可以更好地交流彼此的知識。我們已經做了非常多的用戶訪談,對於這部分的設計有了初步的構想。一旦我們開始實作早期的原型時,將會再與各位分享。
結語
以上就是 Heptabase 1.0 的介紹,以及我們對 Heptabase 2.0 的初步規劃。如果你對 Heptabase 的長期願景有興趣,歡迎參考 My Vision: The Roadmap 這篇文章。我們的願景是打造一個任何人都可以有效地對任何事物建立深度理解的世界,而我們很開心終於能在今天透過 Heptabase 1.0 向這個願景踏出重要的一步!
隨著 Heptabase 1.0 的正式上線,我們也開放了免費試用七天的方案,你可以在 Heptabase 官網下載最新版本的 App ,立即開始免費試用。我們歡迎你來體驗看看這個已經有大量公測用戶認可與喜愛的產品,跟我們一起迎向下一階段的旅程!