How Heptabase's founder use Heptabase for learning, research, planning, and writing.
When you change the question to "what do I want to achieve with my notes," you will be in a better position to achieve your goal with a clearer mind.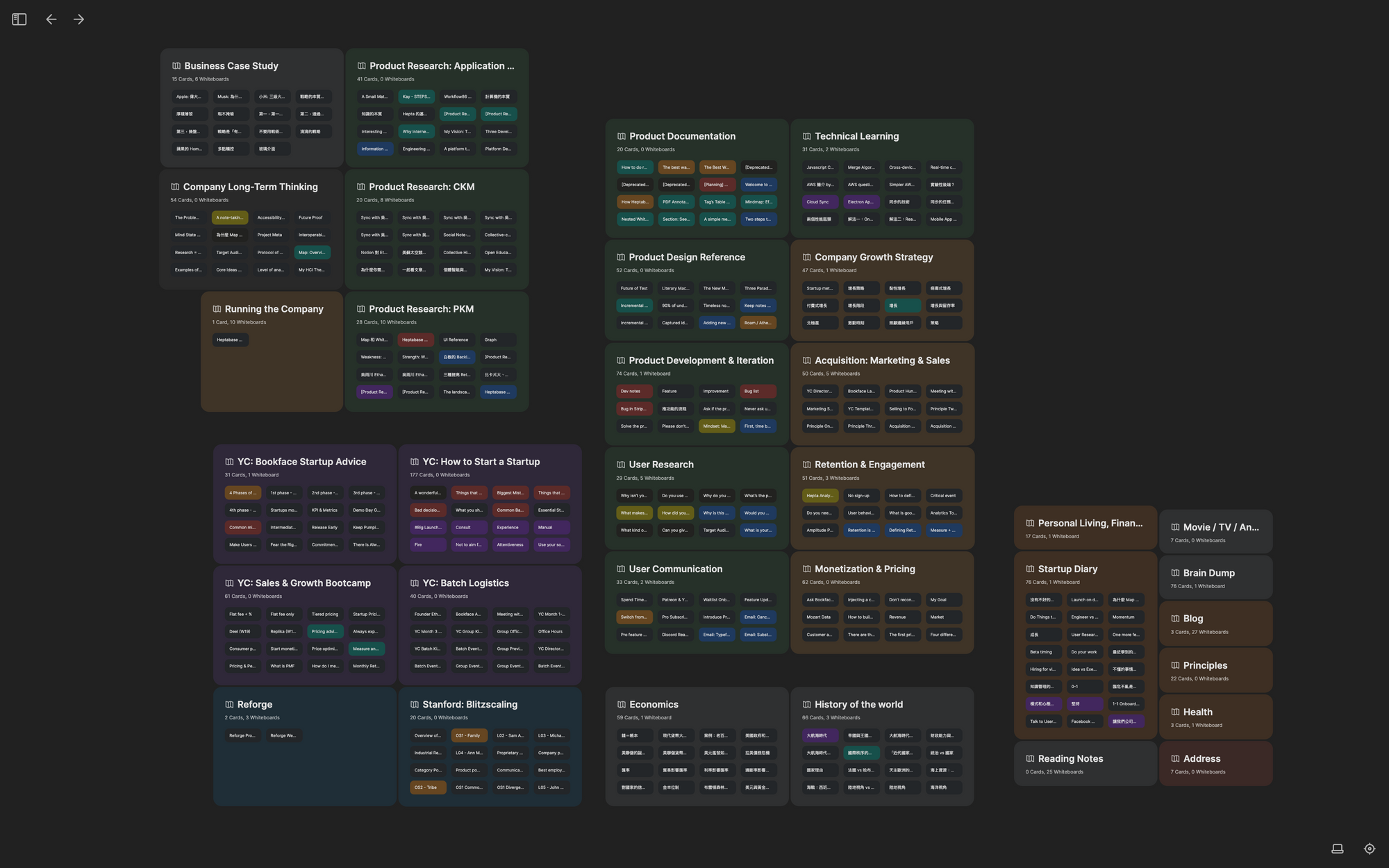 Introduction
The vision of Heptabase is to create a world where anyone can effectively establish a deep understanding of anything. Our short-term goal is to create the world's best thinking tool, and our long-term goal is to build a contextualized knowledge internet.
Currently, Heptabase has four main use cases as a thinking tool: learning, researching, planning, and writing. The essence of learning and research is to build a deep understanding of known and unknown things, while the essence of planning and writing is to convert these deep understandings into executable and communicable forms.
I am the founder of Heptabase and also its first user. Since May 2021, I have been using Heptabase for more than two years and have seen it go through more than 350 iterations. As Heptabase's functionality and user experience continue to improve, I have truly felt how this tool has reshaped my way of thinking every day.
In the Heptabase user community, I receive feedback from different users around the world every day. Some users express their love for Heptabase and tell me how it has completely changed their way of learning and researching. However, there are also a few users who express their struggles with Heptabase and tell me that they are not sure if the visualized note-taking method is really suitable for them.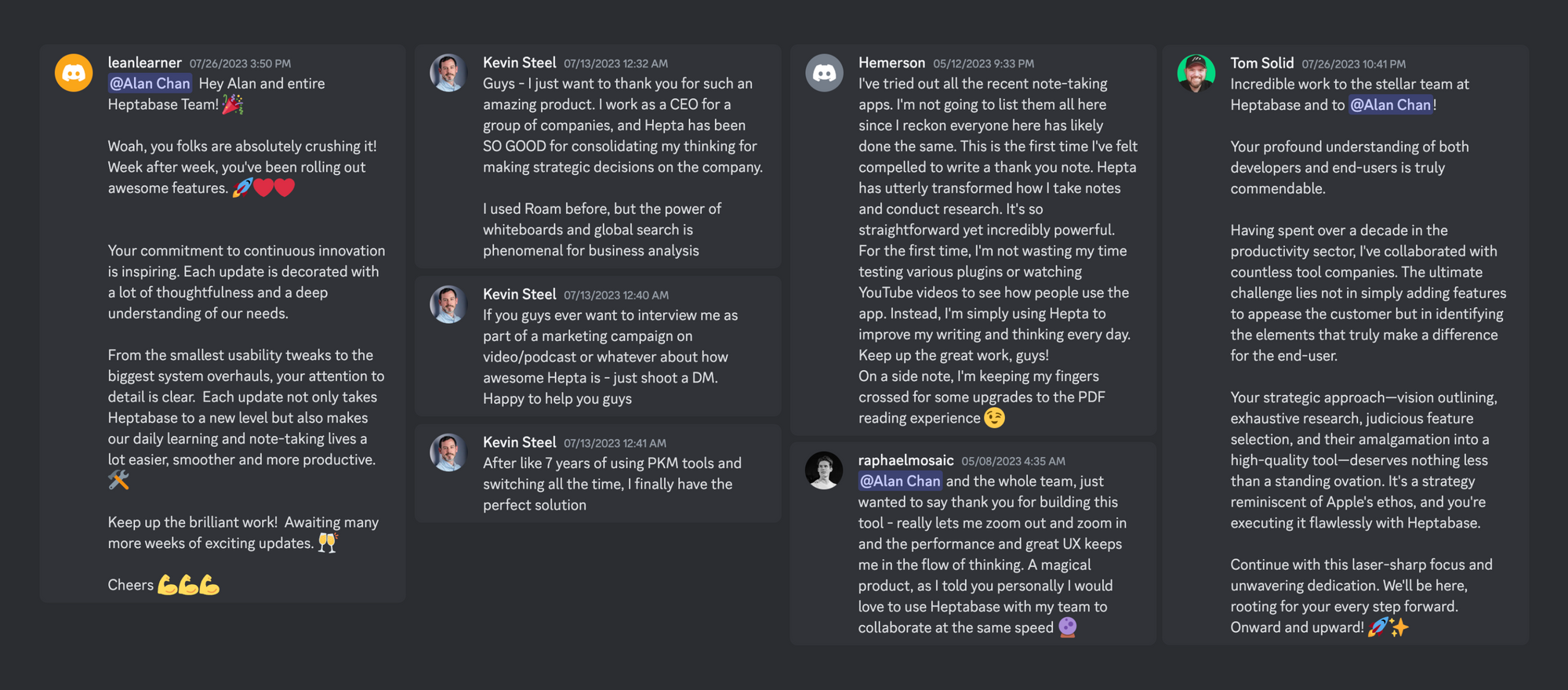 I take every user's feedback on Heptabase seriously, which is why I'm writing this article. For users who are unsure how to use Heptabase effectively, I often use a metaphor: using Heptabase is like learning English and mathematics. Initially, when faced with English letters or mathematical symbols, it's easy to feel lost. However, with a good mentor to help you cross this hurdle and master these letters and symbols, you will discover an entirely new way of understanding the world using these letters and symbols. This is what I hope to achieve through this article.
In this article, I will share how I have used Heptabase to help me learn, research, plan, and write over the past two years. I will also include screenshots of my whiteboards. However, due to the sensitive information related to company operations in many of the screenshots, I intentionally reduced the zoom ratio and made the content blurry. I believe that the experiences and ideas I describe in the article have greater inspirational value than the content of the notes themselves.
For those who consider themselves not good at note-taking, I also hope to convey an important message through this article: note-taking itself is not the goal, but a process to achieve your goal. To leverage the power of Heptabase, it's important to think clearly about what your most important goal is, and then develop your unique way of using Heptabase to achieve this goal.
Building a Minimum Viable Product: 2021 Q3
Product Development Plan
At the end of May 2021, when I started building the first version of Heptabase, the first thing I did with it was to plan the product development and user research process. The reason is simple: this was the most important thing for me at the time.
I am well aware that resources for startups are limited, and we should avoid wasting energy on unimportant things. Y Combinator is the world's most well-known startup accelerator, so to figure out what is important, I decided to read articles related to this topic from its Startup Library. The articles I read include the mindset of building products, how to build a minimum viable product, and how to iterate on products, etc.
Before reading these articles, I created a whiteboard called Product Development & Iteration. Whenever I found important concepts or knowledge that I thought were important while reading, I would organize them into cards and spread them out on the whiteboard, making the entire product development methodology instantly clear.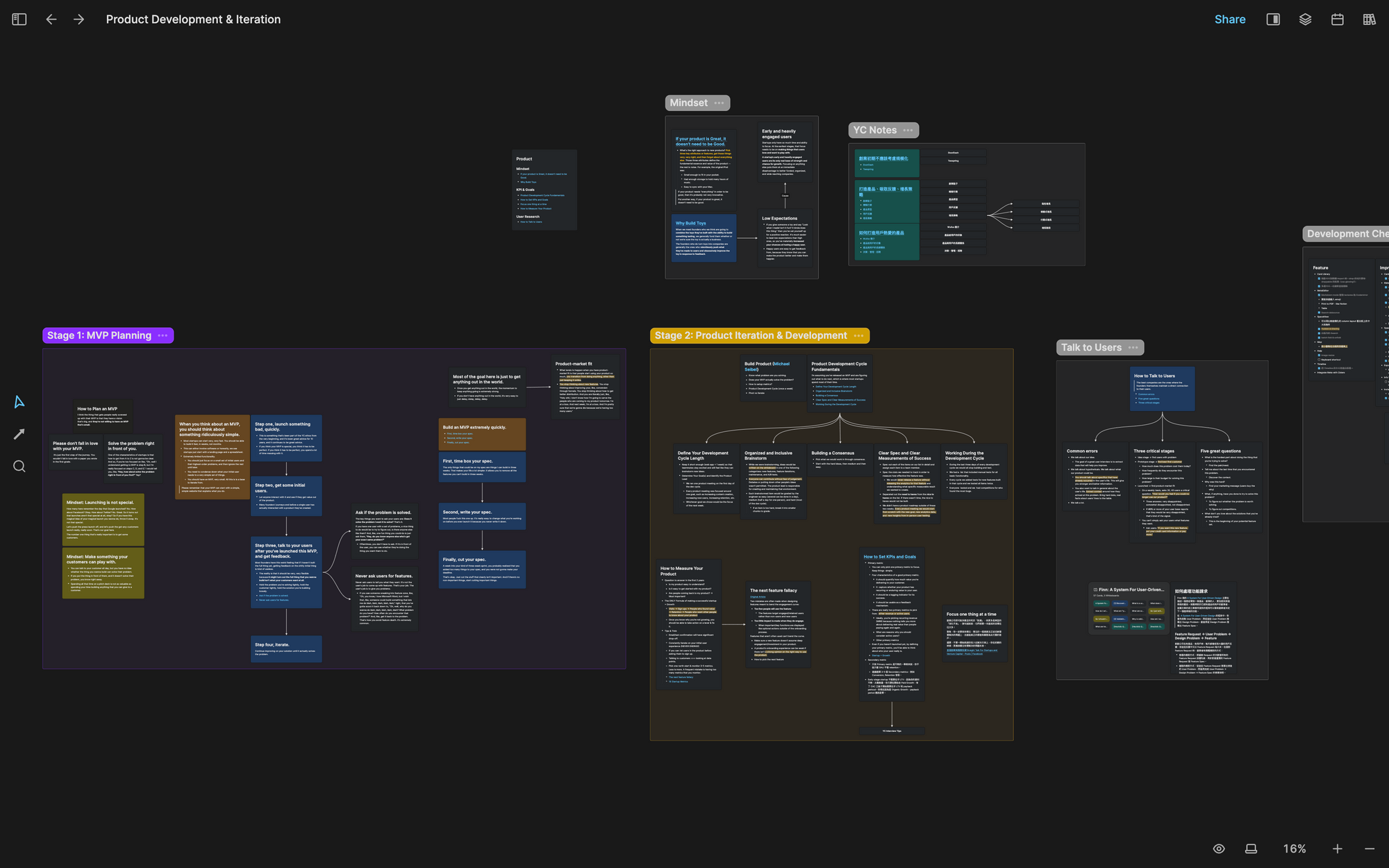 Over the next few months, whenever I encountered product-related problems, I would always open this whiteboard to confirm that I was doing things correctly. Whenever I came across great articles related to product development online, I would also turn the knowledge from these articles into cards and integrate them with my existing knowledge on this whiteboard.
User Interview and Research
After launching the minimum viable product, I began to conduct user interviews with everyone who wanted to try the product. To do the user research well, I created a whiteboard called User Research, where I stored knowledge related to user research, as well as wrote the questions we would ask during interviews and the purpose of each question into cards. When I interviewed users, I would look at the cards on this whiteboard to ensure that I did not miss important questions.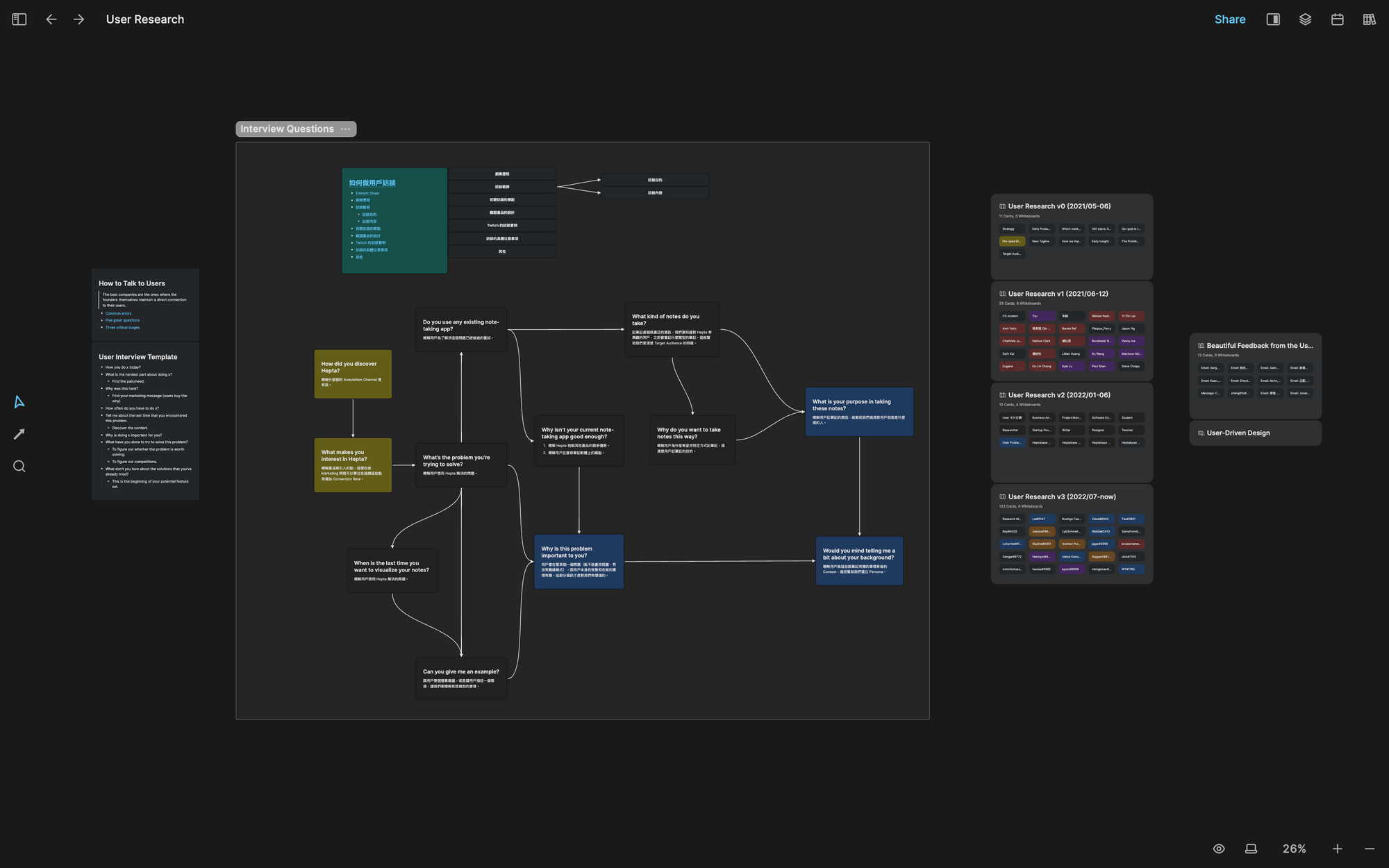 For each user I interviewed, I would create a new card to record the interview content. Over time, I accumulated hundreds of user interview cards. To find important patterns and clues in these user interviews, I created a sub-whiteboard under the User Research whiteboard, and spread all these interview cards out for comparison. Once I found a group of users with very similar use cases, I would group them together using Sections or create a sub-whiteboard for them specifically for analysis.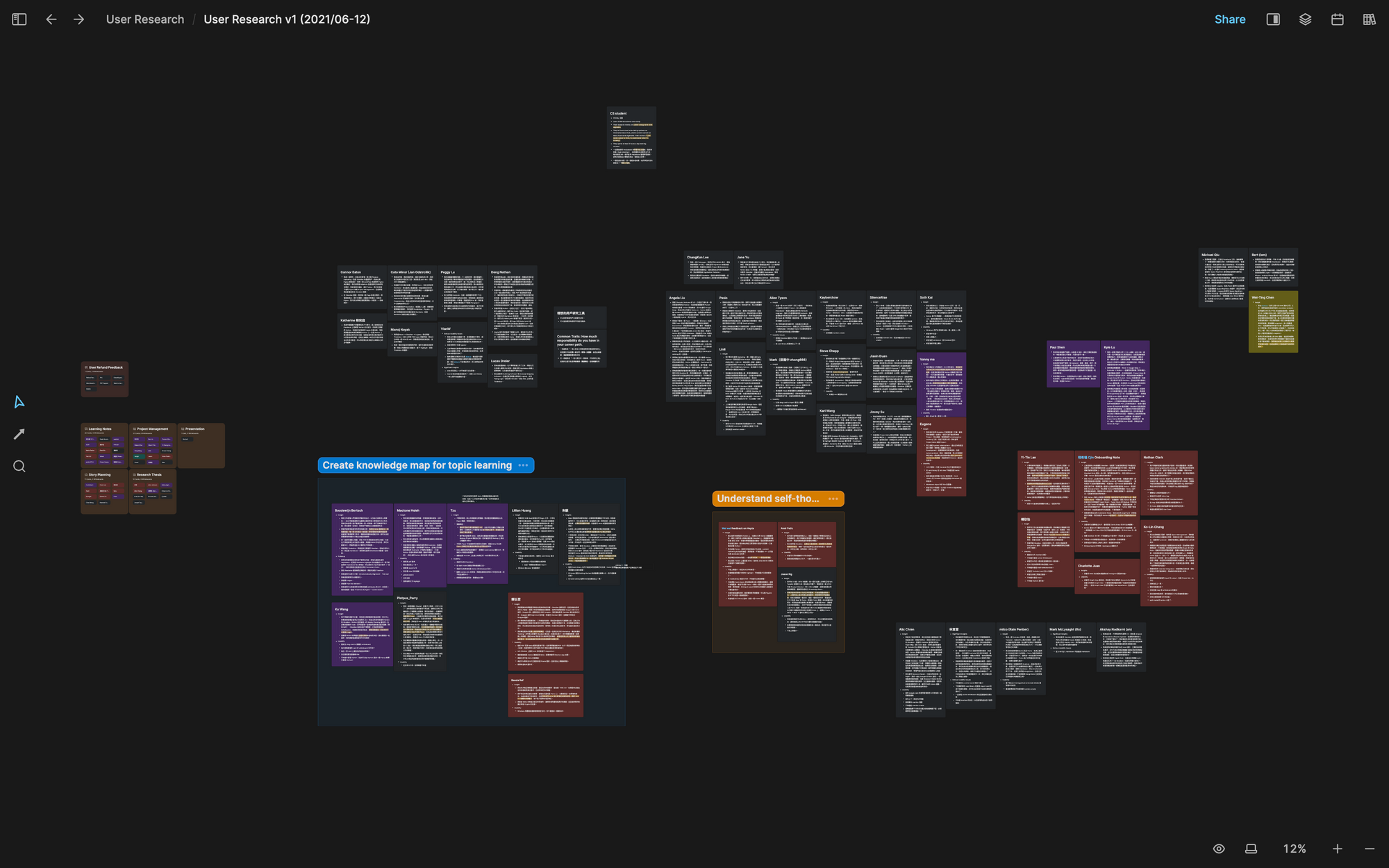 My user research method is not set in stone. After six months, as our user community grew larger and larger, interviewing every user was no longer possible. At this time, I created a second sub-whiteboard under the User Research whiteboard, specifically for organizing feature requests encountered every day. I divided our users into nine major categories based on their professions, and created a card with the profession name as the title for each category, such as researcher, project manager, engineer, student, writer, etc.
Whenever I received a feature request from a user in the community, I would ask the user about their profession and purpose of using the product, record this information along with the original feature request, and use bi-directional links to connect these contents to the profession card. Over time, I could see all related feature requests and usa cases from each profession card's backlinks.
After another six months, I realized that although some users in certain professions had very similar use cases, there were also users who had very different use cases despite their similar profession. Simply distinguishing users by their profession would cause me to miss many important insights. So, I created a third sub-whiteboard under the User Research whiteboard and put all the latest user interview cards in it. I no longer limit myself to classifying these cards by profession or use case, but group them together using sections in the most intuitive way I can think of at the moment. This flexibility has helped me discover many new insights, which have also given me a better understanding of how to adjust the product development direction.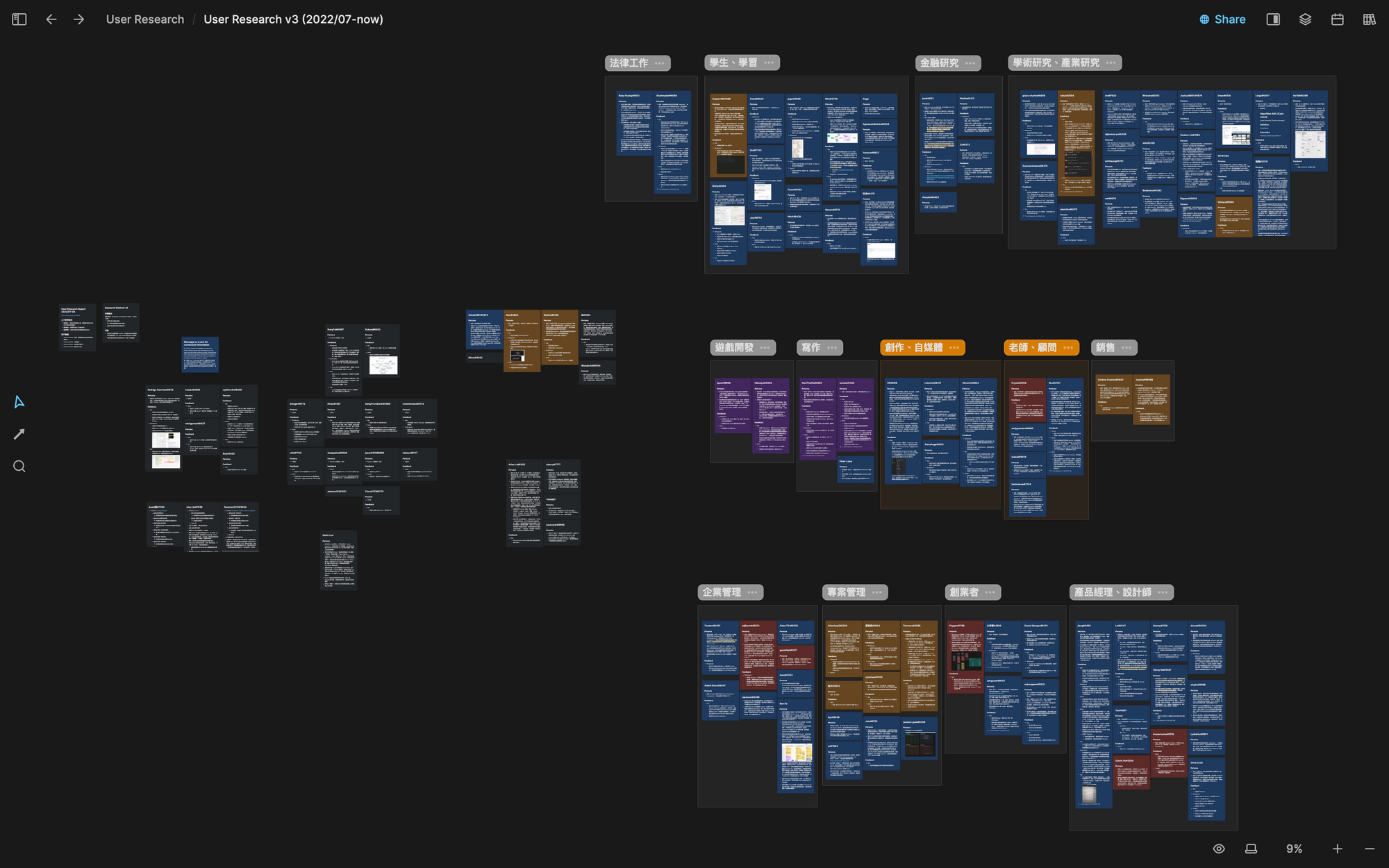 User Communication Documents
In addition to user research, I also spend a lot of time writing texts for users to read, such as important announcements in the community (almost every week), official tutorial documents, email copies, and more. The difficulty in writing these texts is that sometimes I forget what I wrote before. To maintain consistency in important information, I need to be able to see at a glance what I said before. So I created a whiteboard called User Communication to organize the important announcements I made at different stages in the user community.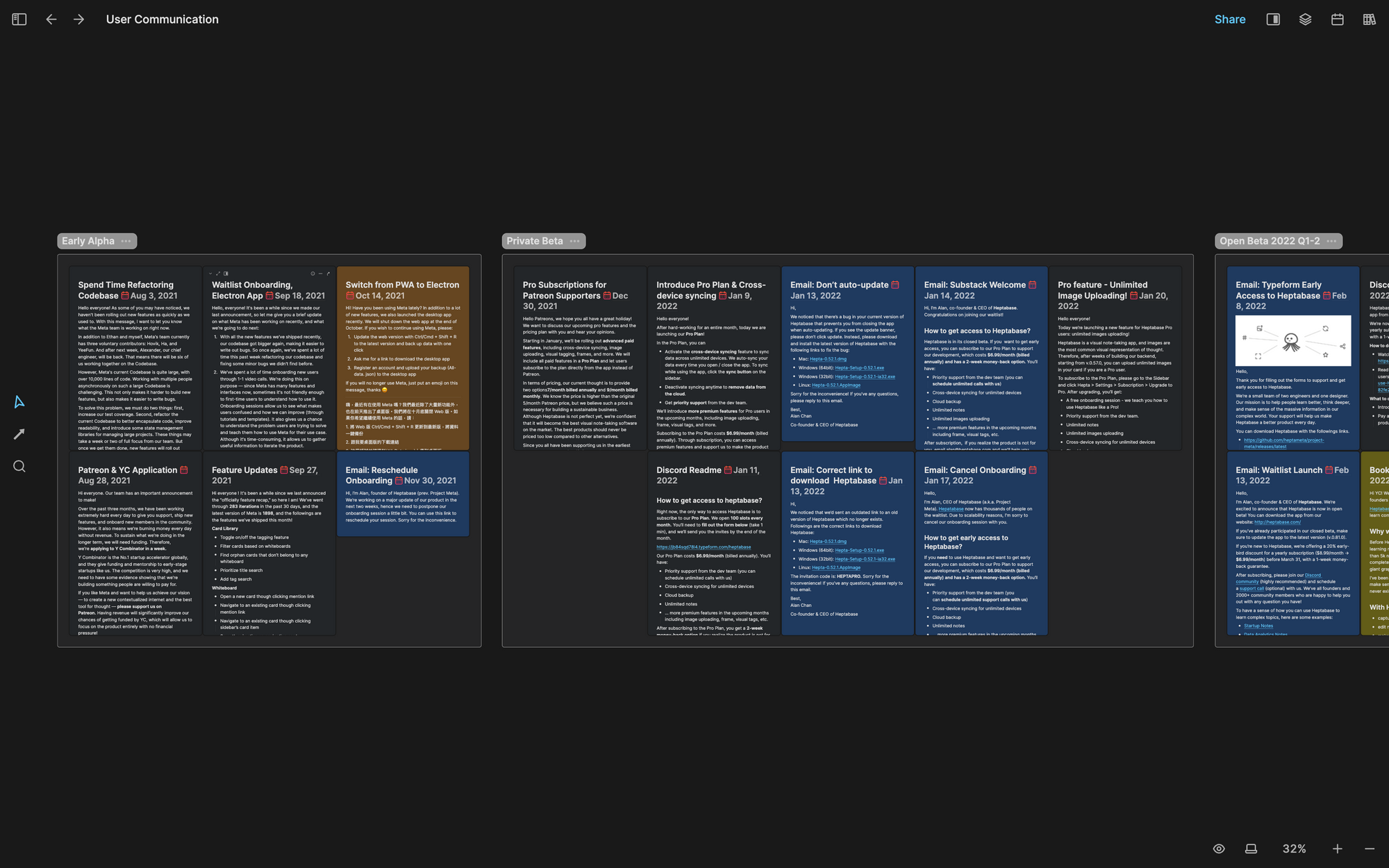 As for tutorial documents, the challenge I face is that I need to produce a lot of content in a very short time. Some content may have just been outlined, some content is being drafted, some content has been drafted but has not been illustrated or checked for grammar, and some content has been completed but not yet published. For these documents, I created a whiteboard called Product Documentation, where I put all the articles I need to write. I use spatial relations to distinguish different types of articles and colors to indicate the writing status of the articles.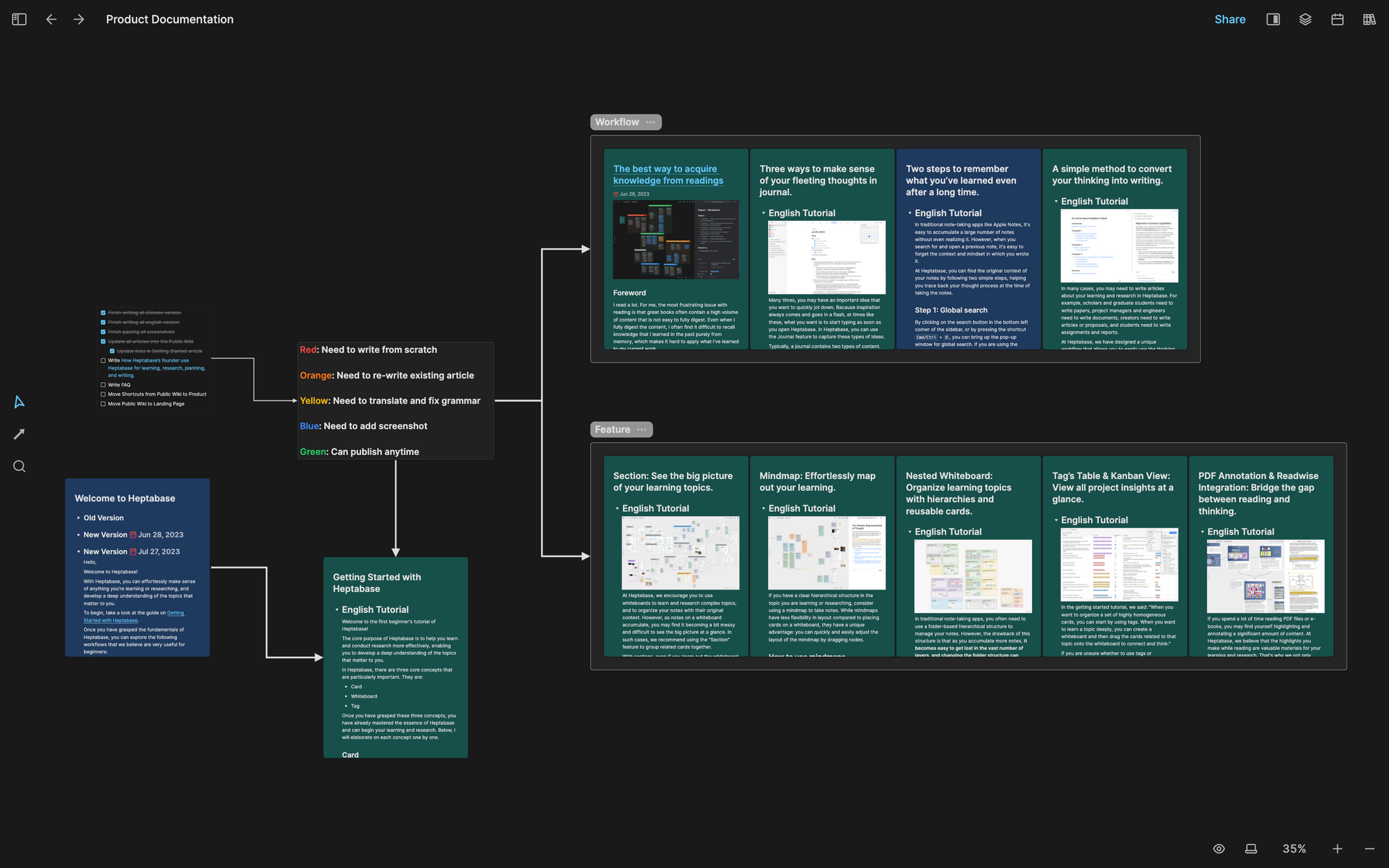 Personal Writing
In addition to writing texts for users, I also enjoy recording my ideas and writing blog articles in my spare time. For example, I created a whiteboard called Startup Diary, where I put ideas or stories that I think are worth recording when building the company. Many of the cards here are only two or three sentences long, but when I accumulate more and more cards, I combine multiple cards into one article. To make this process easier, I asked our engineer to develop the right sidebar feature, which allows me to place reference cards on the right side when writing an article on the left.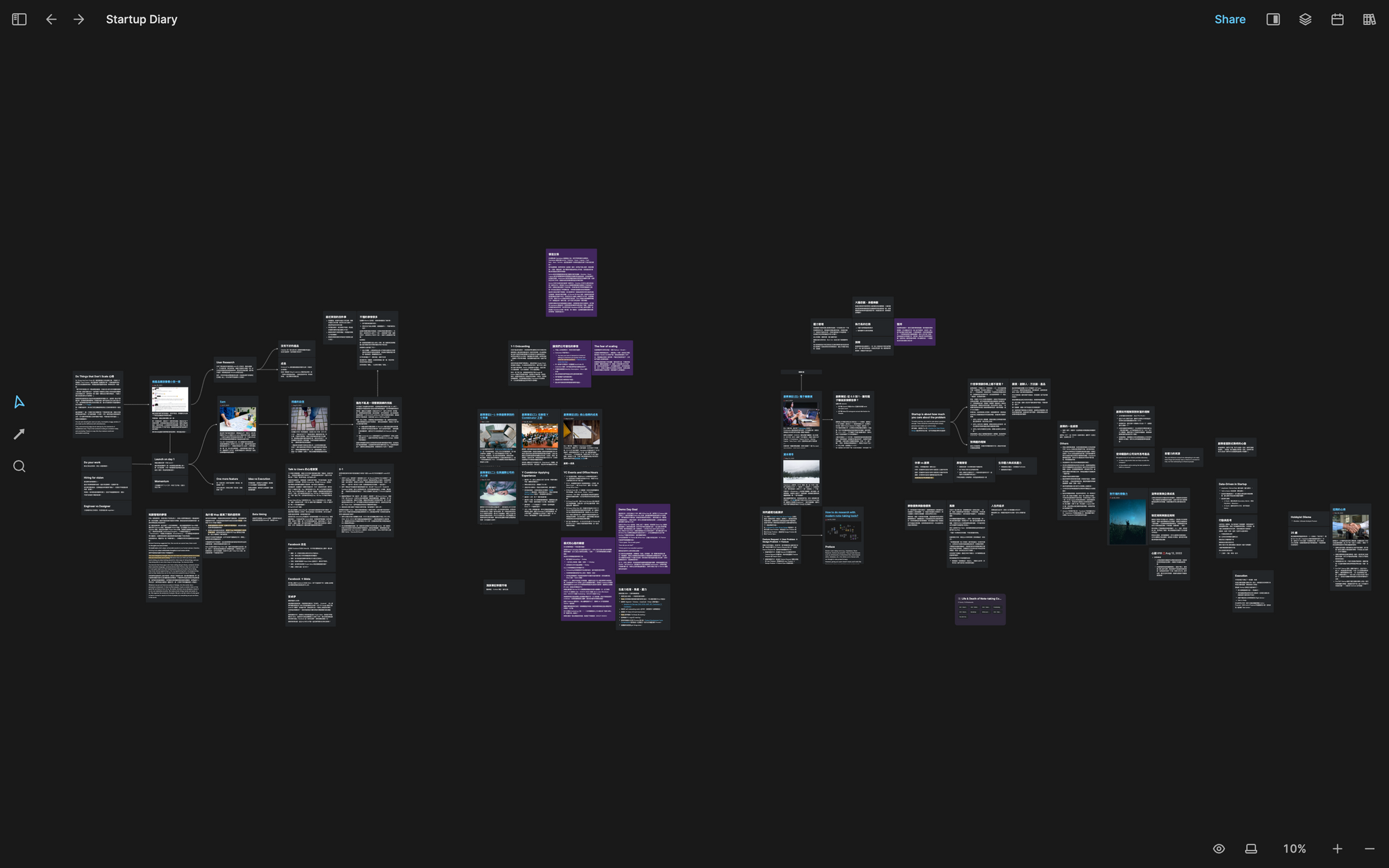 Because Heptabase has become my tool for writing blog articles, I decided to back up all the blog articles I wrote in the past ten years to Heptabase. I created a whiteboard called "Blog" and a sub-whiteboard for each year, and then put the blog articles into these sub-whiteboards. At the same time, I also created a sub-whiteboard for each topic in my blog. Since the cards in Heptabase can be reused in multiple whiteboards, I can place a blog article's card in both its corresponding year sub-whiteboard and topic sub-whiteboard, which is very convenient.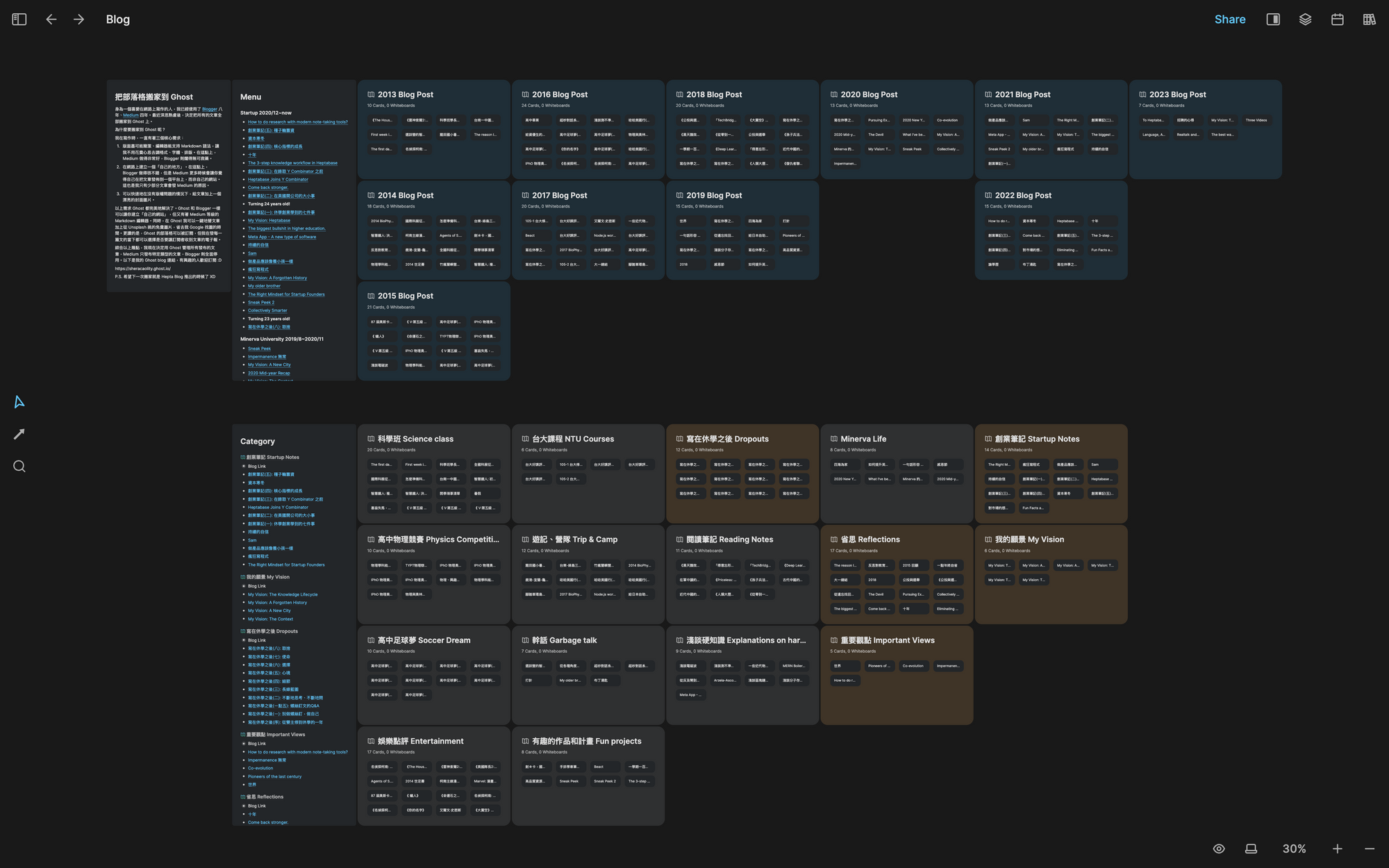 The following image is a sub-whiteboard related to the "Startup" topic. You can see that all the articles are placed in the same space at a glance, which looks very comfortable to me.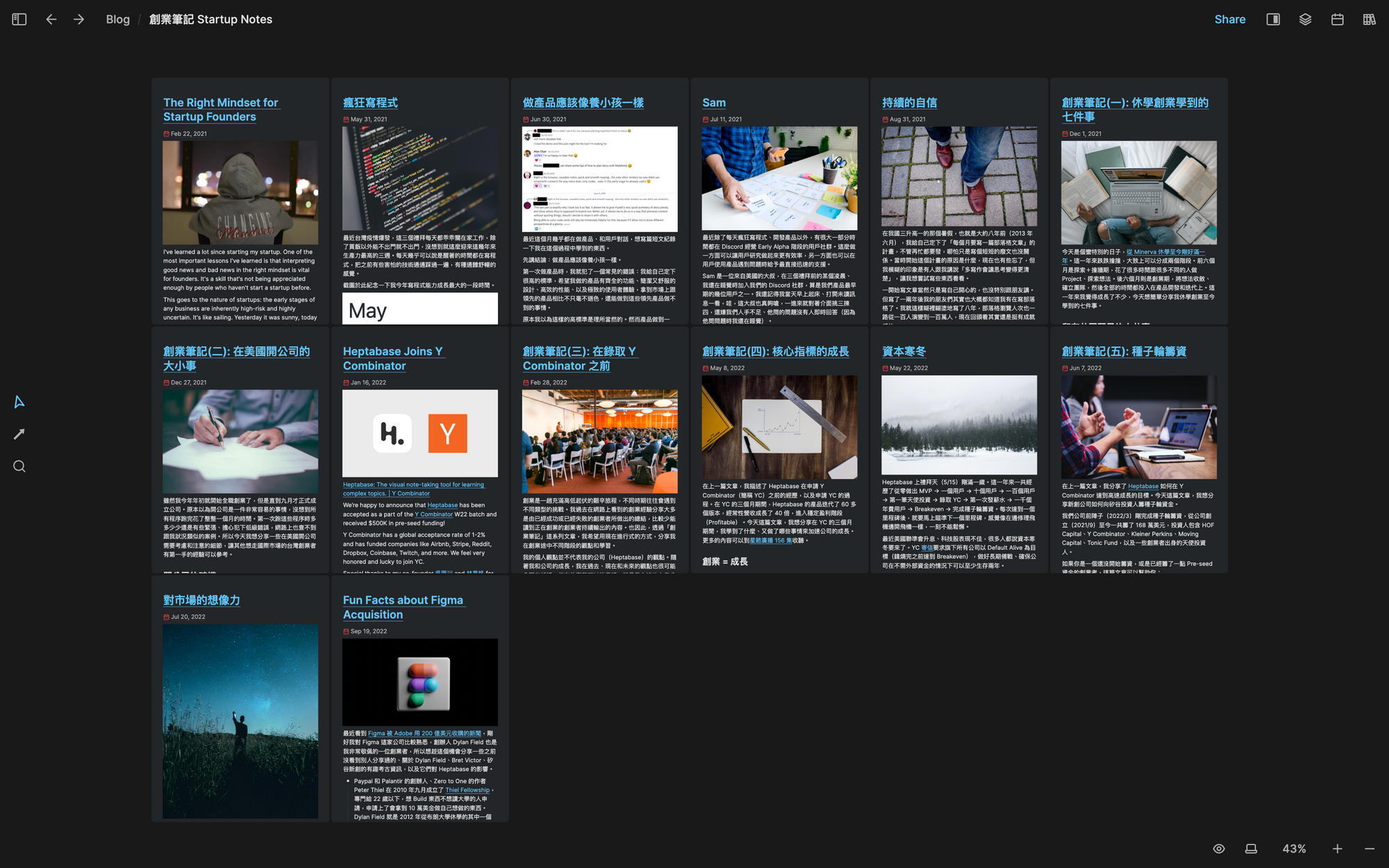 Company Incorporation: 2021 Q4
Data analysis
After iterating on our minimum viable product for almost three months, our user community grew larger and our user count increased significantly. I realized that just conducting user interviews was not enough, we needed to incorporate data analysis tools to gain a clearer understanding of user retention rates, engagement levels, how users discovered our product, and their most frequently used features.
As someone with no prior experience in data analysis, I searched the internet and extensively read articles on product data analysis. I found that Amplitude's Mastering Retention and Data Taxonomy Playbook were very well-written. However, the information was overwhelming, and I knew I couldn't fully comprehend it in just one reading. Therefore, I created a whiteboard for each book and wrote down all the important concepts as cards.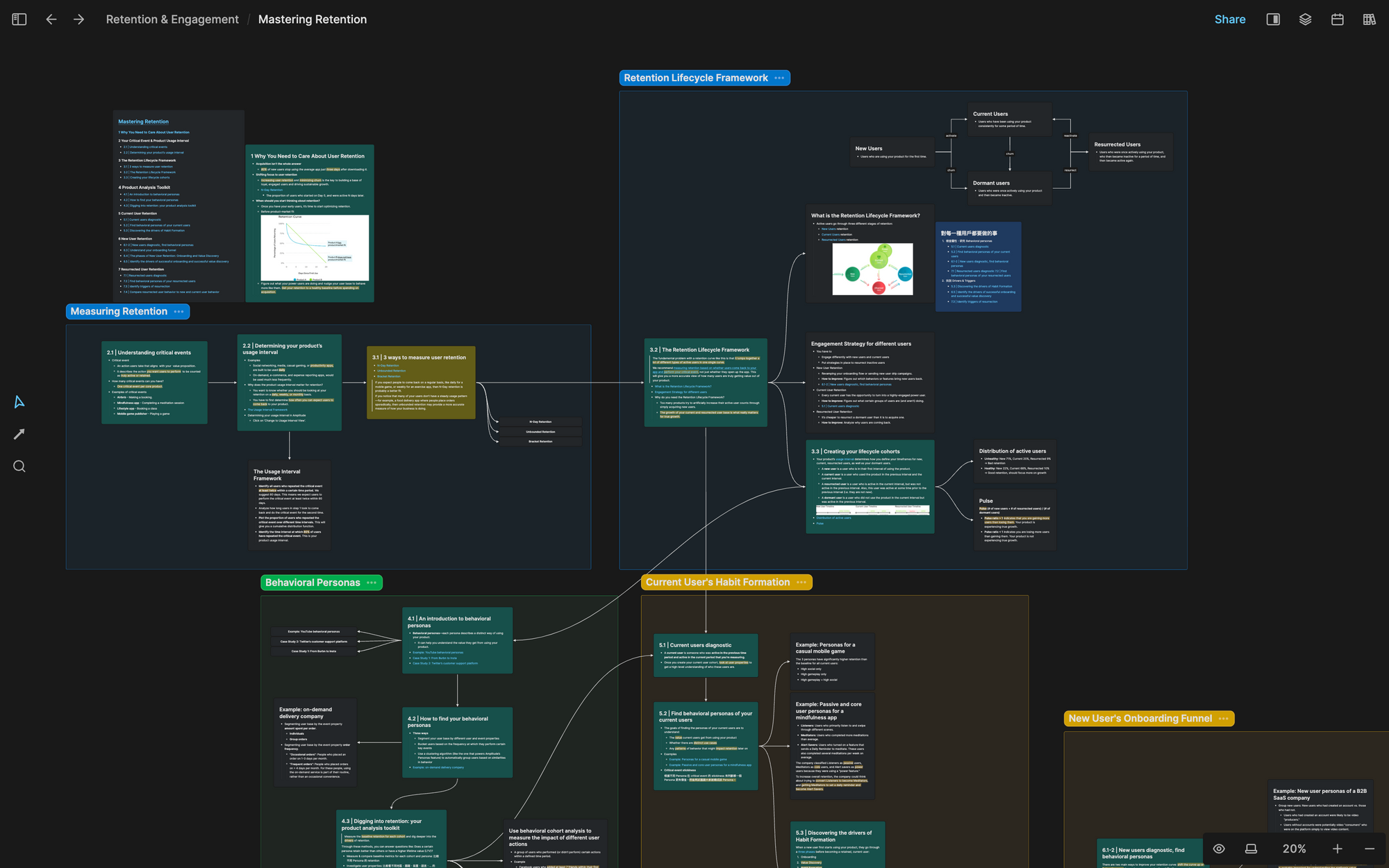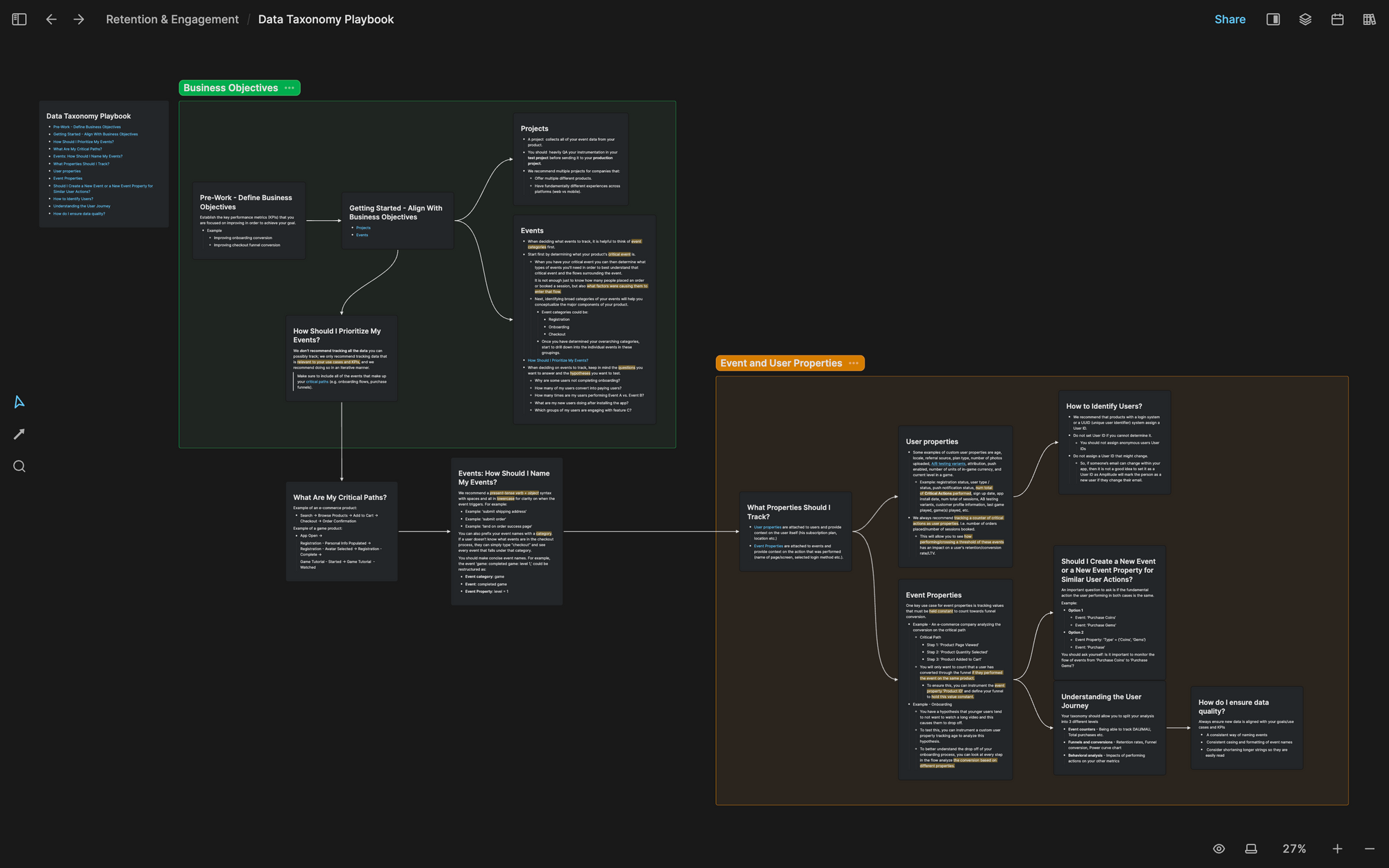 The process of creating cards for these two books not only deepened my understanding and memory of data analysis, but also allowed me to frequently revisit them when encountering data-related problems in the next two years. What shocked me was that when notes were saved in visual form on the whiteboard, I could recall forgotten knowledge at more than ten times the speed when reviewing, which was a feeling I had never experienced before in my learning process. It was probably at this time that I realized that visual note-taking were the best way of learning. If all the knowledge I learned in my life could be preserved in a visualized form, I could easily find and recall everything I learned in the past at any time.
Startup notes
After realizing the power of visual note-taking, I decided to move all of my previous startup learning notes into Heptabase. A few years ago, I watched a course on YouTube called"How to Start a Startup, which was a series of startup-related topics shared by Y Combinator at Stanford. I took notes on every lecture, and these notes were all very lengthy. Due to their length, I never went back to review them.
In Heptabase, I broke down all of these notes into individual concept cards and connected them to form a knowledge map. Creating this map not only helped me better understand startups but also revealed many concept connections that I had not noticed before, showing how different speakers used different ways and examples to explain the same startup concepts.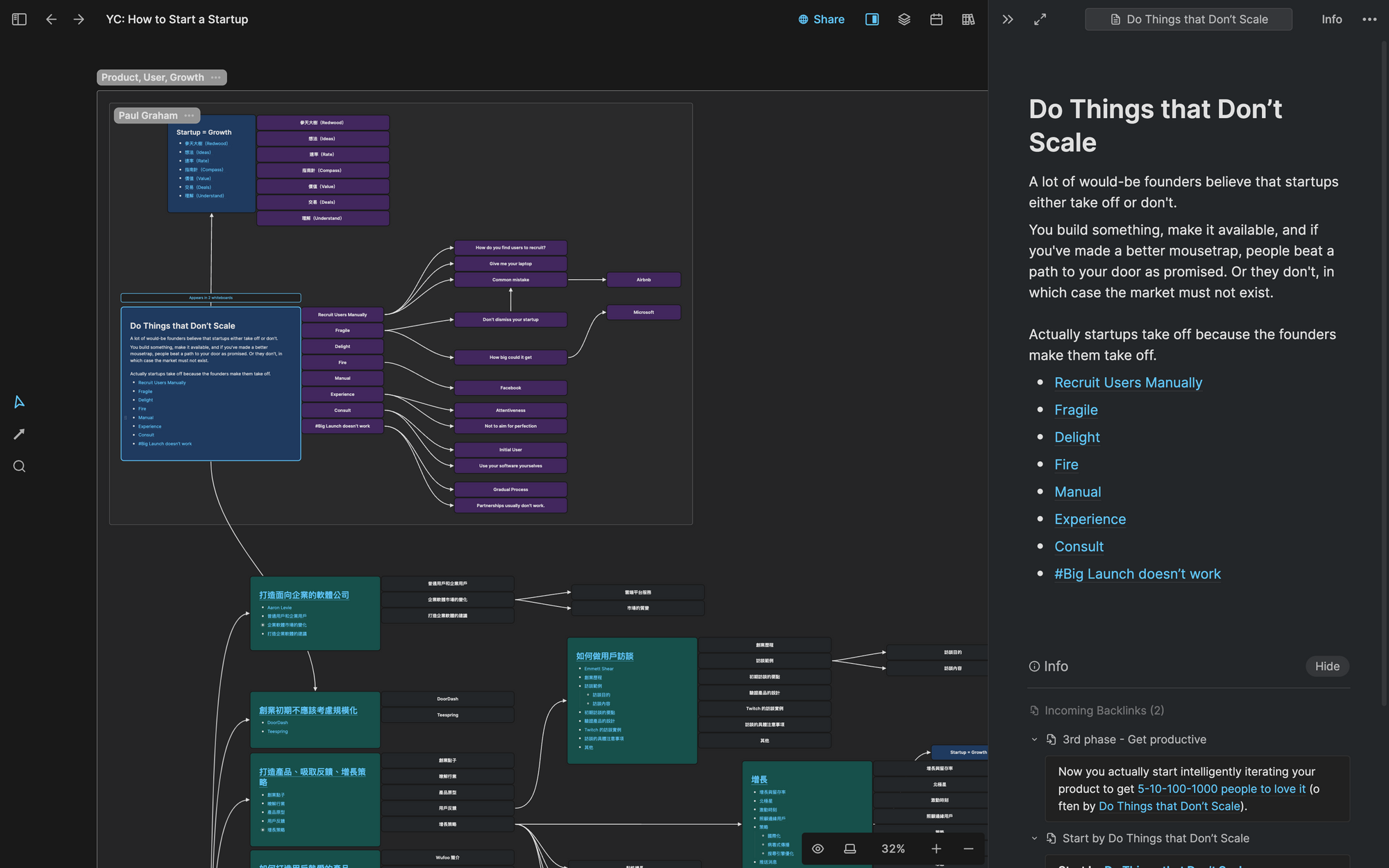 Company incorporation
After iterating on our minimum viable product for almost four months, we received investment offers from several angel investors and decided to accept them. To accept the investment, I had to spend time incorporating the company, which was a completely new experience for me. As usual, I searched the internet for relevant legal information and created a whiteboard called Company Legal to organize legal knowledge and concepts that every startup should know, including equity principles, 83(b) election, and vesting schedules. I wrote down all the details of each concept because I knew I would forget them in a year.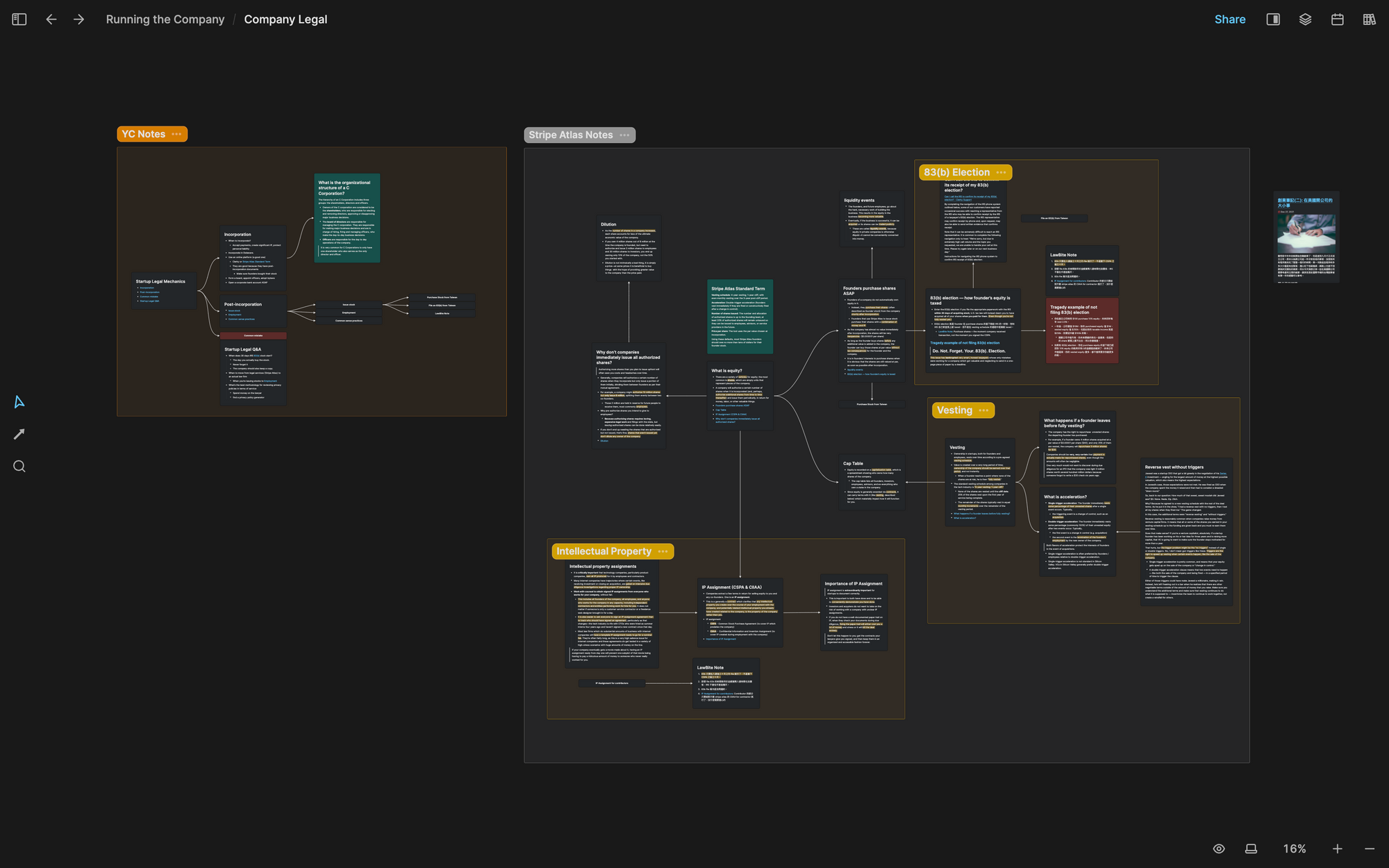 In addition to legal concepts, I also needed to learn some basic accounting knowledge to better communicate with our accountant regarding tax-related matters and understand the company's financial status at each stage. Therefore, I created a whiteboard called Company Finance & Accounting to organize my accounting knowledge and the company's financial status.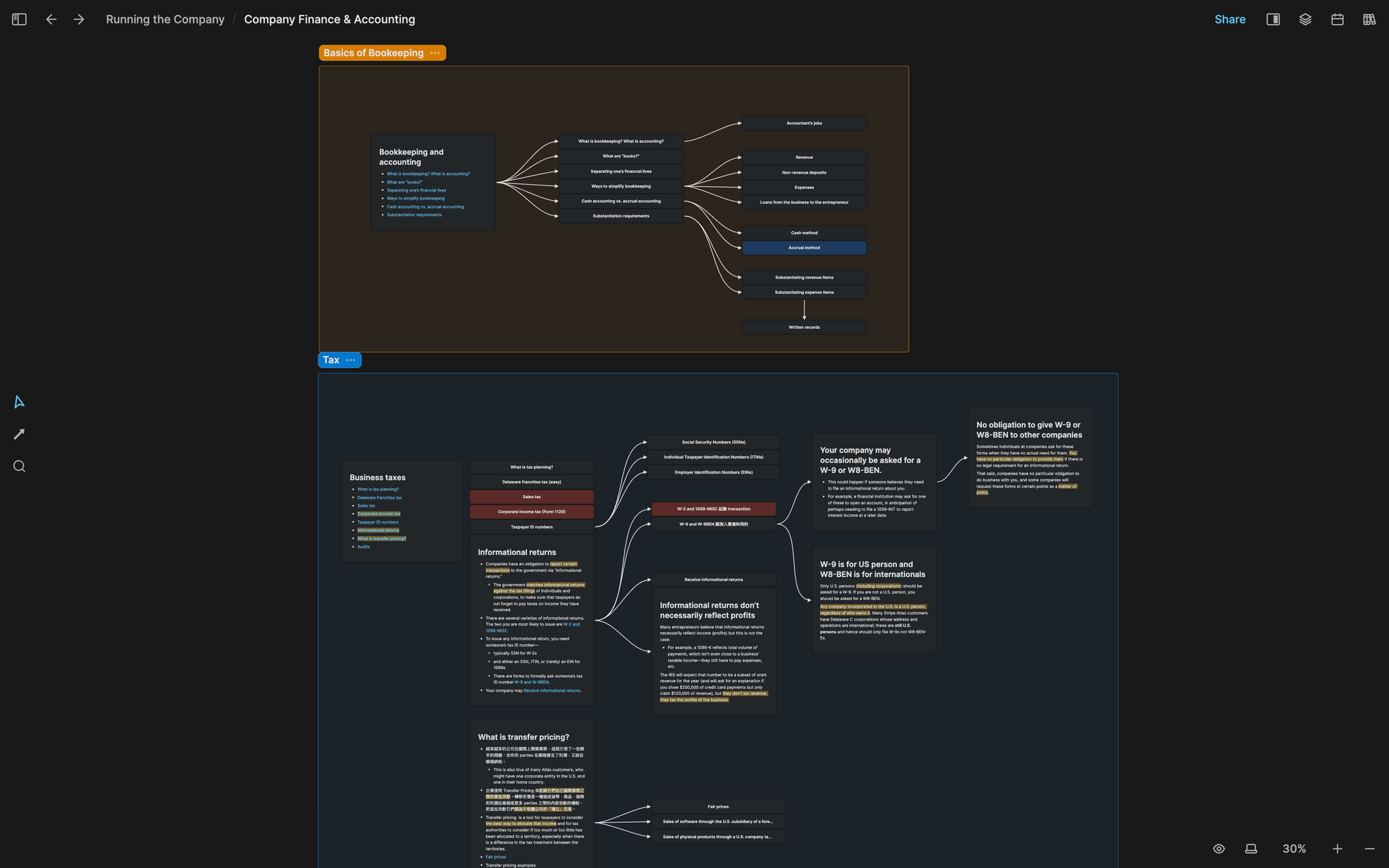 Applying to Y Combinator
Y Combinator is the best startup accelerator in my opinion, and I've learned many startup mindsets from YC's free public resources. Therefore, when I started building our minimum viable product, I planned to apply for YC's winter batch that year. Applying to YC requires answering many important questions for founders in both the application and interview stages.
To prepare for the application and interview, I created a whiteboard called Pre-seed & YC Application and categorized all the important questions listed by YC. I created a card for each question and wrote down my answer. I used green to mark the questions I was confident with, blue for those I was still thinking about, and red for those I had no idea about. Additionally, I also organized some experiences shared by other YC founders on the internet within this whiteboard for reference.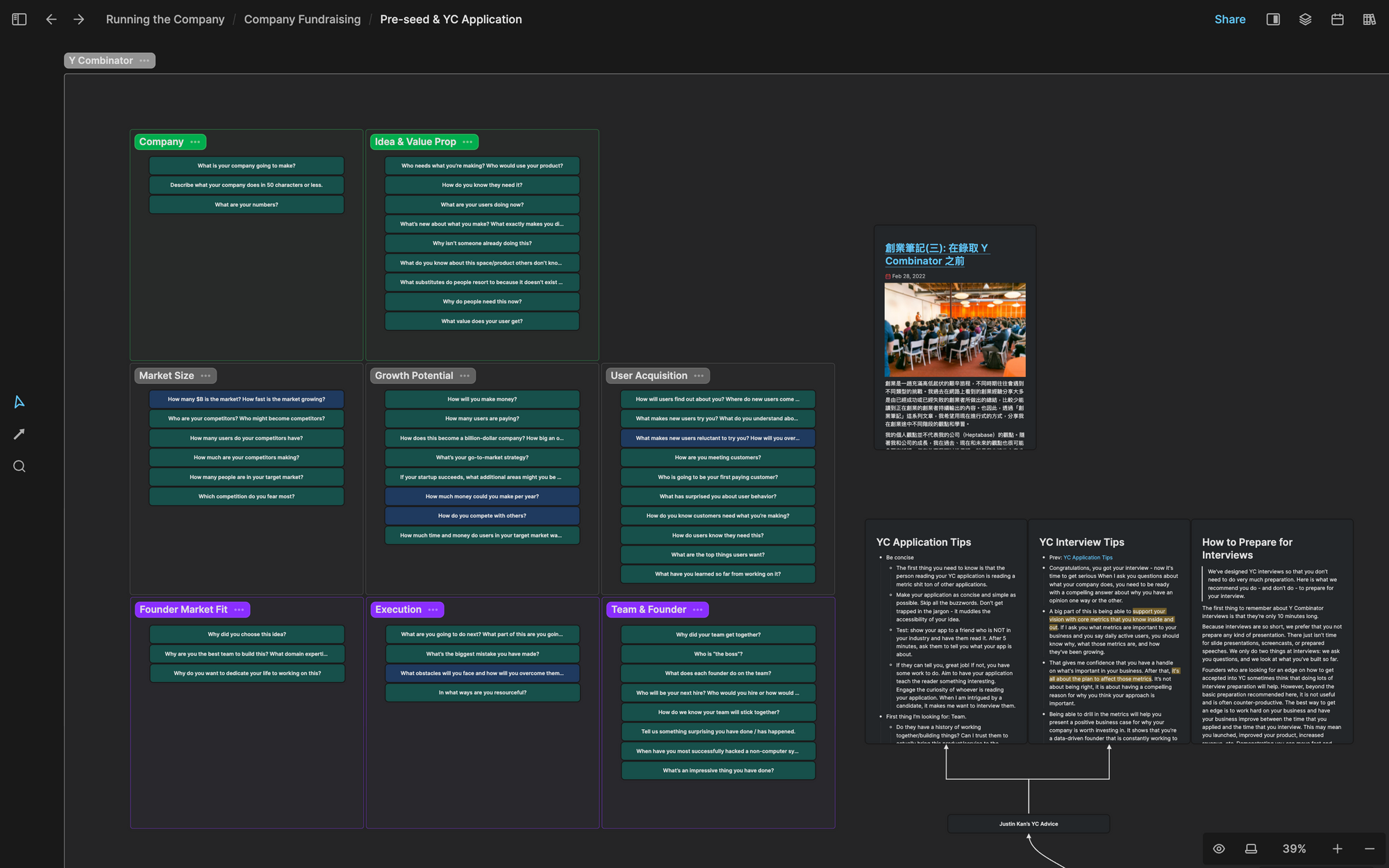 In the end, we were lucky enough to be accepted into YC, and the questions I was thinking about at the time were indeed proven to be crucial for the startup process. Thinking about them thoroughly in the beginning helped me avoid many detours.
Joining Y Combinator: 2022 Q1
Sales and Growth Bootcamp
In January 2022, we officially entered YC's winter batch. YC's training period lasts for three months, during which all companies have one goal: rapid growth. To achieve this goal, YC provides many internal learning resources for us to read according to our own needs. YC also set up a sales and growth bootcamp with many experienced founders sharing their experiences. To fully absorb this knowledge, I created a whiteboard called YC: Sales & Growth Bootcamp to organize the important startup knowledge I learned at YC.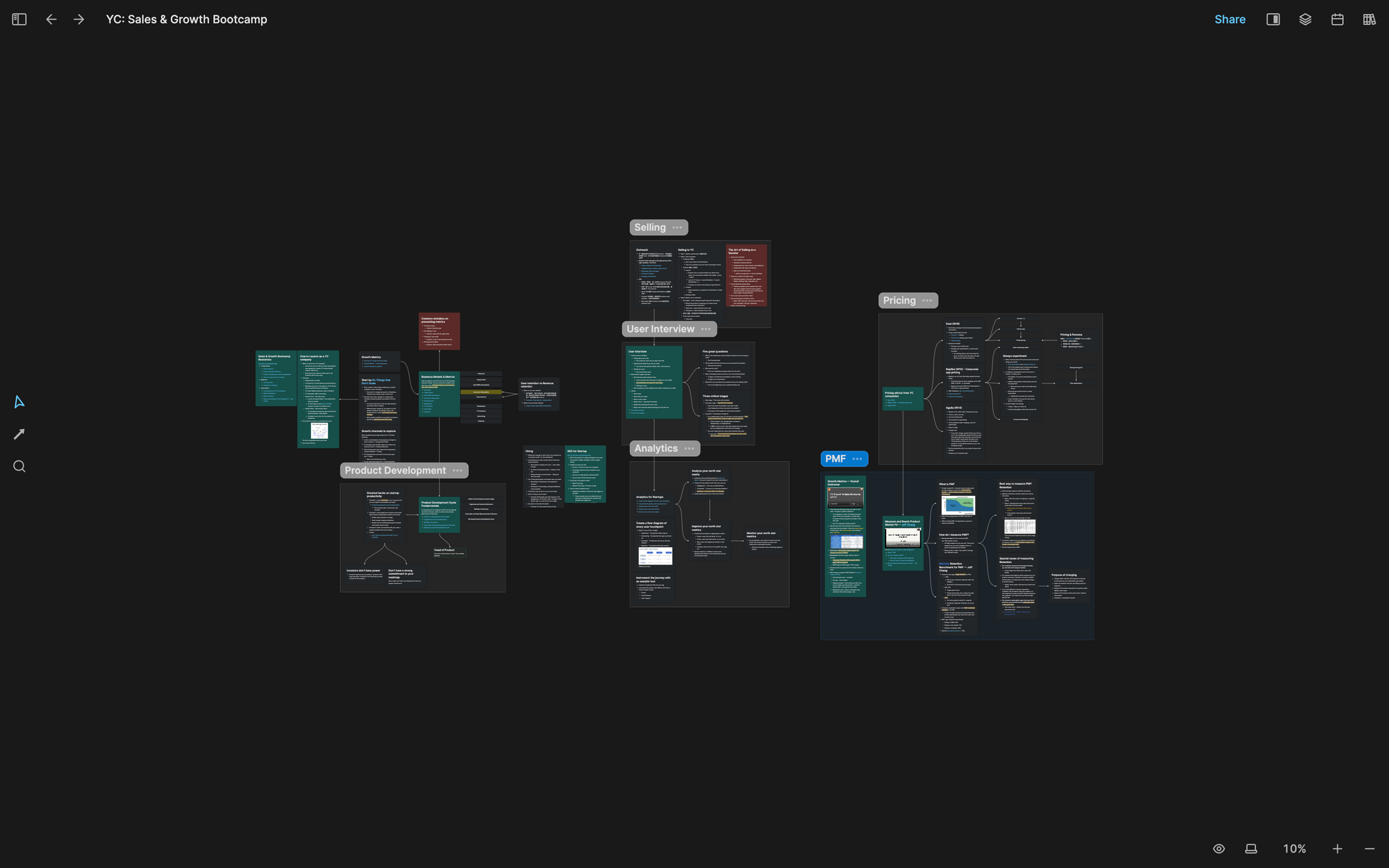 Fundraising
After three months of rapid growth, we quickly approached YC's Demo Day. At YC, most companies have the same goal, which is to complete seed fundraising with Silicon Valley investors before and after Demo Day. This is why rapid growth is so important: the faster you grow, the more leverages you have when fundraising.
To help founders fundraise, YC provides many related learning resources, such as how to construct a good pitch, how to showcase the company's highlights, how to differentiate good and bad investors, and how to interpret different investment terms. I created a whiteboard called Seed Fundraising to organize all the fundraising knowledge I learned and to create my Pitch Deck.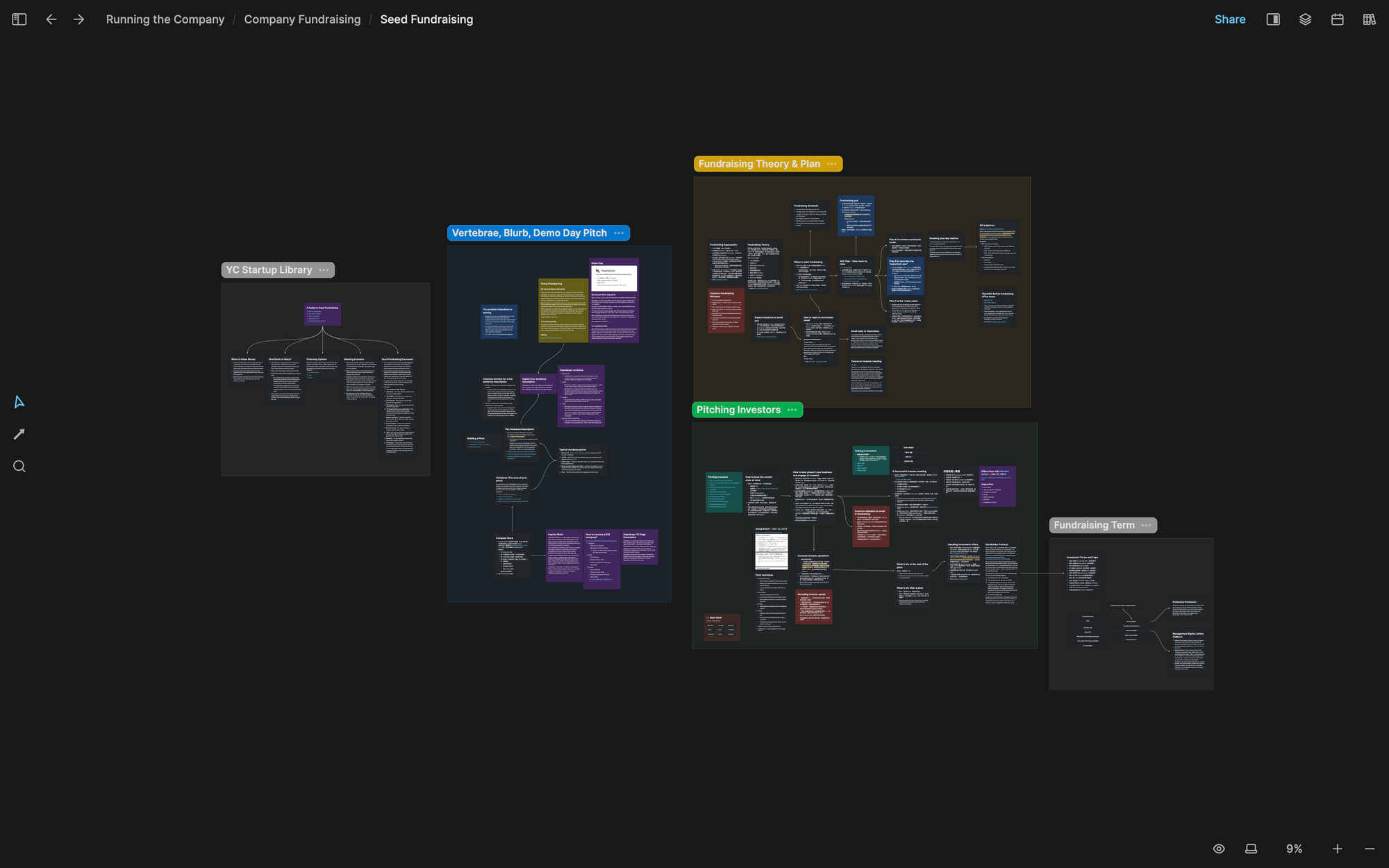 When preparing my Pitch Deck, I found that the Seed Fundraising whiteboard and the Pre-seed & YC Application whiteboard I created when applying to YC were both related to fundraising. Therefore, I decided to create a whiteboard called Fundraising and put these two sub-whiteboards inside.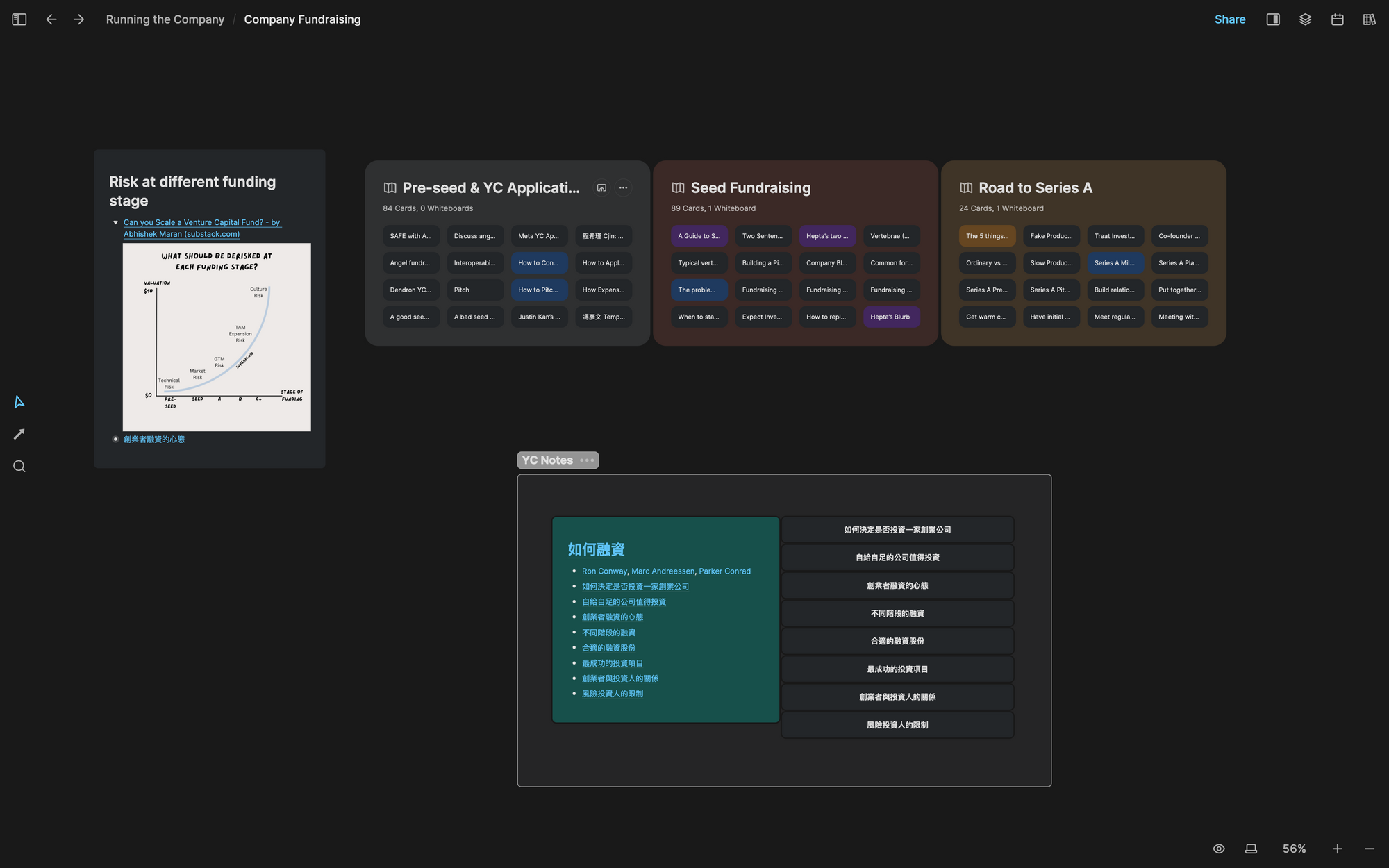 Company Long-term thinking
During YC, I focused on things that needed to be done in the next three months. After YC ended, I decided to spend more time thinking about things that needed to be done in the long term, such as the next few years. Therefore, I created a whiteboard called Company Long-Term Thinking to layout Heptabase's future five to ten-year plan and vision. Whenever I have new ideas for the company's future, I go back to this whiteboard to add or modify the card content and layout.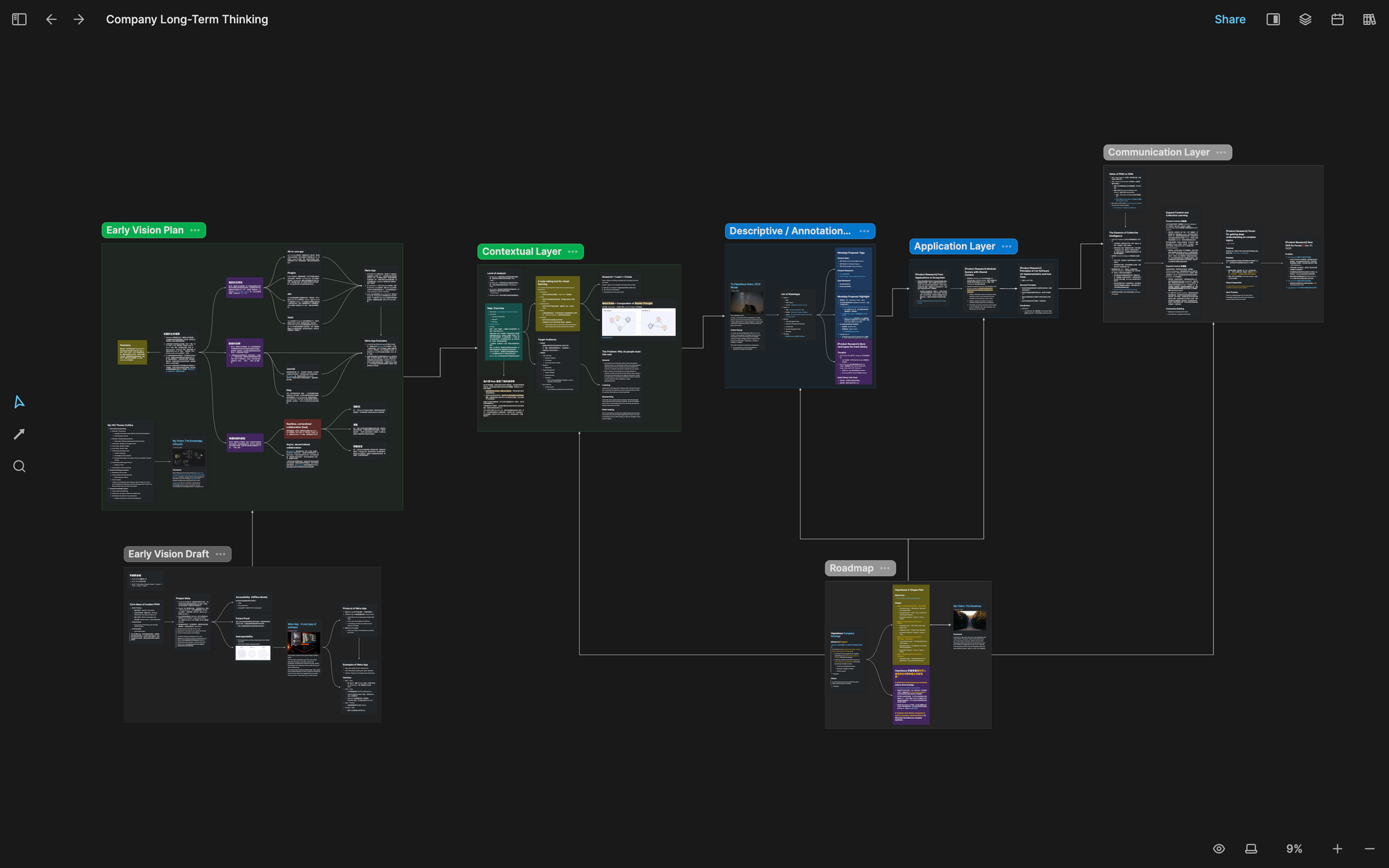 Product Research: 2022 Q2-Q3
Personal Knowledge Management Research
After YC, I spent a lot of time researching the future of personal knowledge management tools. I created a whiteboard called Product Research: PKM where I put all my research notes. Since there were too many notes, I decided to organize them by topic into different sub-whiteboards. Some of the important sub-whiteboards included Better Capturing → Thinking, which focused on the problems users face when converting fleeting notes into useful thought structures, and Better Exploring → Capturing, which studied the problems users face when converting external information into fleeting notes.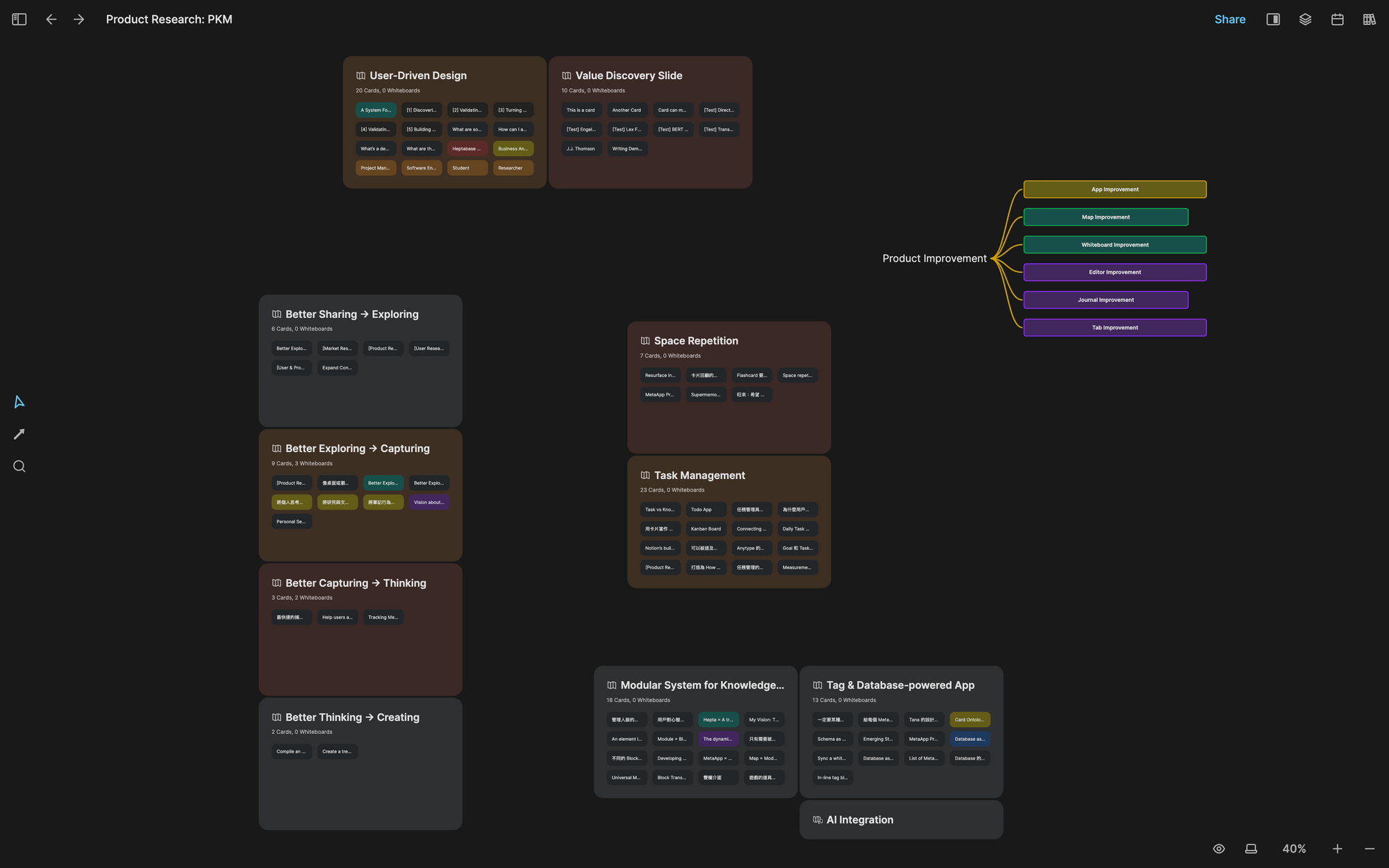 Whenever I had a better understanding of a particular problem, I created a new sub-whiteboard to transform these understandings into Heptabase feature designs. For example, under the Better Capturing → Thinking whiteboard, there is a sub-whiteboard called Journal: Fundamental Research, which deals with how to integrate the features of a journal and a whiteboard, allowing users to convert scattered journal ideas into useful knowledge cards on the whiteboard.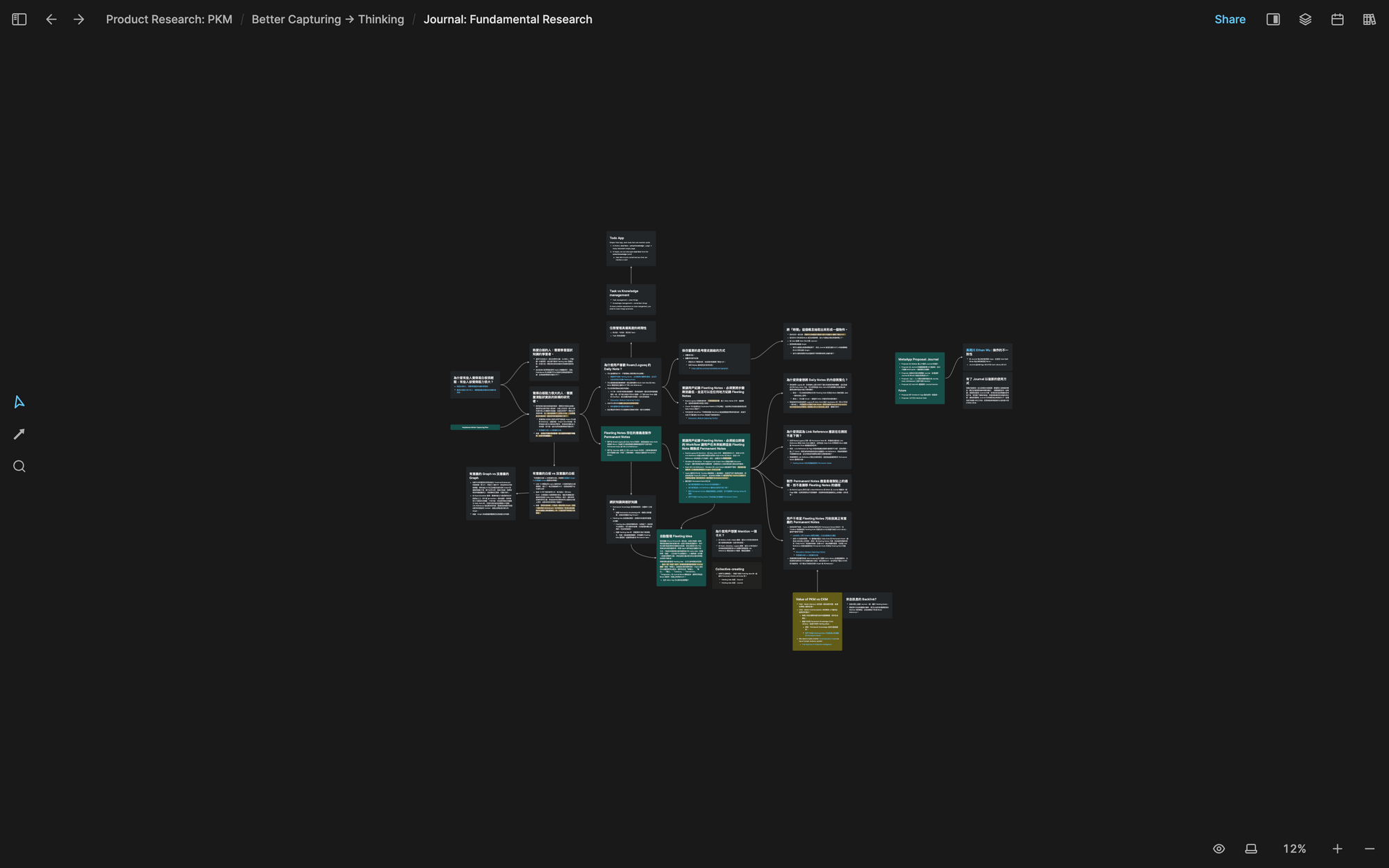 Under the Better Exploring → Capturing whiteboard, there is another sub-whiteboard called Hepta as a Browser / Reader, which focuses on the possibility of integrating Heptabase with browser functionality, allowing users to browse web pages directly in Heptabase and convert important information on the web into notes.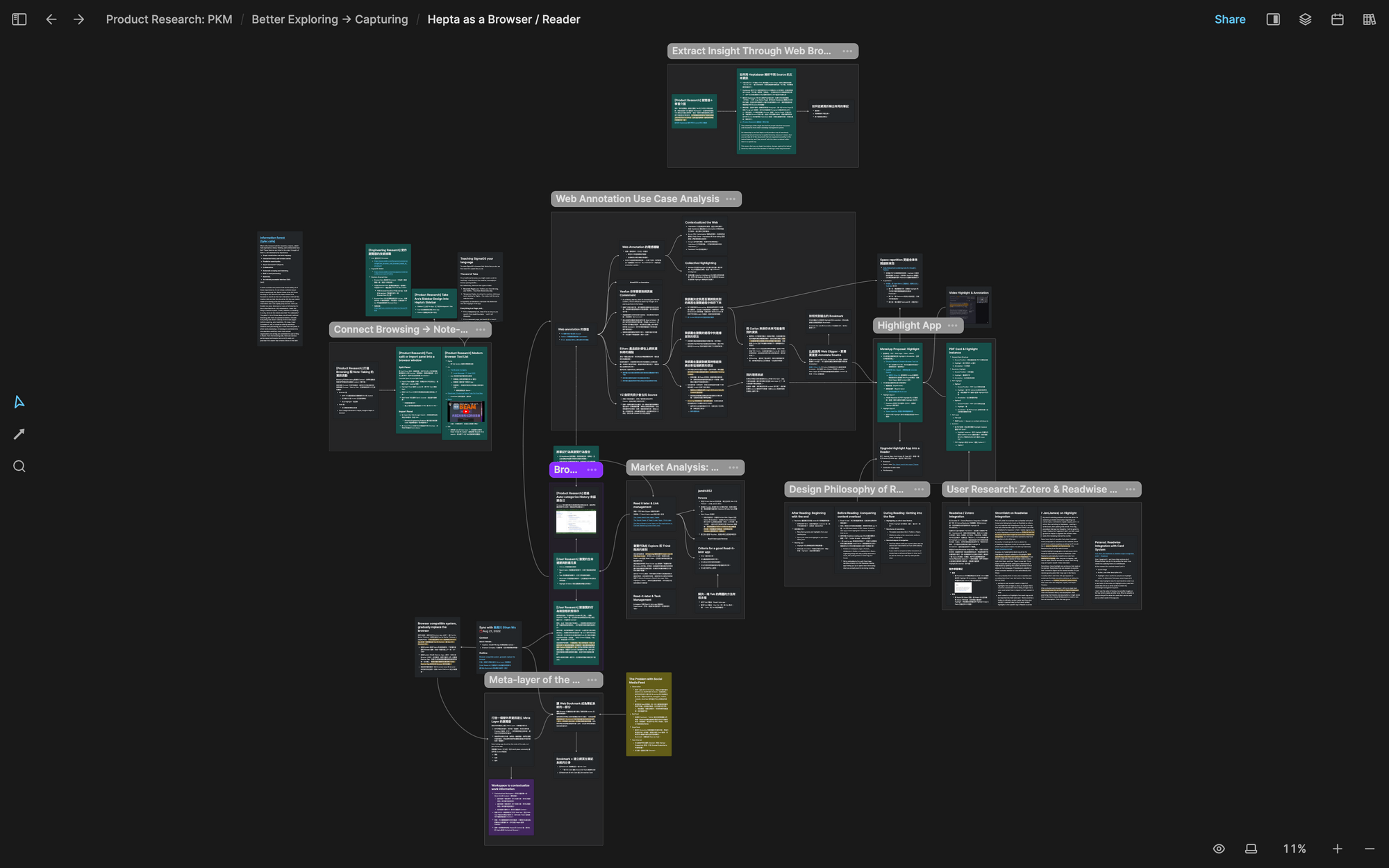 Collective Knowledge Management Research
In addition to personal knowledge management, another topic I extensively researched during this period was collective knowledge management, particularly in team and community settings. The purpose of this research was to help me think about what mechanisms we should design to help users communicate and integrate each other's knowledge to accomplish important work and research when a group of users put their knowledge in Heptabase. For this topic, I created different sub-whiteboards to study various areas, such as team workspaces, online forums, communication tools, blog platforms, and AI integration.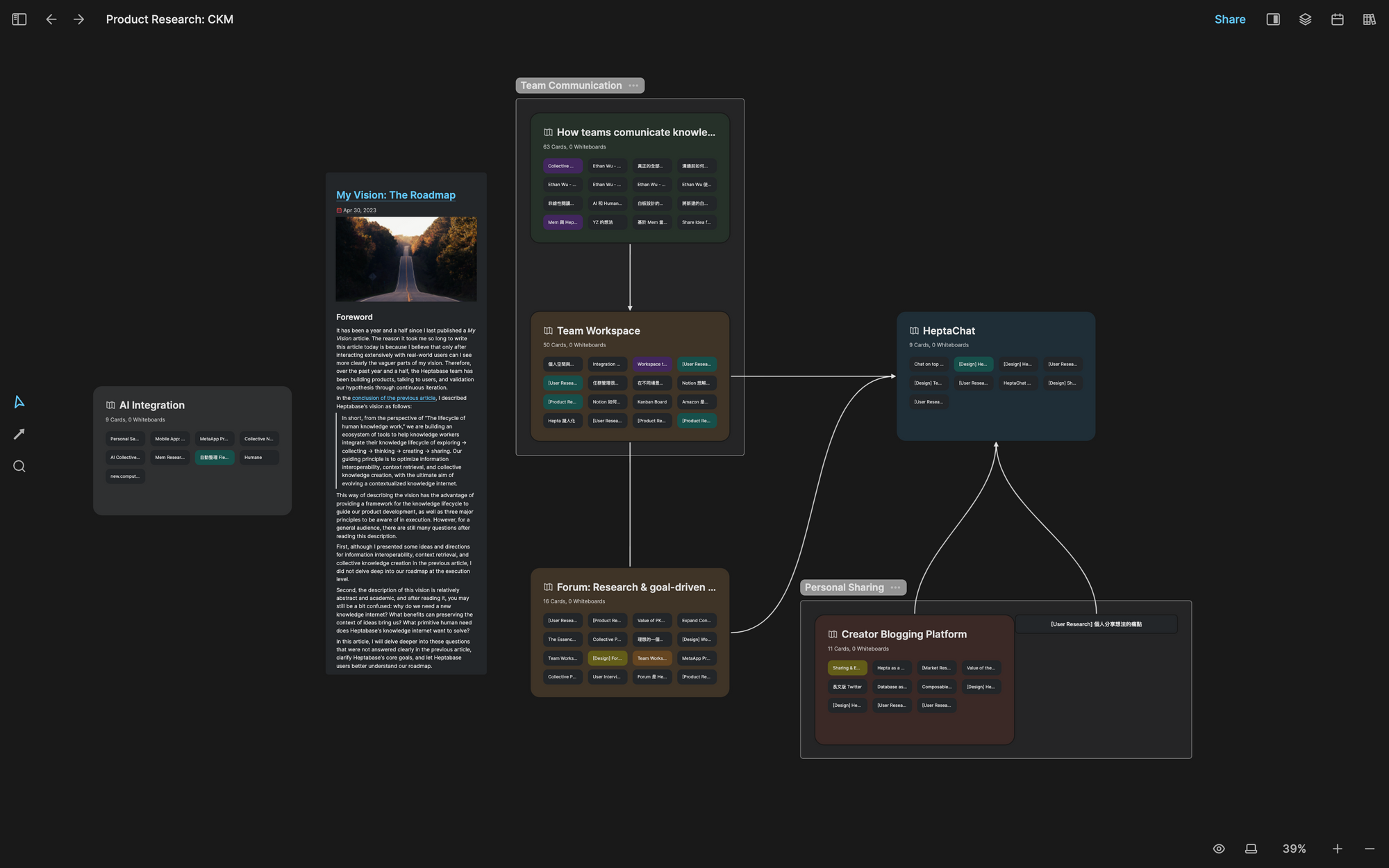 For example, I have a sub-whiteboard called How teams communicate knowledge dedicated to studying how different teams communicate their work knowledge. For this, I interviewed many teams and broke down and analyzed the common patterns and clues that emerged from these interviews on this whiteboard.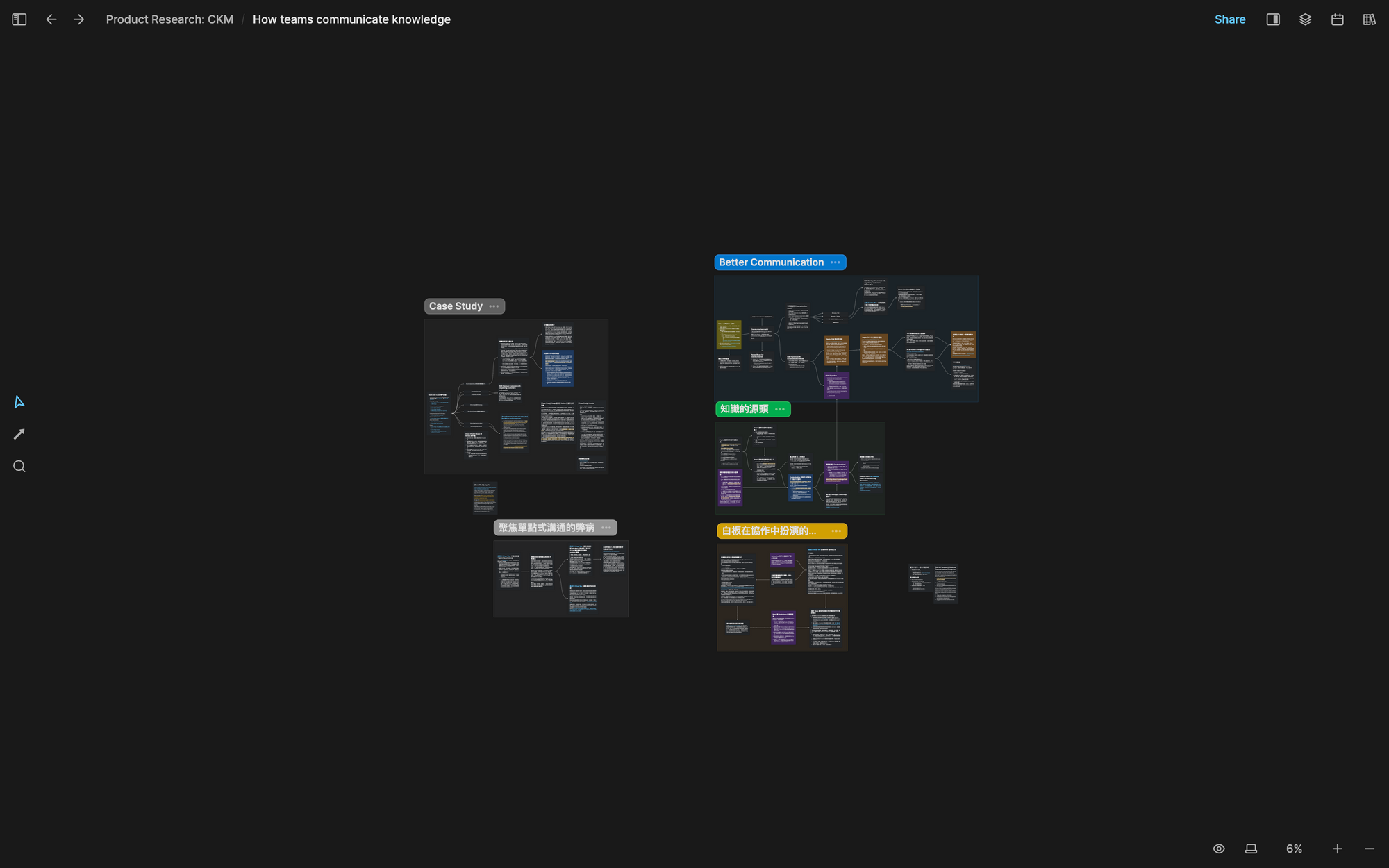 When I found some important patterns and clues, I went to another whiteboard called Team Workspace to think about the possible directions for Heptabase's future development and design a card communication protocol based on Heptabase using these clues as a starting point.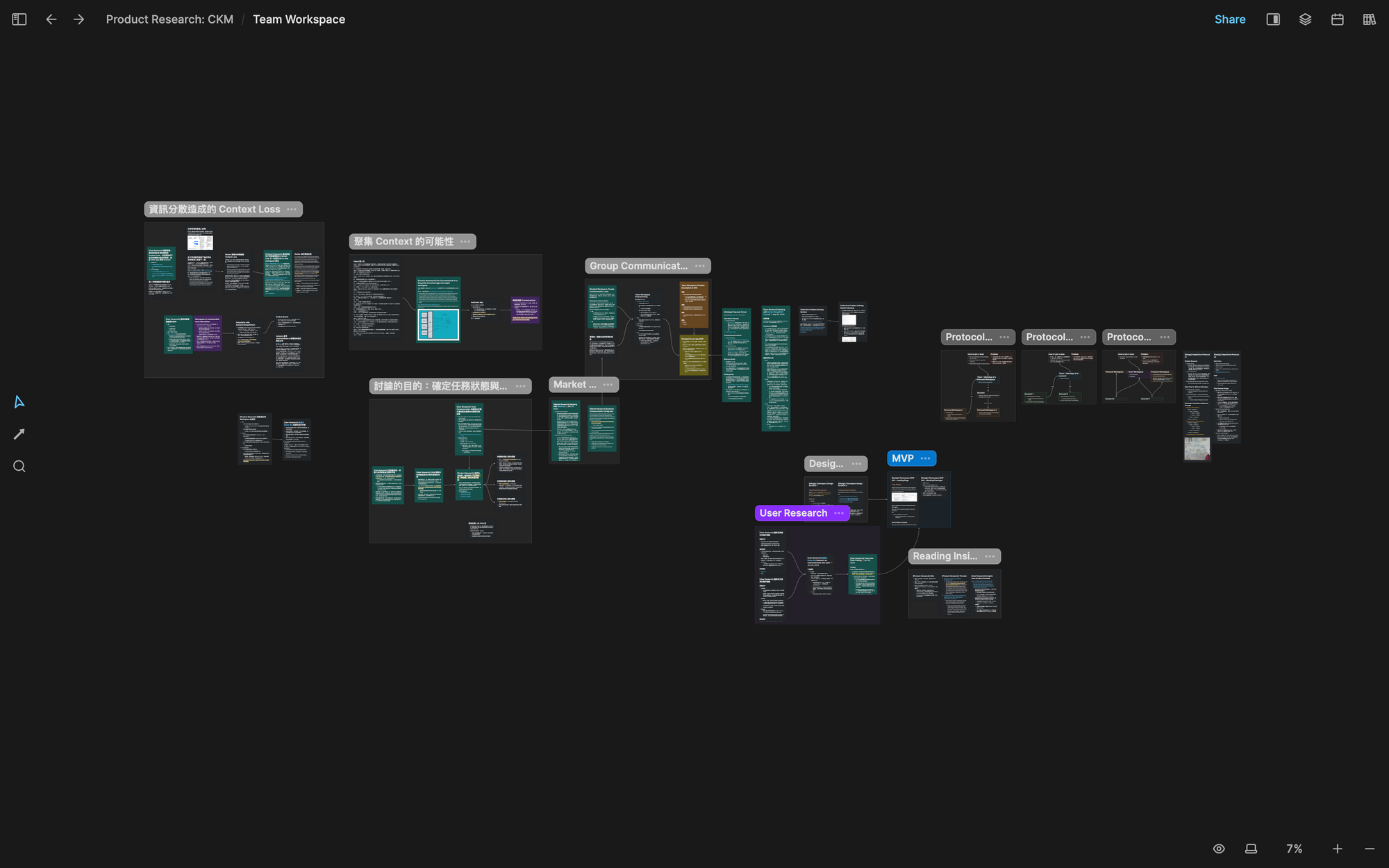 Whether it's PKM whiteboards or CKM whiteboards, the biggest benefit they bring me is that I can spend several months continuously developing research on a particular topic. Whenever I have new interview data or product ideas, I can always go back to these whiteboards to integrate them into my existing research results, which I think is crucial.
Many people tend to focus too much on organizing all their notes into a "perfect structure" when using note-taking app, but I have always felt that this is not only difficult to achieve but also not very meaningful. Each research has its unique structure, and the freedom of whiteboards allows me to let each research grow and accumulate according to the structure that suits it. Note-taking has never been my goal, but rather a process to help me do research well. Traditional note-taking app can also accumulate a lot of notes, but it is difficult to transform these notes into important research works.
Company Strategy: 2022 Q4
Product Growth Theory
In the last quarter of 2022, in addition to continuing my product research, I also began to invest some time in learning more about product growth theory to help me formulate the company's growth strategy for the next two years more clearly. The growth of a product is driven by three things: retention, customer acquisition, and monetization. I created a whiteboard for each of these three things to do in-depth research.
In the Retention & Engagement whiteboard, I studied ways to measure retention rates, three methods to improve retention rates, and integrated this knowledge with my notes related to product data analysis. Additionally, I also included our investors' advice in this whiteboard to compare with this knowledge.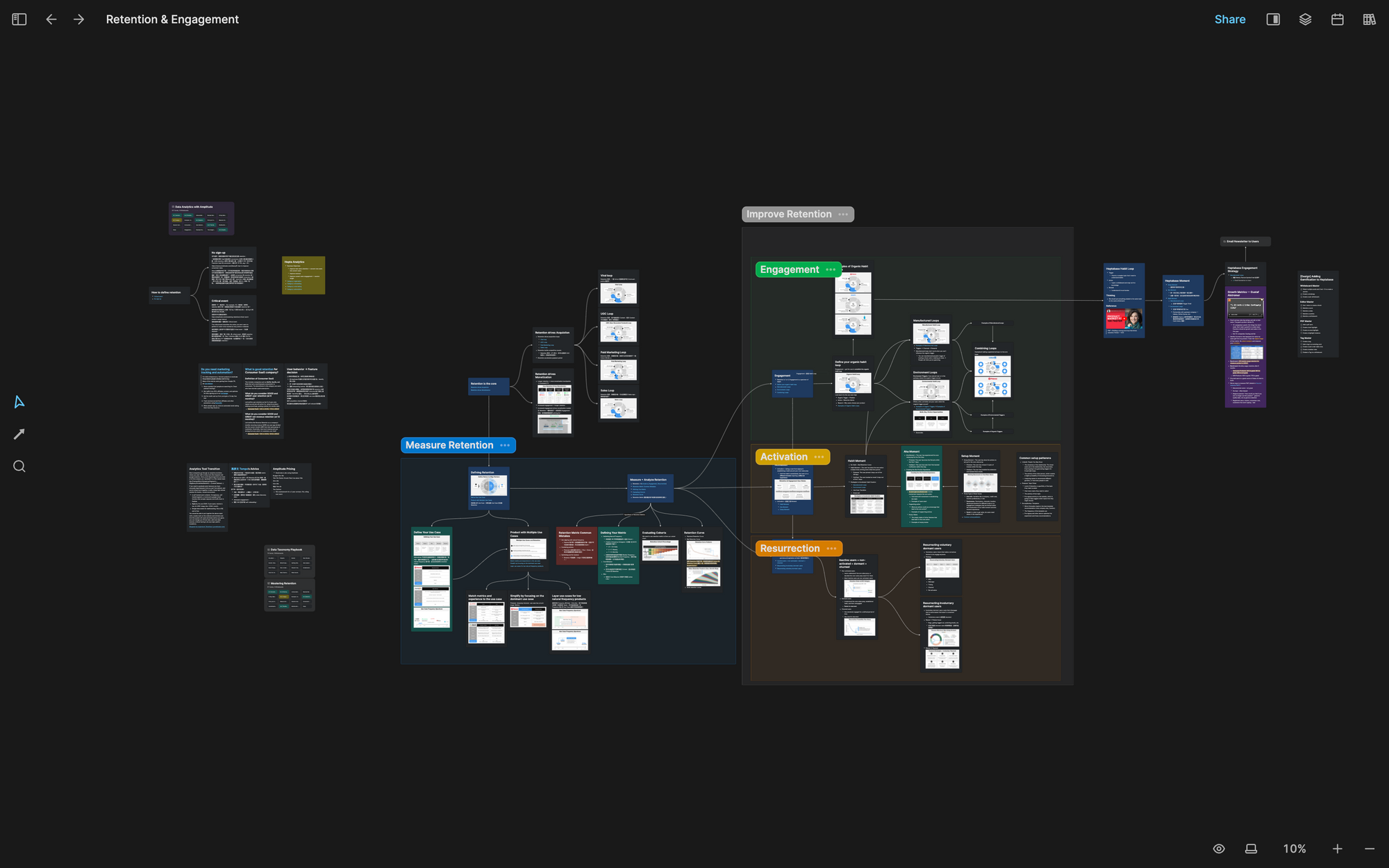 In the Acquisition: Marketing & Sales whiteboard, I studied different types of customer acquisition methods such as viral loops, content marketing, paid acquisition, and sales. I also created some sub-whiteboards to organize the materials we used on customer-facing channels.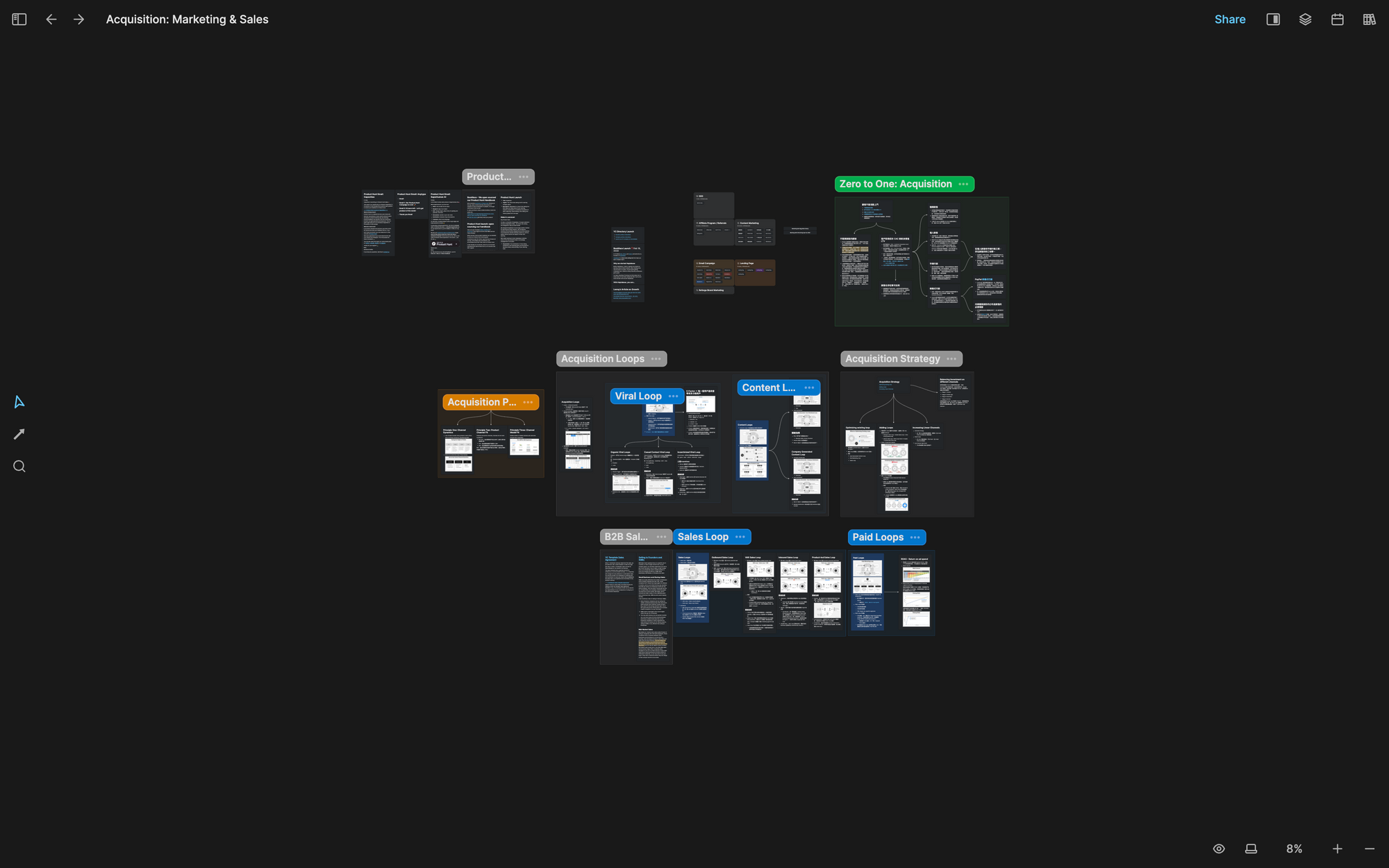 In the Monetization & Pricing whiteboard, I collected and organized all the pricing knowledge I learned, including pricing strategies, measuring pricing effectiveness, optimizing pricing, etc. I also organized all my thoughts on pricing during the Closed Alpha and Open Beta stages of the product in this whiteboard. Whenever the company enters the next stage, I can think about how to adjust the pricing strategy based on the knowledge in this whiteboard.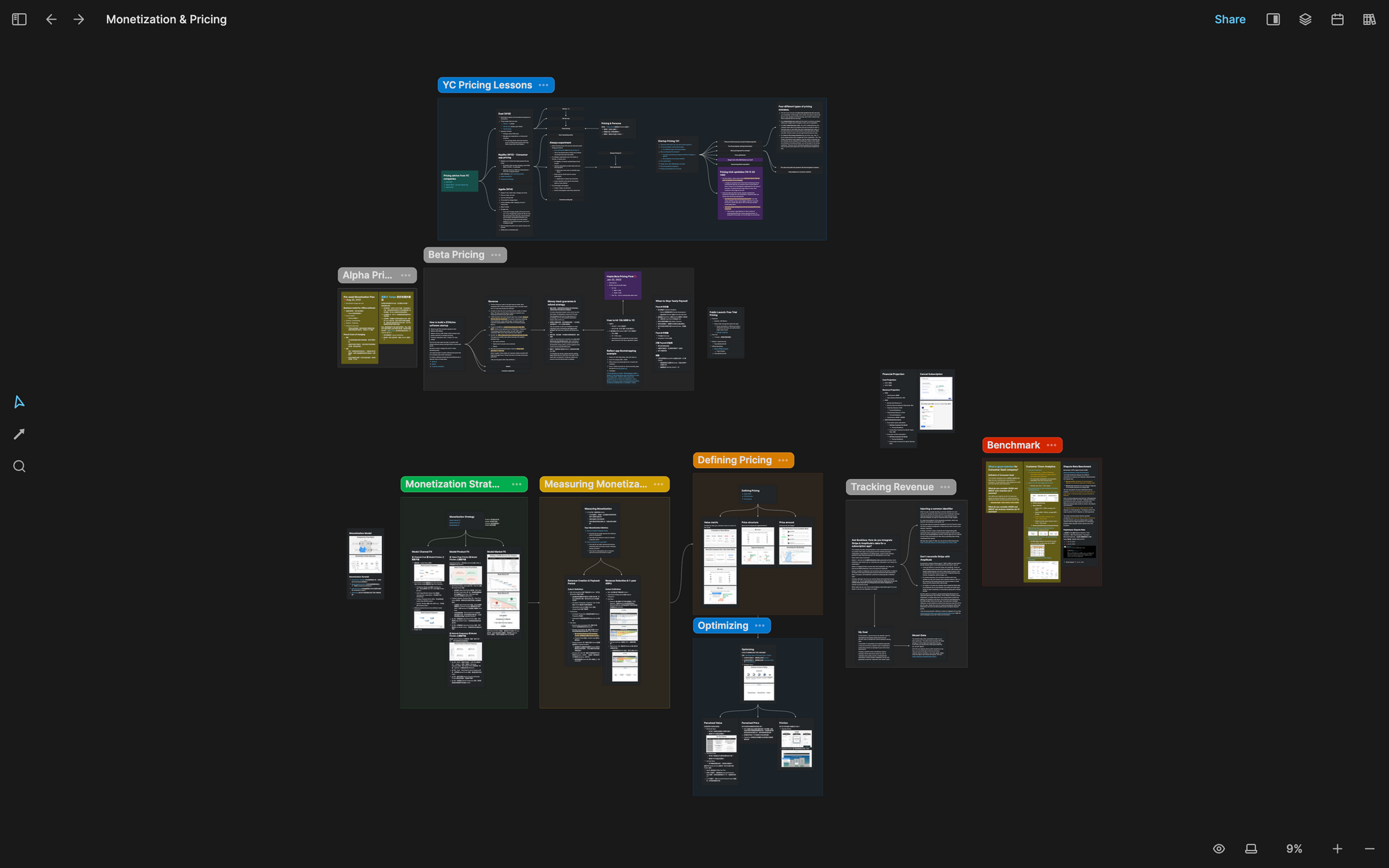 Growth and Competition Strategy
When the research on Retention, Acquisition, and Monetization whiteboards came to an end, I created two whiteboards called Company Growth Strategy and Company Competition Strategy.
After creating the Company Growth Strategy whiteboard, the first thing I did was to put all the important concepts shared by YC and investors, as well as all the growth strategies we have used in the past year and a half, into this whiteboard. I divided user growth into different stages: 1-10 paying users, 10-100 paying users, 100-1000 paying users, 1000-10000 paying users, 10000-100000 paying users, and so on. I created a card for each stage, writing down the growth strategies we have adopted or plan to adopt in this stage, and the goals we need to achieve in key metrics. I also collected several benchmarks for these metrics in the market, allowing me to compare our current performance with these benchmarks and identify our strengths and weaknesses.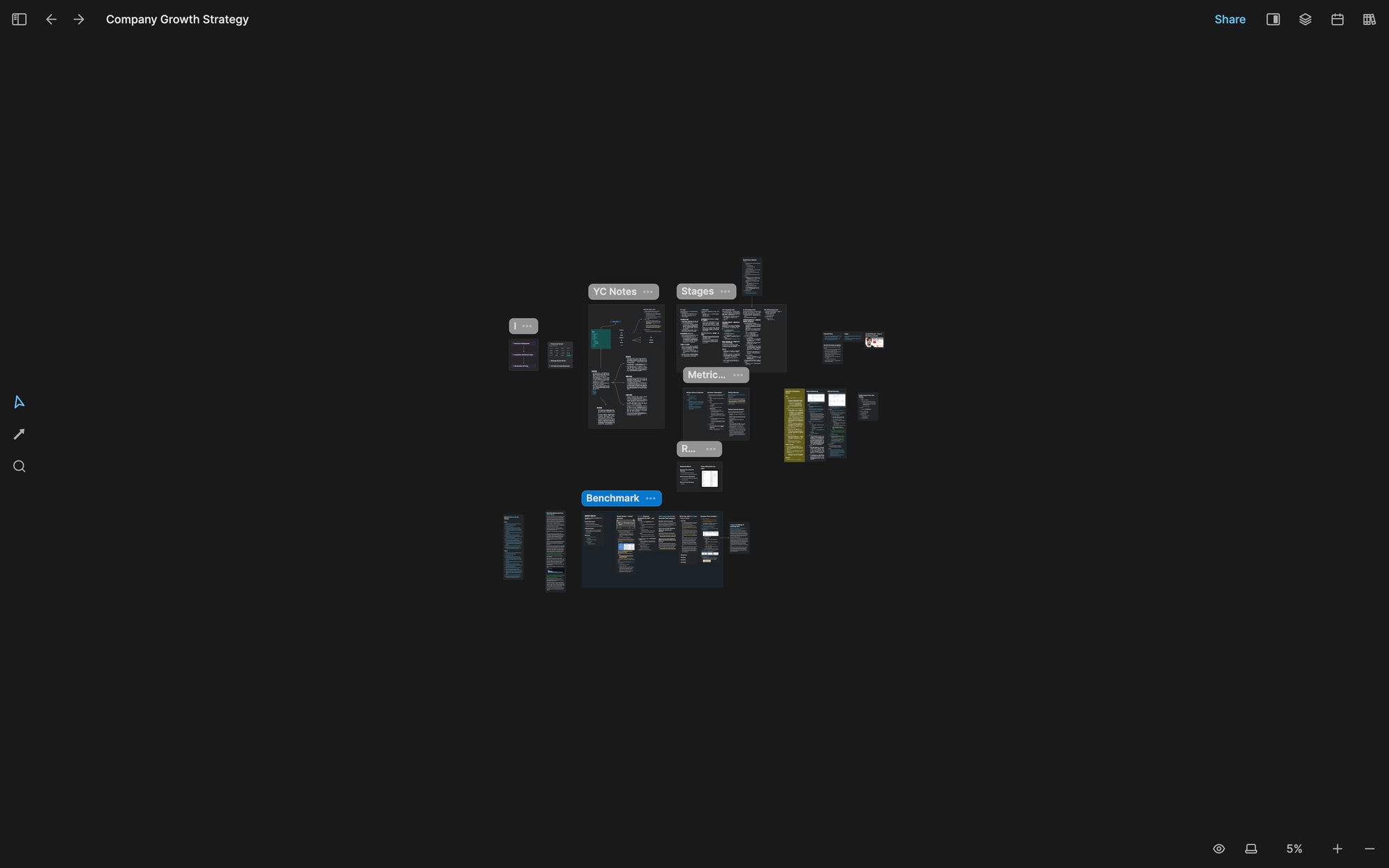 In the Company Competition Strategy whiteboard, I have added many notes related to competition that I had written before. I also have a whiteboard named Reading Notes, where each sub-whiteboard represents a book I have read before. For instance, Peter Thiel's Zero to One, Clayton Christensen's Innovator's Dilemma, and Sun Tzu's The Art of War each have their own whiteboard. I select all the cards related to competition from these whiteboards and reuse them on the Company Competition Strategy whiteboard to help me clearly see the commonalities and differences between the competition philosophies of great thinkers. Whenever we encounter new competitions, I refer back to this whiteboard to think about how to approach them.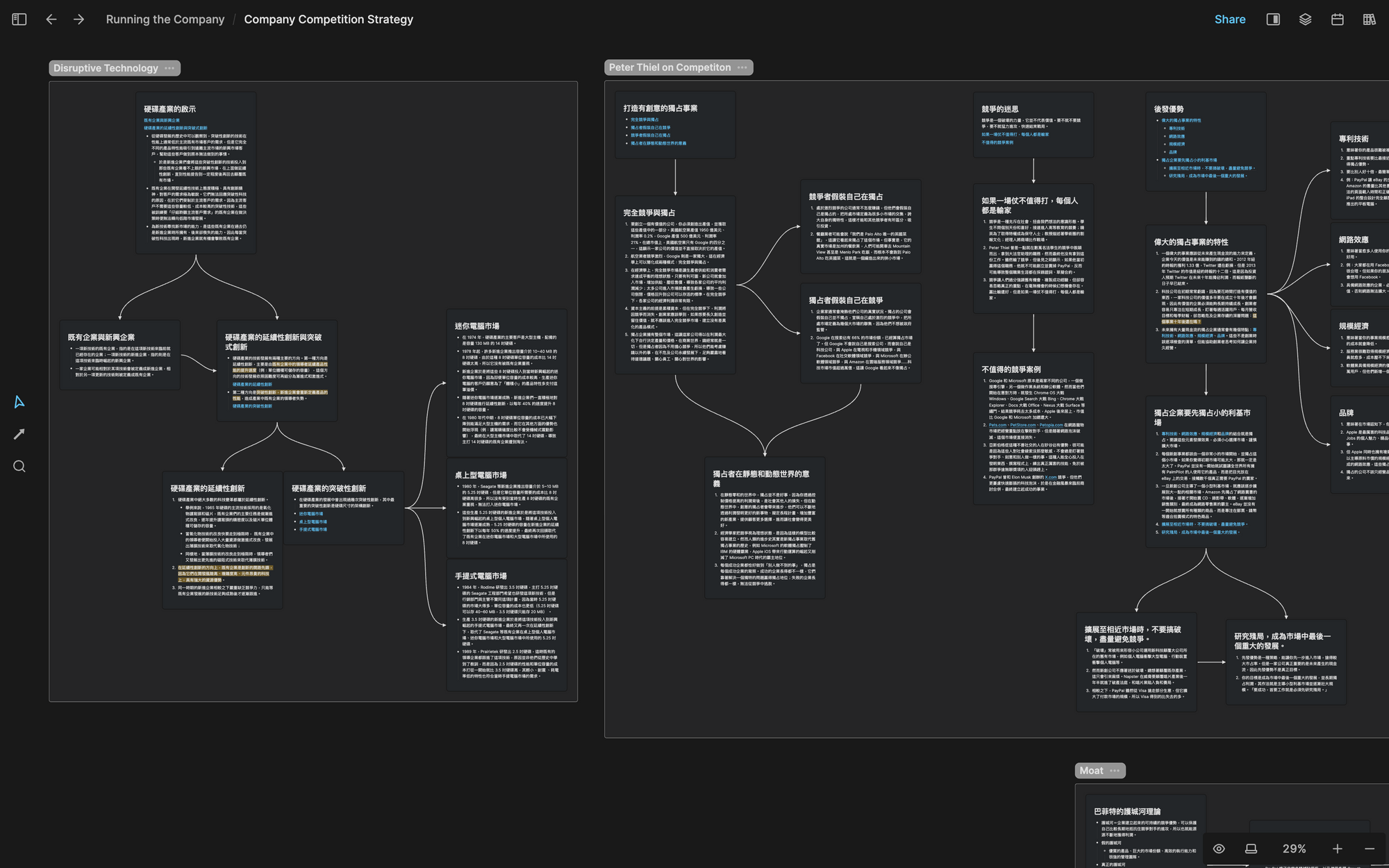 Company Operations
In addition to product research, fundraising, growth strategy, and competition strategy, there are many other tasks I need to do to run the company, such as hiring, building company culture, leading the team, and assigning tasks. As the number of whiteboards related to the company grew, I decided to create a whiteboard called Running the Company to contain most of the whiteboards related to company operations and strategy.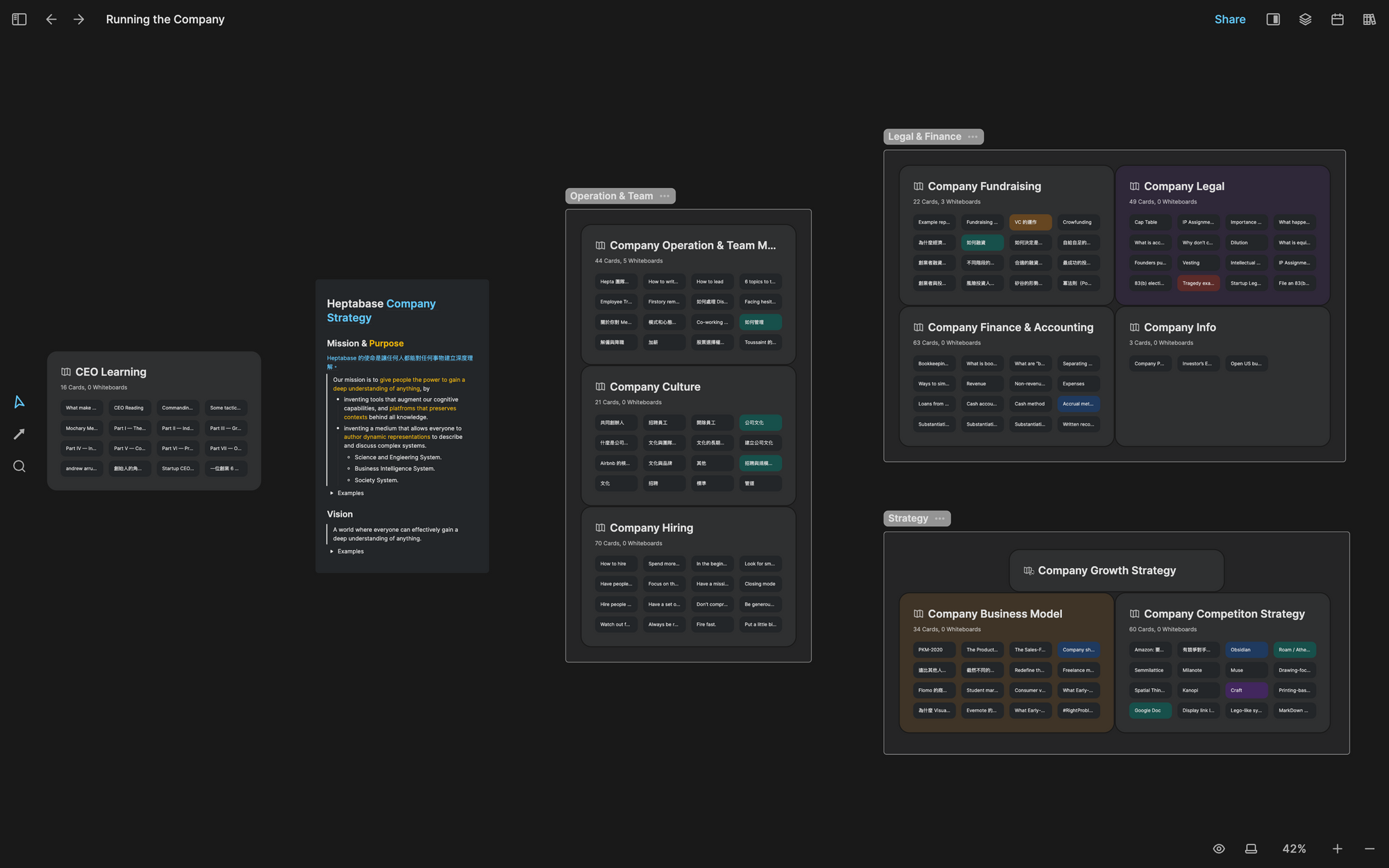 Through this example, you will notice that when writing notes in Heptabase, you don't need to think about the hierarchical relationship between whiteboards at the beginning. You just need to develop your whiteboards according to your learning and research methods, and when the time comes, you will naturally organize related whiteboards into a better structure. In Heptabase, organizing the whiteboard structure is a continuous process, and it is not necessary to have a perfect structure from the beginning.
Product Research: 2023 Q1-Q2
Human-Computer Interaction Research
In the first half of 2023, as Heptabase gradually matures, I have once again shifted my focus back to product research and planned the next stage of product development. Unlike the previous year's research, I spent more time rereading important literature on human-computer interaction, summarizing the many ideas proposed by computer pioneers over the past seventy years, and assessing their feasibility in modern times. The first piece of literature I reviewed was The Dream Machine written by Mitchell Waldrop, which I believe is the best-written book on computer history so far. I created a whiteboard for this book, with a timeline from left to right, blue cards representing human-computer interaction ideas, green cards representing computer pioneers, yellow cards representing projects and new technologies, and other cards representing companies and events.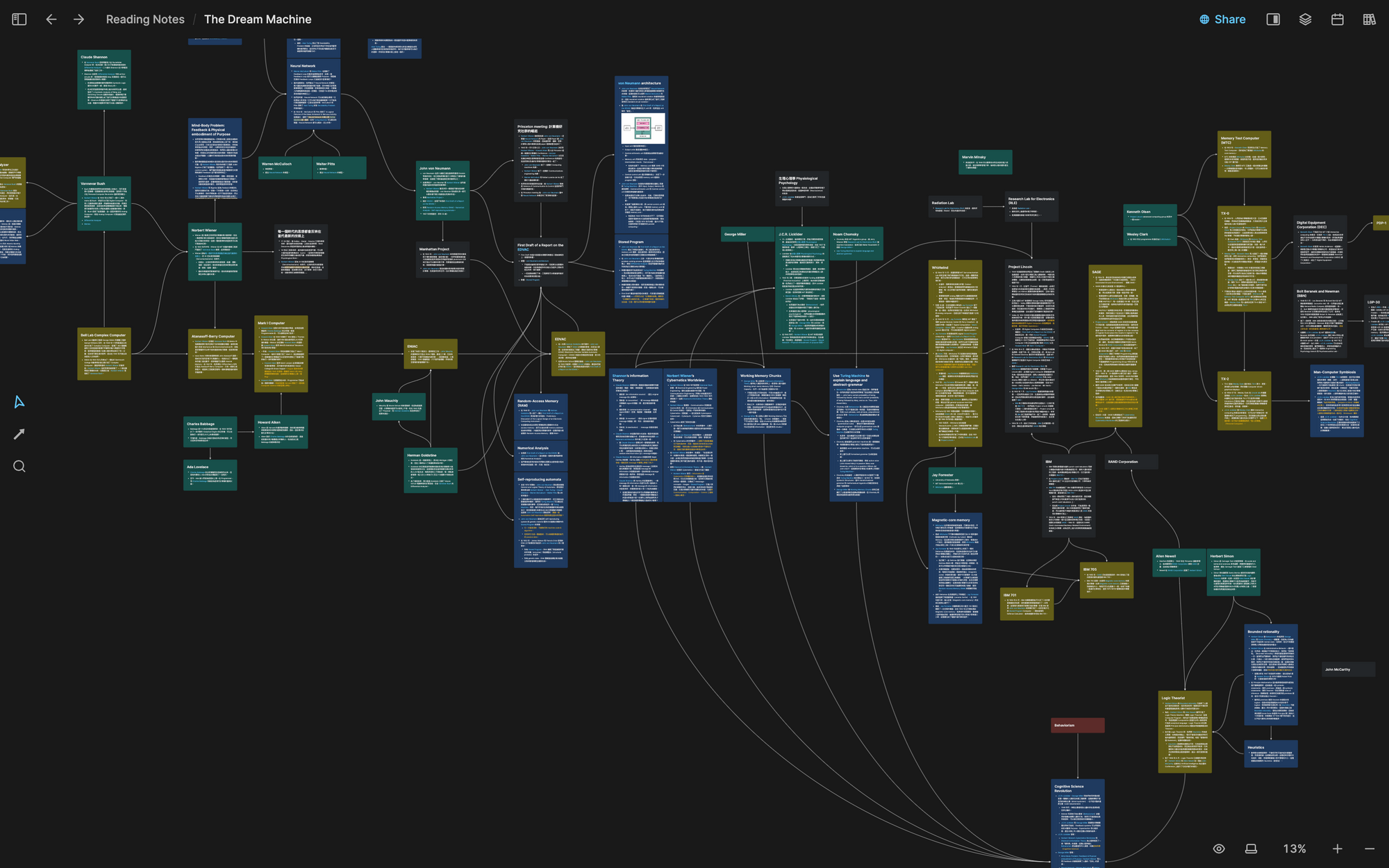 After sorting out the historical context, I began to delve into the ideas of several computer pioneers that I thought were more closely related to our company's mission. For example, I created a whiteboard for Alan Kay to study his Smalltalk project initiated at Xerox PARC and the enlightenment ideas behind object-oriented programming.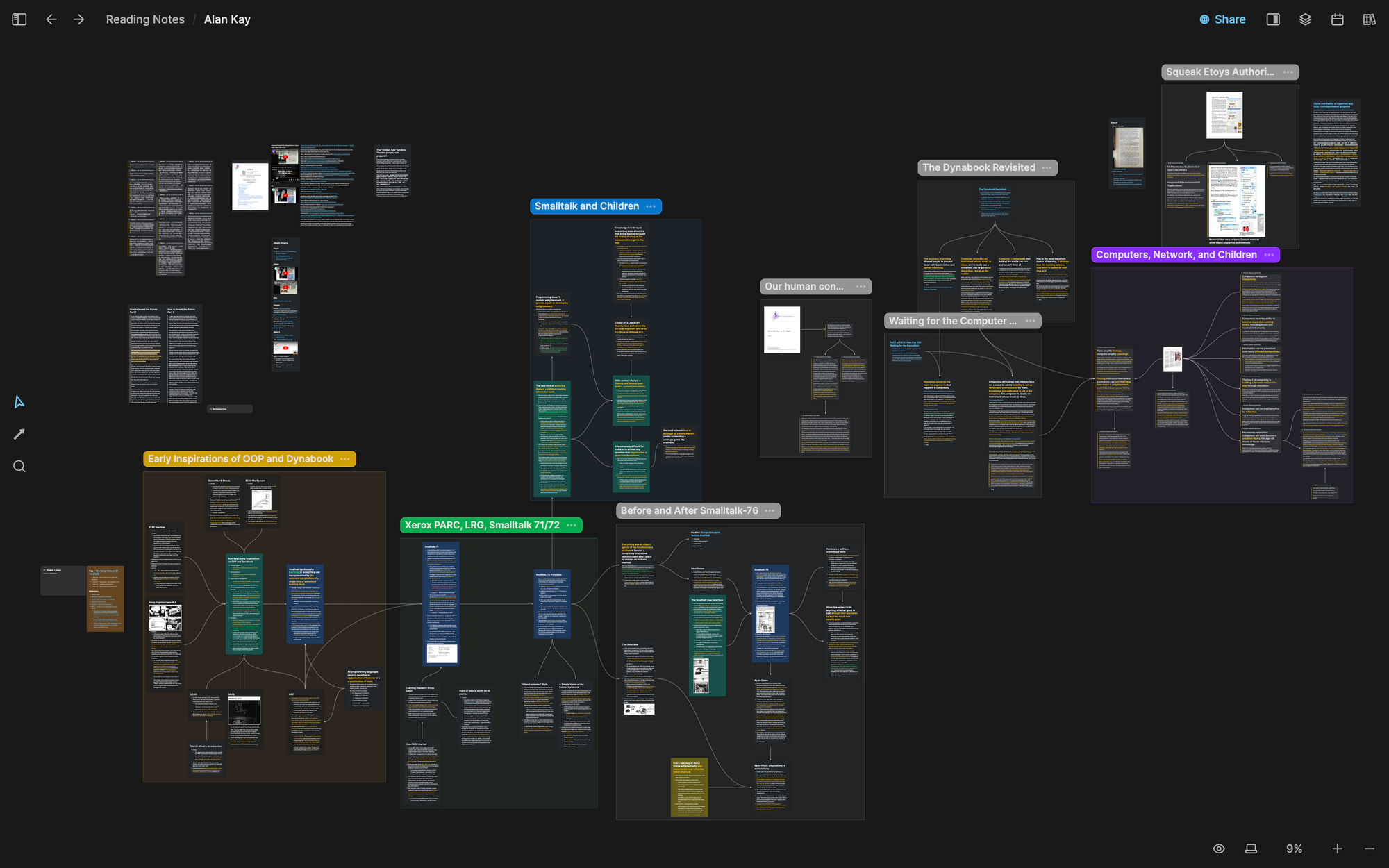 Another computer pioneer that has had a profound impact on me is Seymour Papert. I created a whiteboard for him called "Mindstorms," which is his most classic work, discussing how he based his thinking on Jean Piaget's theory of cognitive development to research how computers can impact children's education.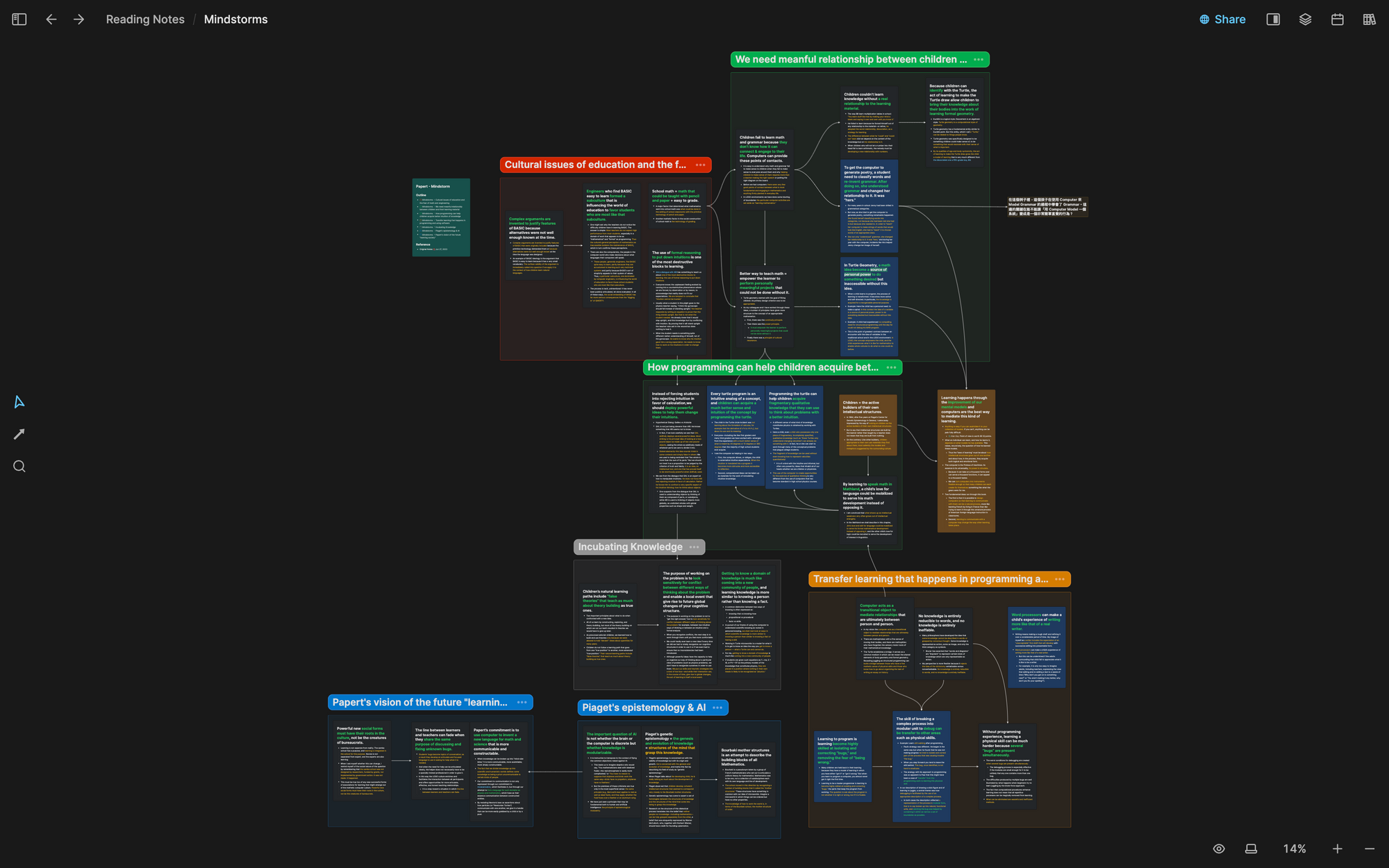 In addition to the computer pioneers of the 1970s, I also spent a lot of time studying modern human-computer interaction research. Among them, the one that inspired me the most was Bret Victor and his Dynamicland project. I created a whiteboard for Bret Victor, breaking down every speech he gave and every report he published into card notes, using sections and mindmaps to sort out the relationships between these cards on the whiteboard.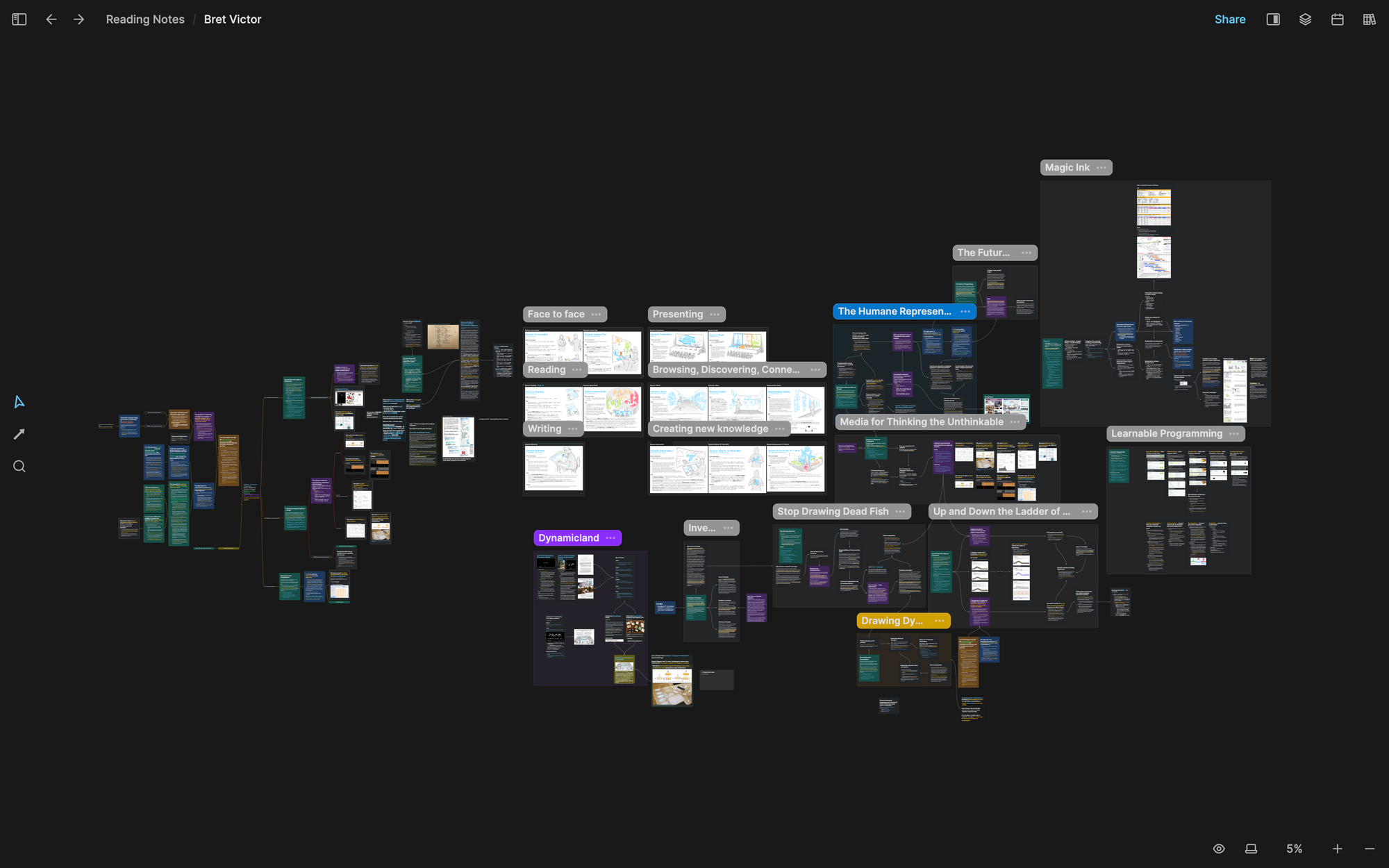 As my research notes accumulated, my goals for the next stage of Heptabase's development became clearer. I created a new whiteboard, reusing and integrating all the research notes that I thought were crucial to the next phase of product design and development. My research notes not only helped me understand and review my research topics, but they also had a significant impact on the work I was doing!
Conclusion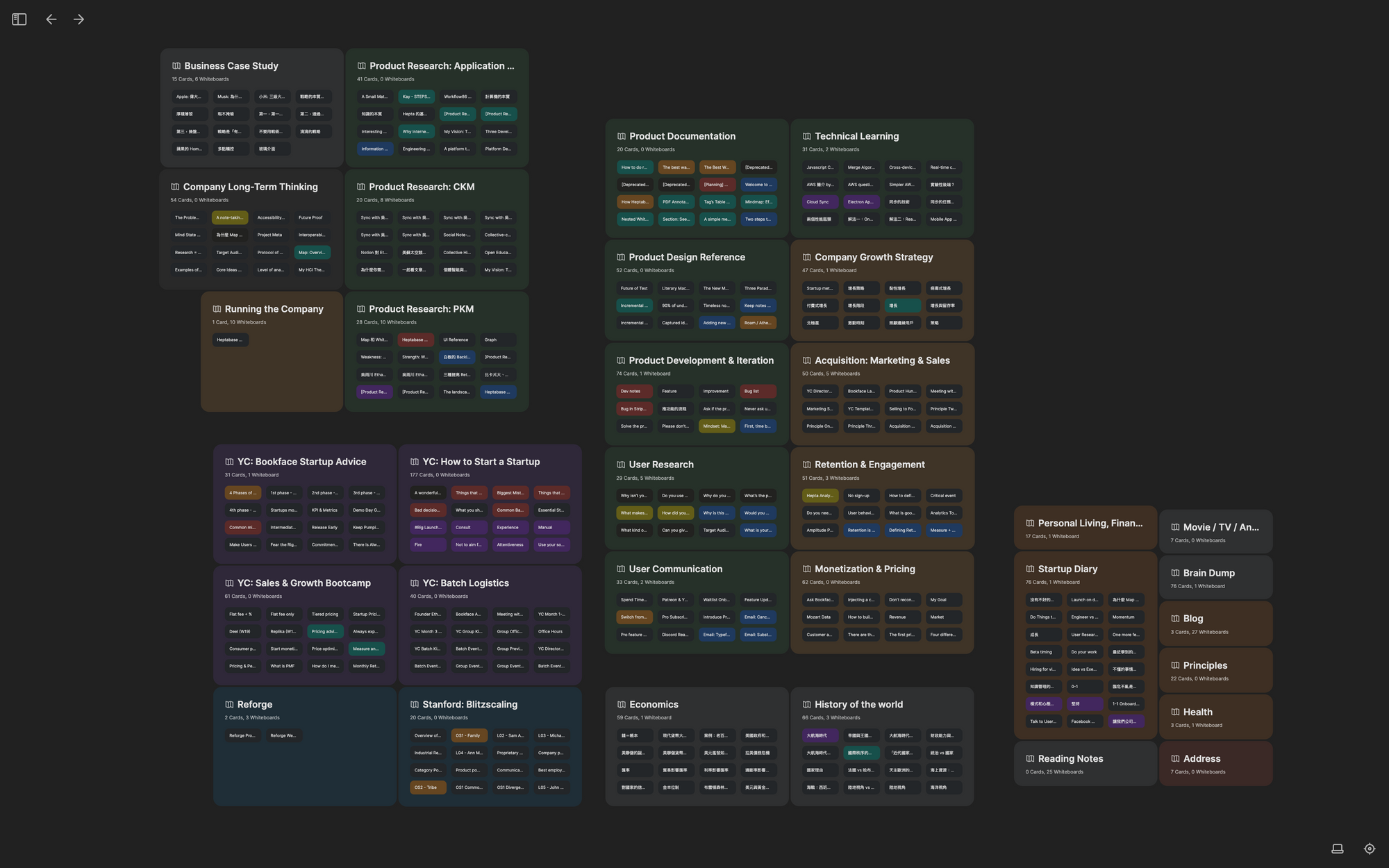 This article documents my experiences learning, researching, planning, and writing with Heptabase over the past two years. During this time, I created about 4,000 cards and 180 whiteboards. Despite this, I can always find my previous learning and research notes and easily recall my thinking process through the whiteboards in which they reside. Additionally, I can continue to expand my knowledge and research, plan new projects, and write new articles based on what I have learned and known in the past.
Throughout the past two years, I have never forced myself to use a particular methodology to write notes. Instead, I only focus on the current purpose every time I write notes and try to arrange them on the whiteboard into the most useful structure for achieving my goals. This way of taking notes works extremely well for me, and I have finally gained peace of mind. I am no longer worried that I will forget what I learned in the past over time because I know that all the knowledge I have acquired is preserved in Heptabase with the best structure, waiting for the next time I use it.
If you are a first-time Heptabase user, I encourage you not to spend too much time thinking about "what is the right way for me to take notes" because, as I said at the beginning, taking notes is just a process, not a goal. When you change the question to "what do I want to achieve with my notes," you will be in a better position to achieve your goal with a clearer mind. Heptabase and its visualized cards and whiteboards will have the greatest effect when you ask the right question.
Further Reading
---
前言
Heptabase 的願景是打造一個任何人都可以有效地對任何事物建立深度理解的世界。我們的短期目標是打造全世界最好的思考工具,長期目標則是打造一個脈絡化的全球知識網路。
在當前,Heptabase 作為一個思考工具有四個主要用途:學習、研究、規劃和寫作。學習和研究的本質是對人類已知和未知的事物建立深度理解,規劃和寫作的本質則是將這些深度理解轉化成可以被執行和傳播的形式。
我是 Heptabase 的創辦人,也是全世界第一個 Heptabase 的用戶。從 2021 年五月至今,我已經使用 Heptabase 超過二年的時間,經歷了它超過 350 個版本的迭代。隨著 Heptabase 的功能和體驗日趨完善,我也確確實實地感受到這個工具是如何在每一天重塑我的思考方式。
在 Heptabase 的用戶社群中,我每天都會收到來自世界各地不同用戶的反饋。有些用戶會向我表達他們對 Heptabase 的愛、告訴我 Heptabase 如何徹底地改變他們學習和做研究的方式。也有少部分用戶會向我表達他們對 Heptabase 的掙扎,告訴我他們不確定視覺化的筆記方式是否真的適合他們。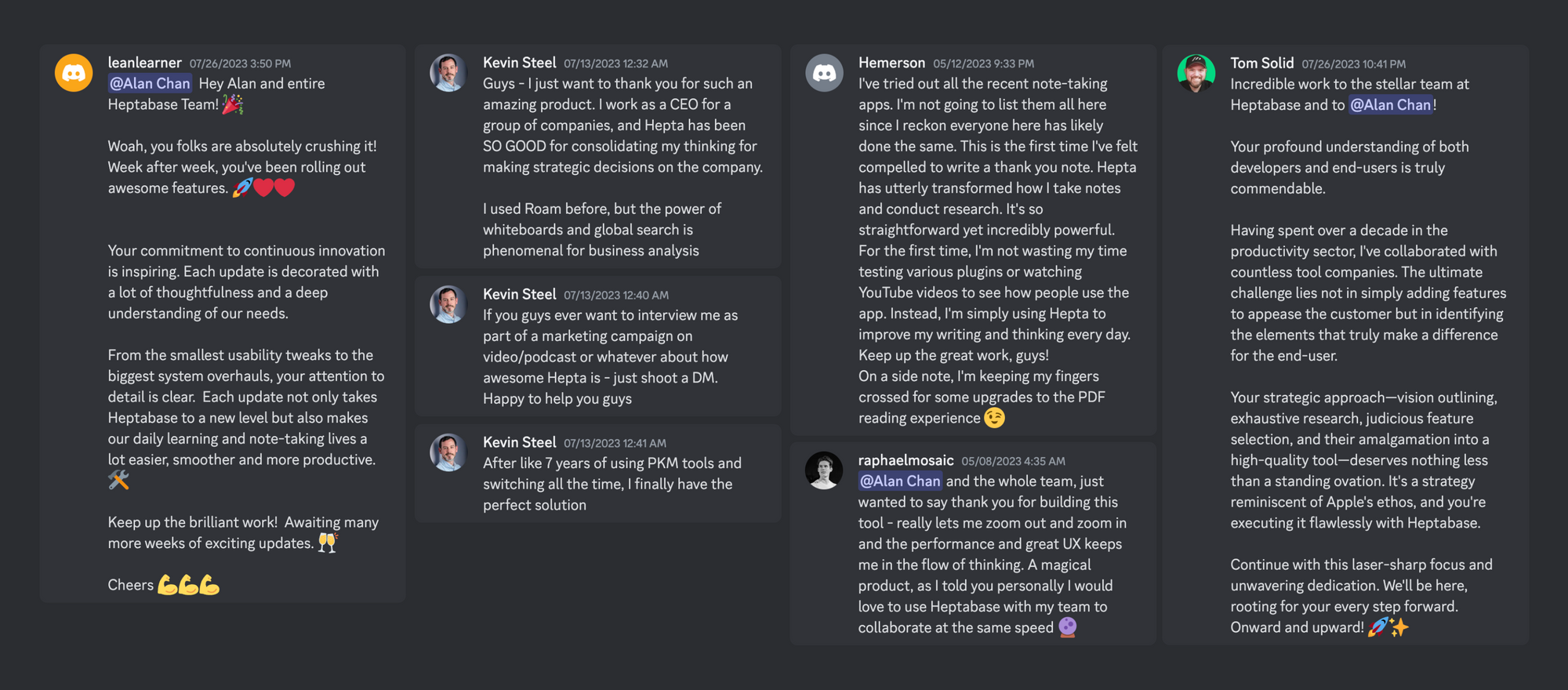 每一個用戶對 Heptabase 的反饋我都銘記在心,這也是我寫這篇文章的原因。對於不知如何善用 Heptabase 的用戶,我很喜歡使用一個比喻:使用 Heptabase 就跟學習英文和數學是類似的。當你第一次接觸到英文字母和數學符號時,你可能會有一點無所適從。但是只要有好的老師協助你跨過這個坎、帶你掌握這些字母和符號,你就會發現這些字母和符號背後是一種全新的認識世界的方式。這就是我希望透過這篇文章做到的事情。
在這篇文章中,我將按照時間線搭配截圖,分享我在過去這二年來如何使用 Heptabase 來幫助我學習、研究、規劃和寫作,進而履行我作為一名創業者的諸多職責。由於文中許多的截圖涉及到公司營運相關的敏感資訊,我在做某些截圖時會特意把畫面縮小、讓內容模糊。我相信比起筆記的內容本身,我在文中所描述的經歷與思考具有更大的啟發價值。
對於那些自認不擅長做筆記的人來說,我也希望透過這篇文章來再次傳遞一個重要的精神:做筆記本身不是目的,而是達成真正目的的一個過程。要活用 Heptabase 的前提,就是先想清楚對你來說最重要的目的是什麼,並針對這個目的發展出適合你的使用方式。
打造最小可行性產品: 2021 Q3
產品開發規劃
在 2021 年的五月底,當我開始打造第一版的 Heptabase 時,我拿它做的第一件事是規劃產品開發和用戶研究的流程。原因很簡單:這是當時對我來說最重要的事情。
我清楚新創公司資源有限,要極力避免把精力浪費在不重要的事情上。為了搞清楚什麼是重要的事情,我決定到世界最知名的新創加速器 Y Combinator 的網路創業圖書館(Startup Library)中找跟這個主題有關的文章來讀,包含打造產品該有的心態、如何打造最小可行性產品、如何迭代產品等等。
在閱讀這些文章之前,我創建了一個名叫 Product Development & Iteration 的白板。每當我在閱讀時發現我認為重要的觀念或知識時,我就會將它們整理成一張張的卡片攤平在白板上,讓整個做產品的方法論瞬間變得一目瞭然。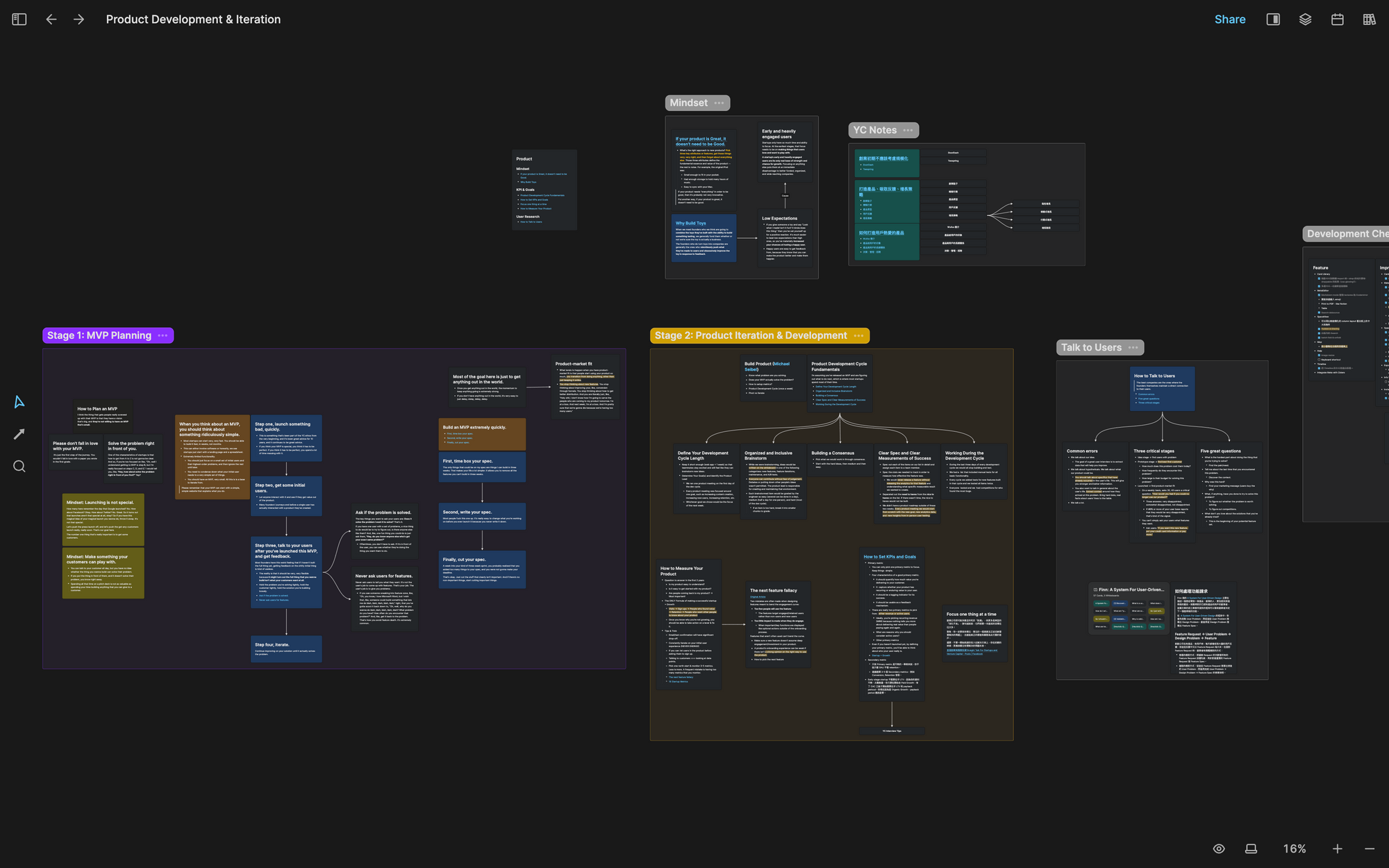 在接下來的幾個月,每當我遇到產品相關的問題時,我總是會打開這個白板來確認我有沒有用正確的方式在做事。每當我在網路上看到我覺得很棒的產品開發相關的文章時,我也會將這些文章中的知識寫成卡片,放到這個白板中和我既有的知識整合在一起。
用戶訪談與研究
在推出了最小可行性產品之後,我開始對每一個想來試用產品的人做用戶訪談。為了把用戶研究做好,我創建了一個叫 User Research 的白板,並在這個白板裡頭存放跟做用戶訪談有關的知識,同時也將我們訪談時會問的問題以及每個問題的目的寫成卡片。當我在訪談用戶時,我會看著這個白板中的卡片,確認我沒有漏問重要的問題。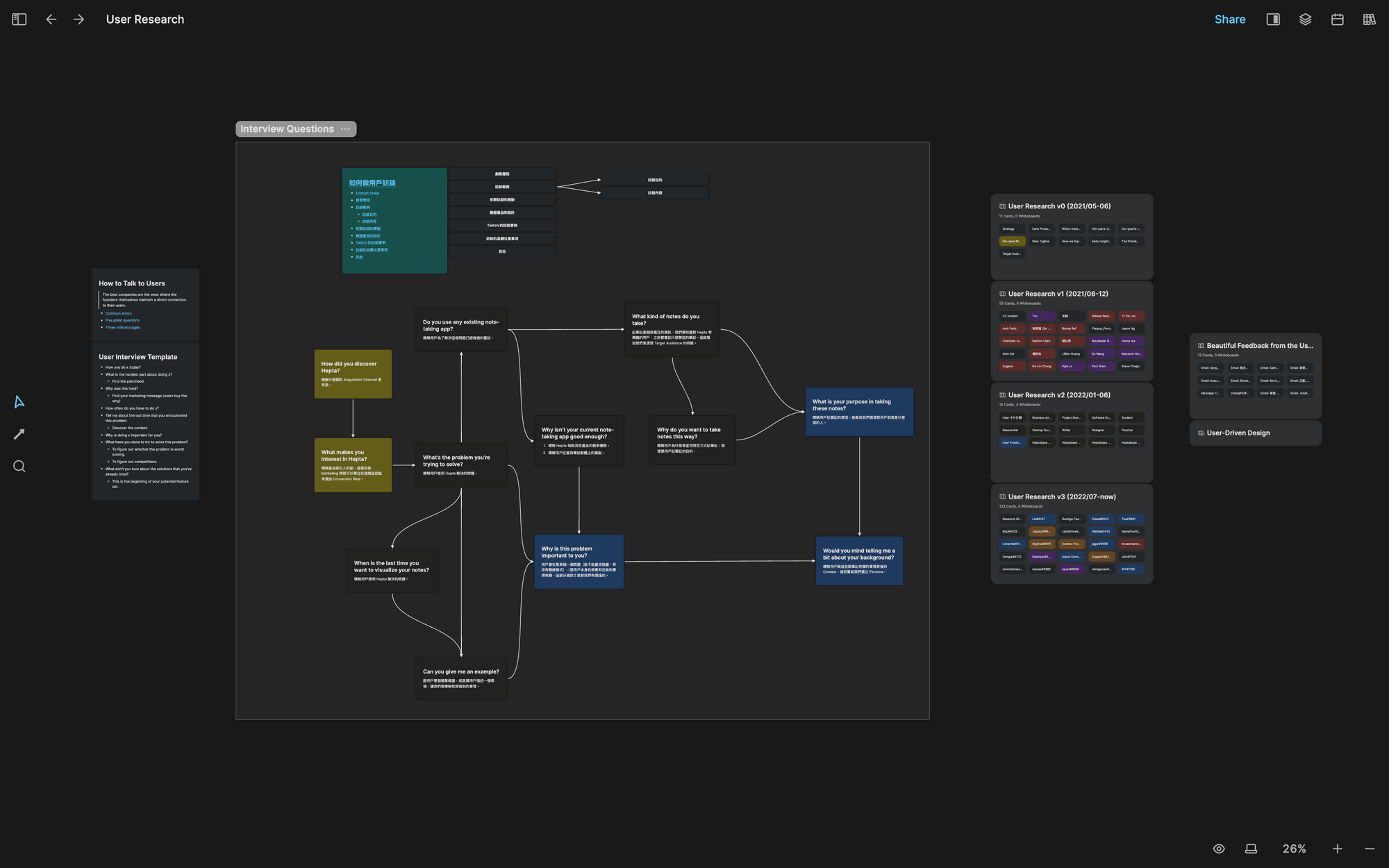 對於每一個被我訪談過的用戶,我都會特別建立一張新的卡片來紀錄訪談內容。久而久之,我累積了上百張用戶訪談卡片。為了在這些用戶訪談中找出重要的規律和線索,我在 User Research 白板底下創建了一個子白板,把這些訪談卡片全部攤開來比對。一但我發現有一群用戶的使用場景非常相似,我就會用 Section 把它們群組起來,或是專門為它們再創建一個更下層的子白板來分析。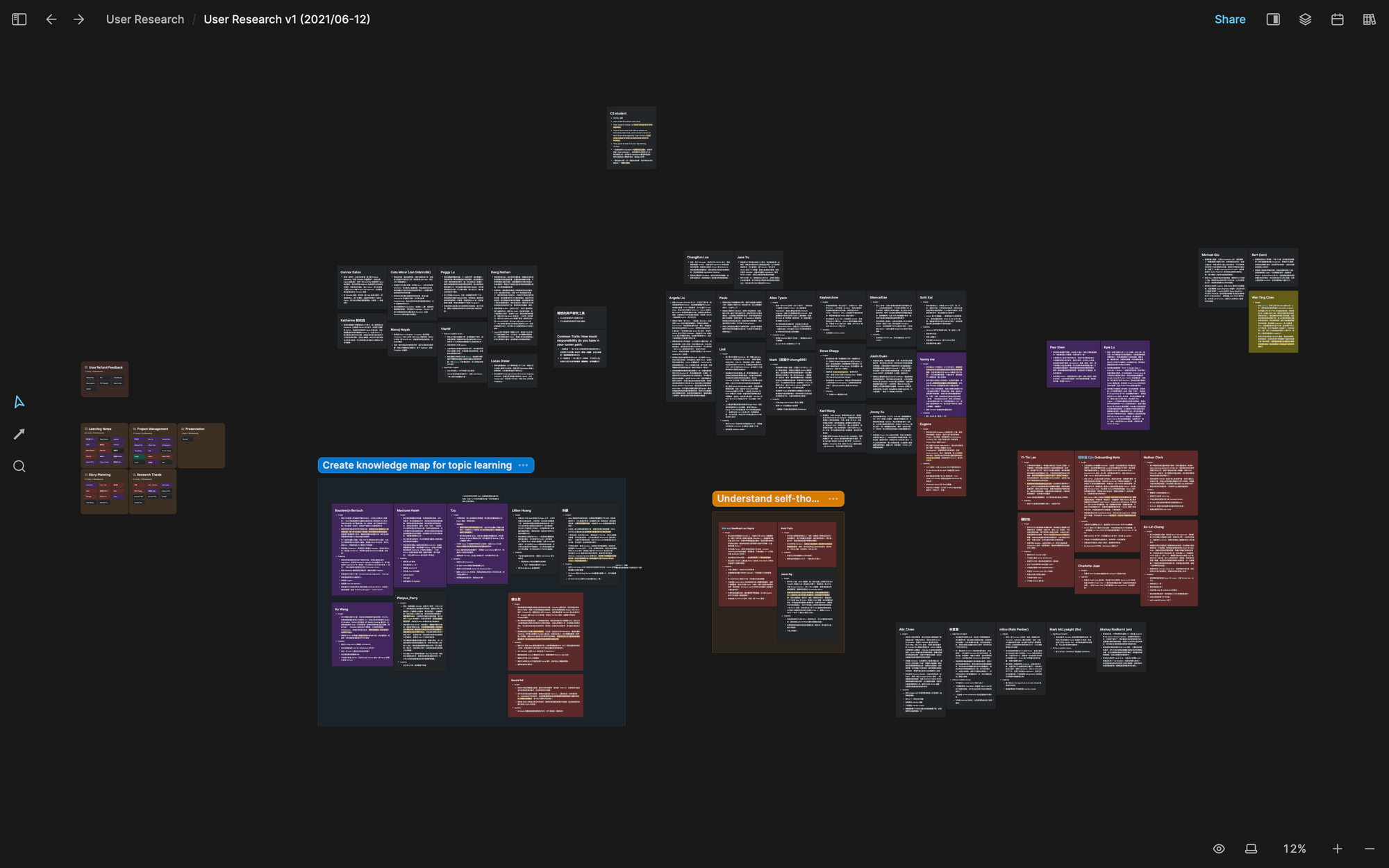 我的用戶研究方法並非一成不變。在半年後,隨著我們的用戶社群變得愈來愈大,訪談每一個用戶已經不太可能了。這時我在 User Research 白板底下創建了第二個子白板,專門整理每一天遇到的功能請求。我把我們用戶的職業分成九大類,並為每一類職業創建一張以該職業名稱為標題的卡片,像是研究員、專案經理、工程師、學生、作家等等。
每當我在社群中收到一個用戶的功能請求時,我都會向這位用戶詢問他的職業和使用產品的目的,然後把這些資訊連同原本的功能請求記錄下來,並使用雙向連結將這些內容連到職業卡片上。久而久之,我可以從每張職業卡片的反向連結中看到所有相關的功能請求和使用場景。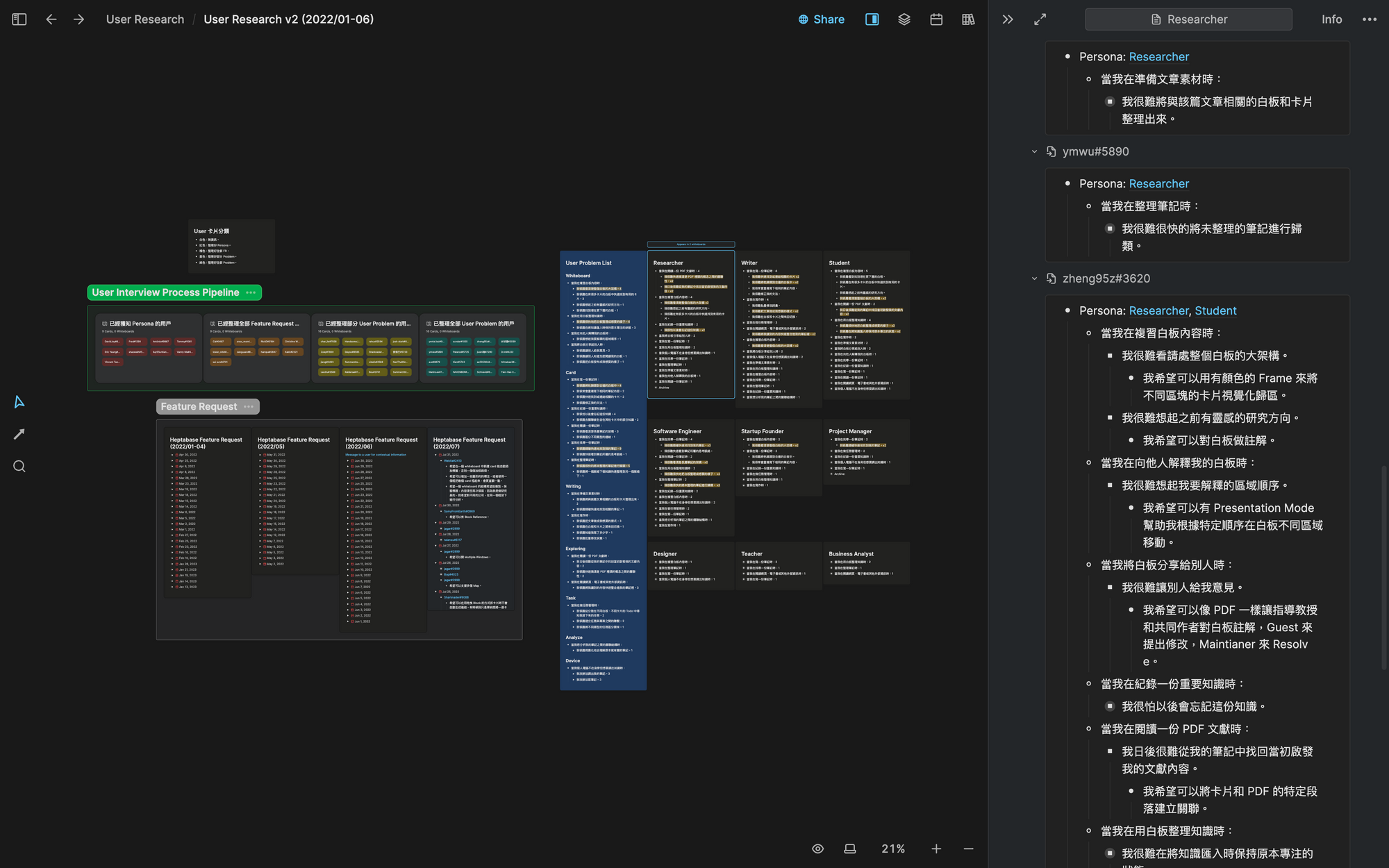 又過了半年,我發覺到某些職業的用戶使用場景基本上是一模一樣的,但某些用戶即便職業相同,使用場景可能大相徑庭。單純用職業來區分用戶顯然會讓我錯失很多重要的線索。於是我在 User Research 白板底下創建了第三個子白板,並將最新的用戶訪談卡片都放進去。我不再拘泥於一定要用職業還是使用場景去分類這些卡片,而是採用我當下覺得最直觀的方式去將卡片用 Section 群組起來。這樣的彈性幫助我發現了很多新的線索,這些線索也讓我更知道產品開發的方向該如何調整。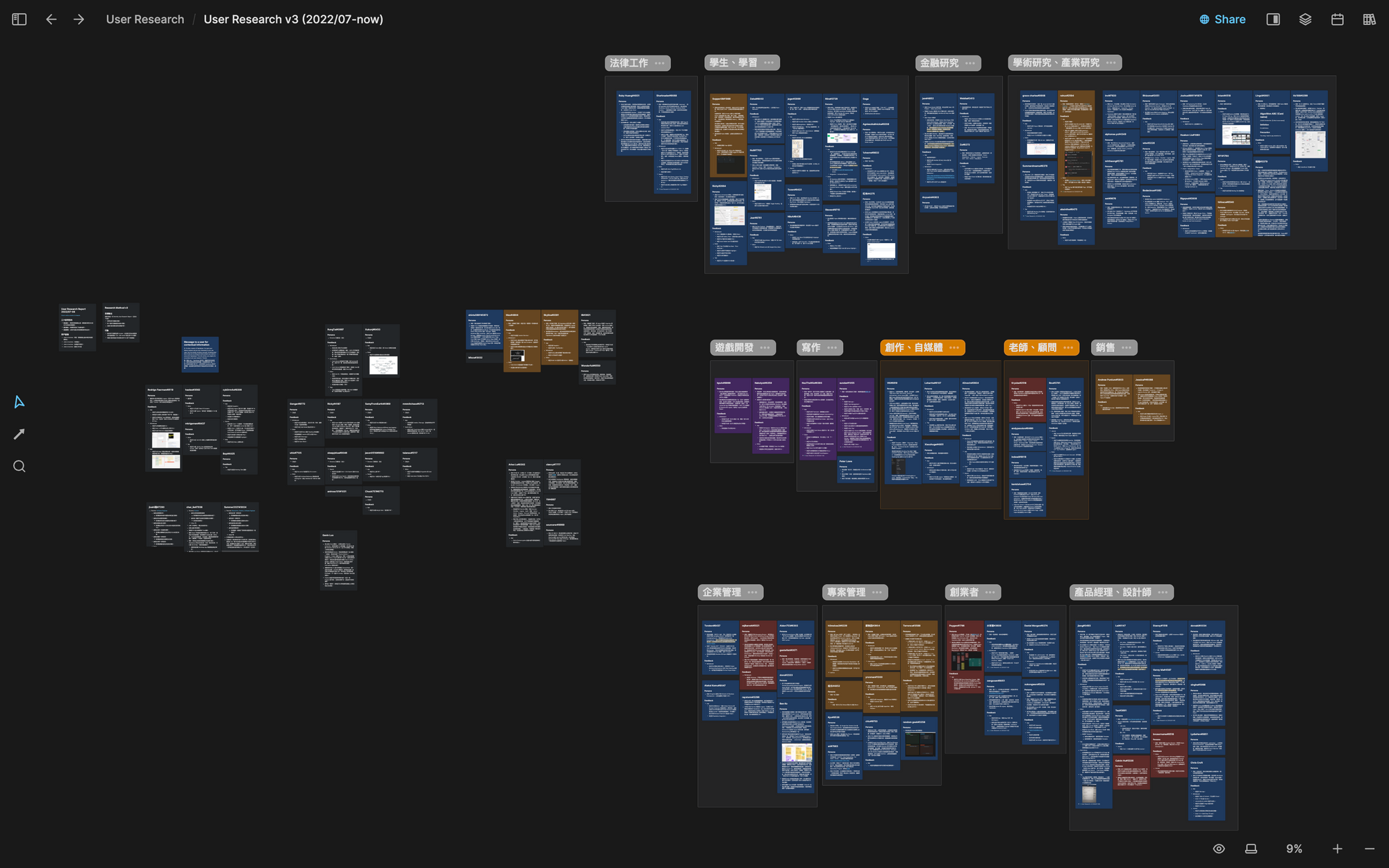 用戶溝通文稿
除了用戶研究以外,我也花非常多時間在寫給用戶看的文字,像是在社群中的重要公告(幾乎每週都會有)、官方教學文檔、Email 文案等等。寫這些文字困難的地方在於我有時會忘記之前寫過哪些東西。如果要保持重要資訊的ㄧ致性,就需要能一眼看到以前我在什麼時候講過哪些話。於是我創建了一個名為 User Communication 的白板,專門整理我在不同階段在用戶社群中發過的重要公告。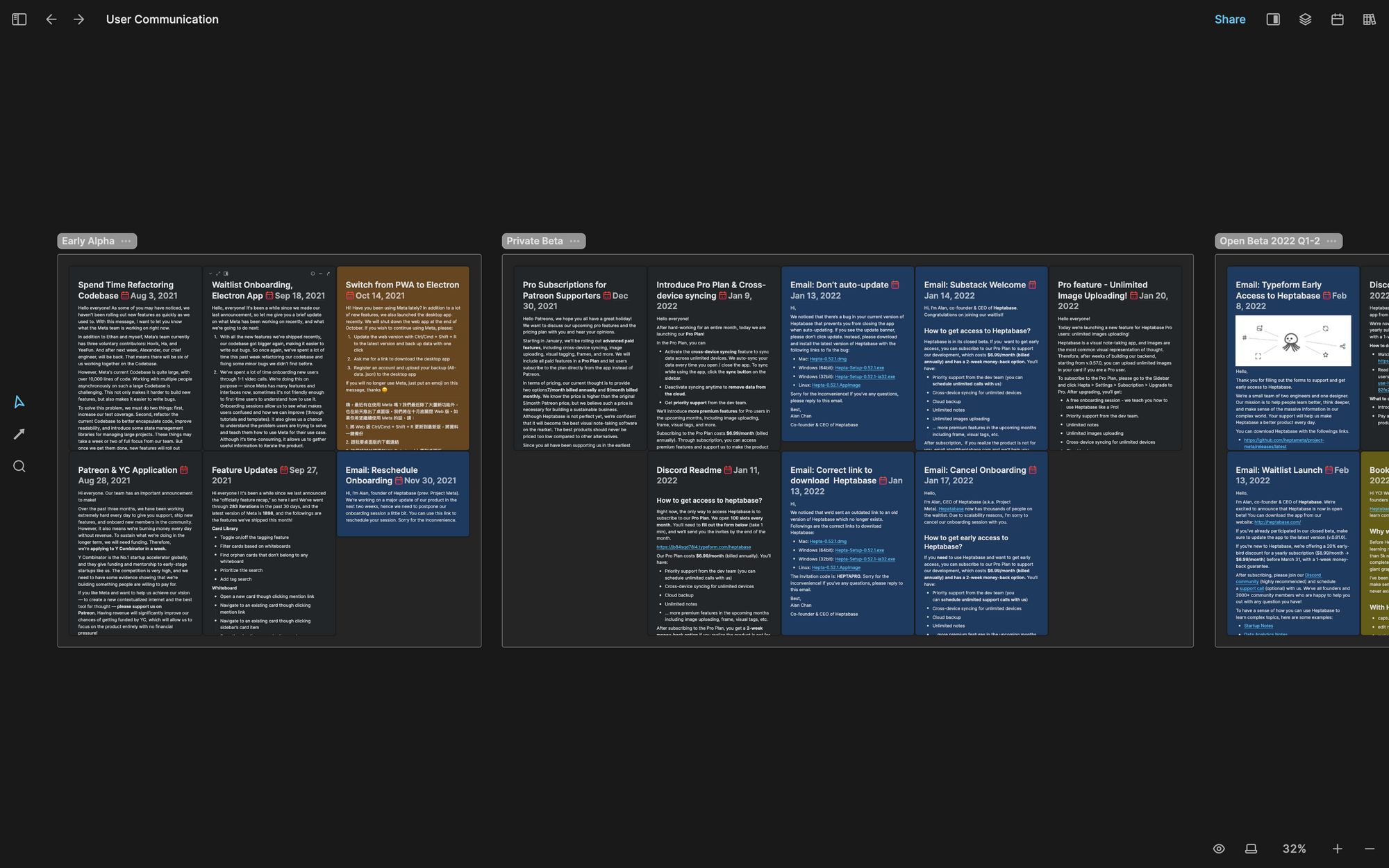 在教學文檔方面,我面臨的挑戰是我需要在很短的時間內產出很多內容,有的內容可能才剛寫下架構,有的內容正在寫初稿,有的內容初稿已經寫好但還沒配圖跟檢查文法,有的內容已經完成但還沒發佈。對於這些文檔,我創建了一個叫 Product Documentation 的白板,將所有我需要寫的文章放在裡面,利用空間來區隔不同類型的文章、利用顏色來區分文章當下的撰寫狀態。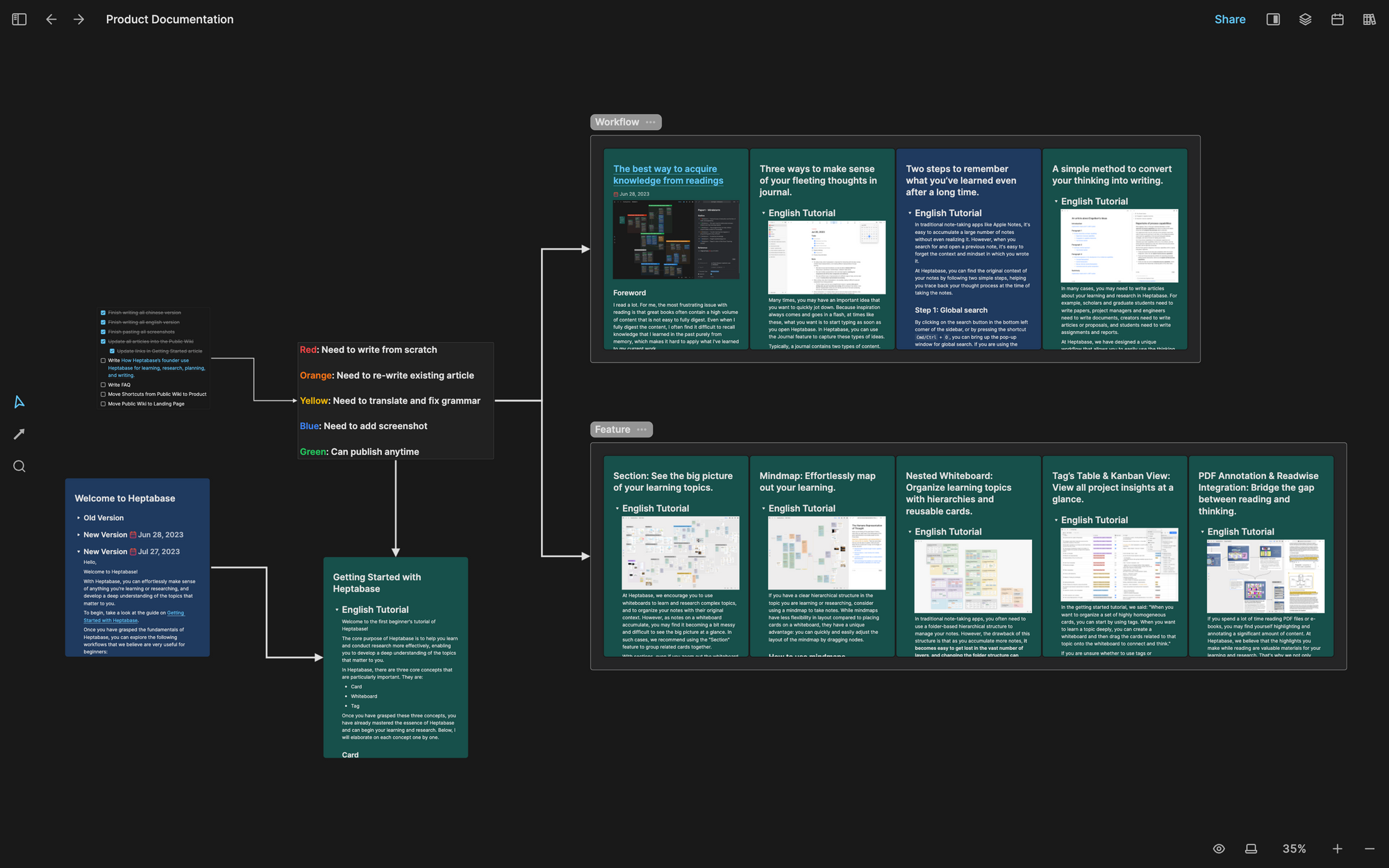 個人文章寫作
除了要寫給用戶看的文字以外,我自己在工作之餘也很喜歡紀錄想法、寫部落格文章。舉例來說,我創建了一個叫 Startup Diary 的白板,專門放置一些我在創業過程中覺得值得紀錄的想法或故事。這裡面的很多卡片都只有二三句話,但是當我卡片累積愈來愈多時,我就會把多張卡片合併成一篇文章。為了讓這件事情變得更容易做,我還請工程師開發了右側欄的功能,讓我可以在寫一篇文章時將參考資料放在右邊。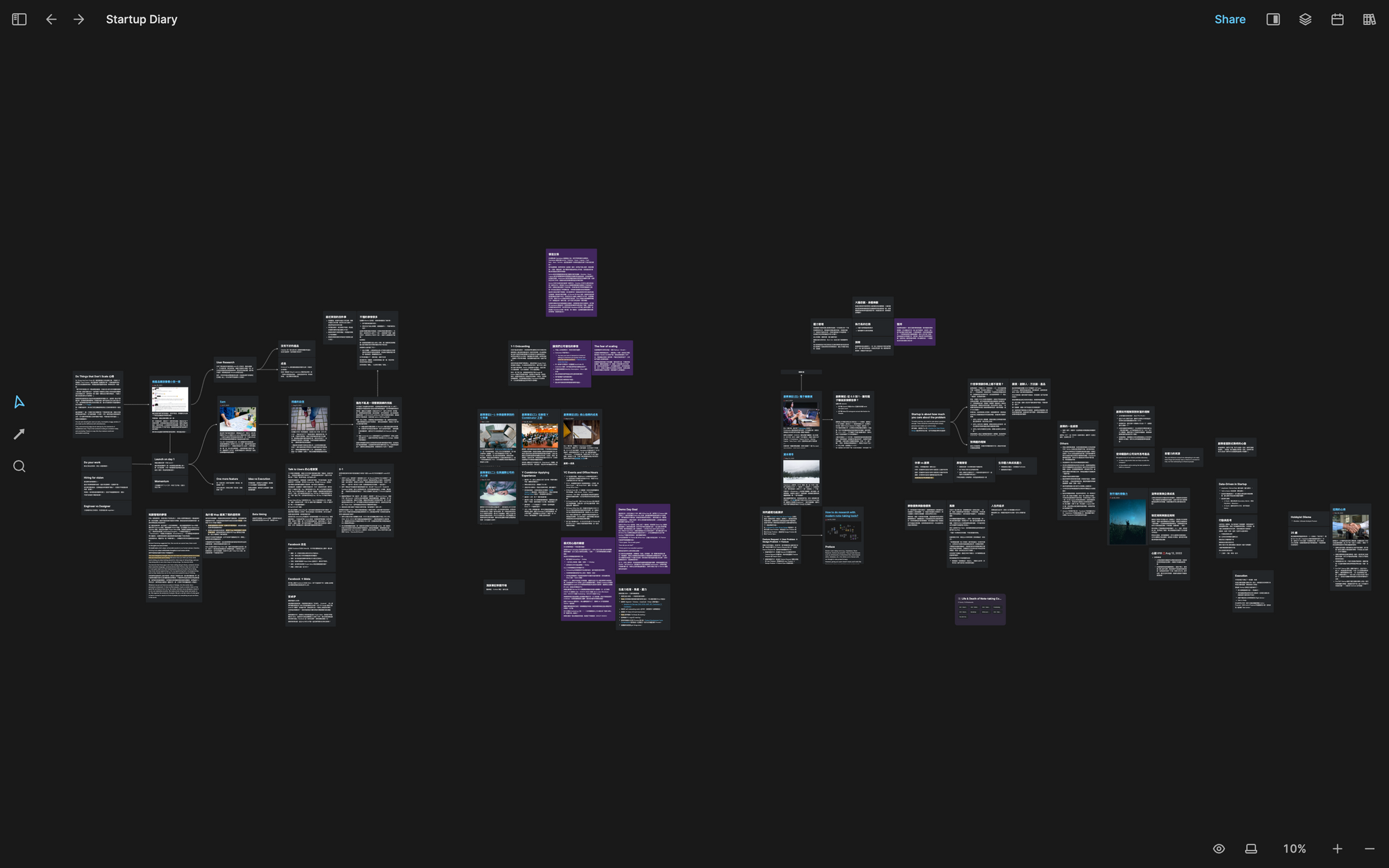 由於 Heptabase 變成了我寫部落格文章的工具,我決定將我過去十年寫的所有部落格文章也備份到 Heptabase 裡頭。我創建了一個叫 Blog 的白板,並在裡面為每個年份創建一個子白板,然後將部落格文章放進這些子白板裡頭。同時,我也為我部落格中的每個主題創建一個子白板,由於 Heptabase 中的卡片是可以重複在多個白板中使用的,我可以將一篇部落格文章同時放在它對應的年份子白板和主題子白板中,非常方便。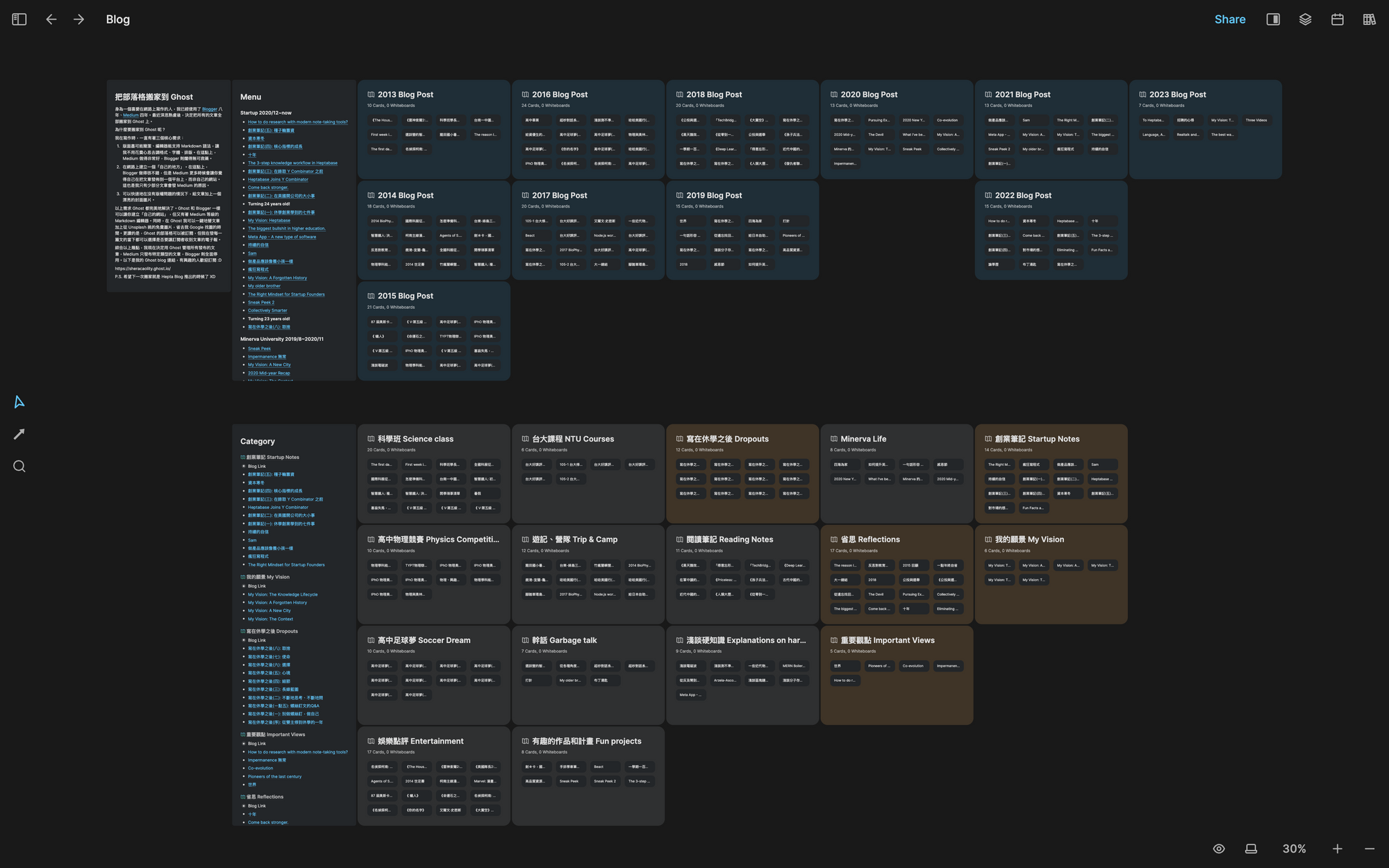 下面這張圖是我的跟「創業」這個主題有關的子白板,你可以看到所有文章一目暸然的被擺放在同一個空間中,看起來非常舒服。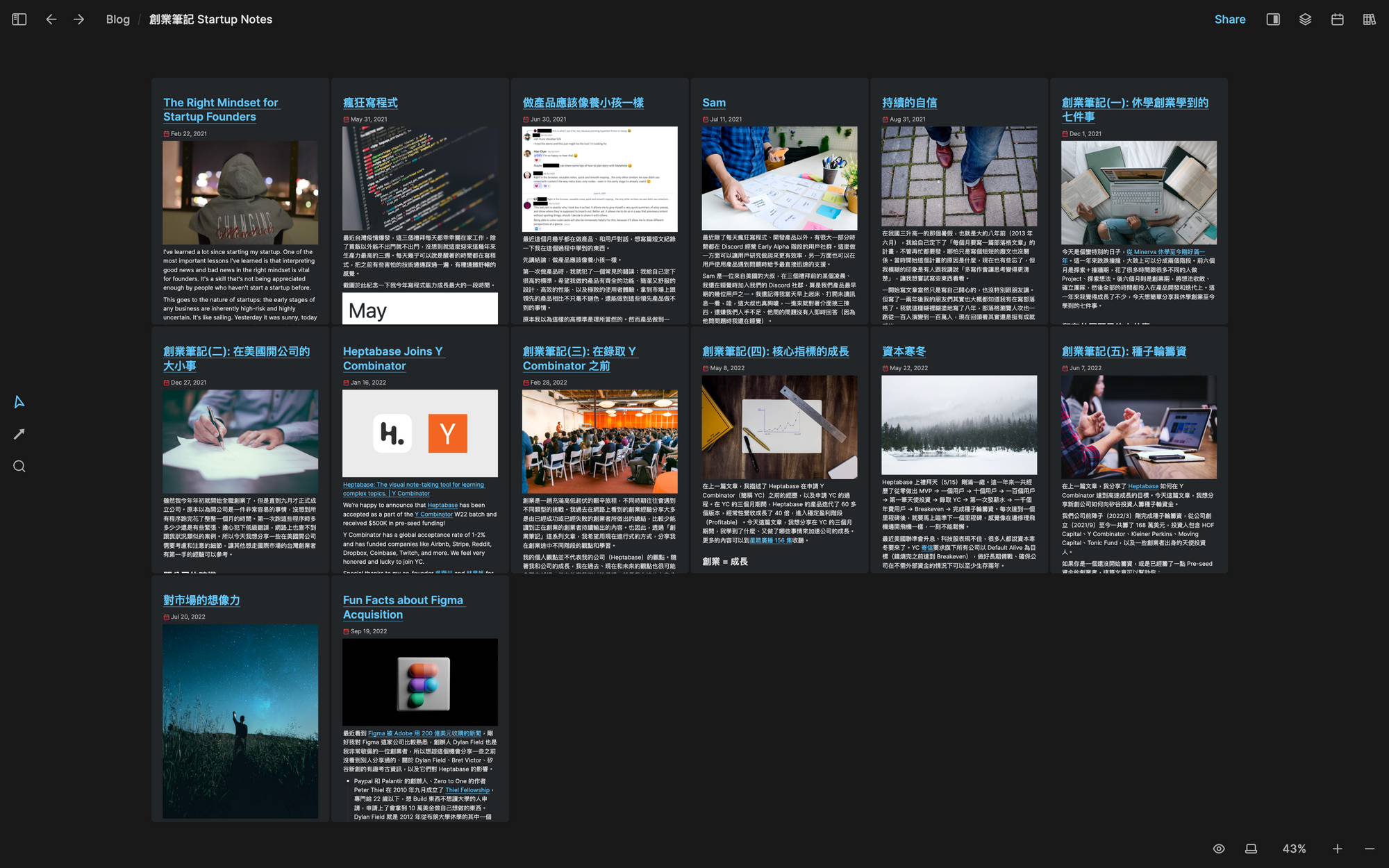 成立公司: 2021 Q4
數據分析
在最小可行性產品迭代了快三個月以後,我們的用戶社群變得愈來愈大,用戶數也愈來愈多。我發覺光是用戶訪談是不夠的,我們必須導入用戶數據分析的工具,讓我們更加清楚用戶的留存率、活躍度、發現產品的途徑,以及他們最常使用的功能。
身為一個完全沒有數據分析經驗的人,我上網找了許多產品數據分析的文章惡補,其中我發現 Amplitude 的 Mastering Retention 和 Data Taxonomy Playbook 這二本電子書寫得很好。然而,書中的資訊非常多,我知道我不可能讀一次就融會貫通,未來一定會需要持續回頭複習才能想起細節。於是我為這二本電子書各自創建了一個白板,並將書中有關的重要觀念全部寫成卡片攤開到這二個白板上。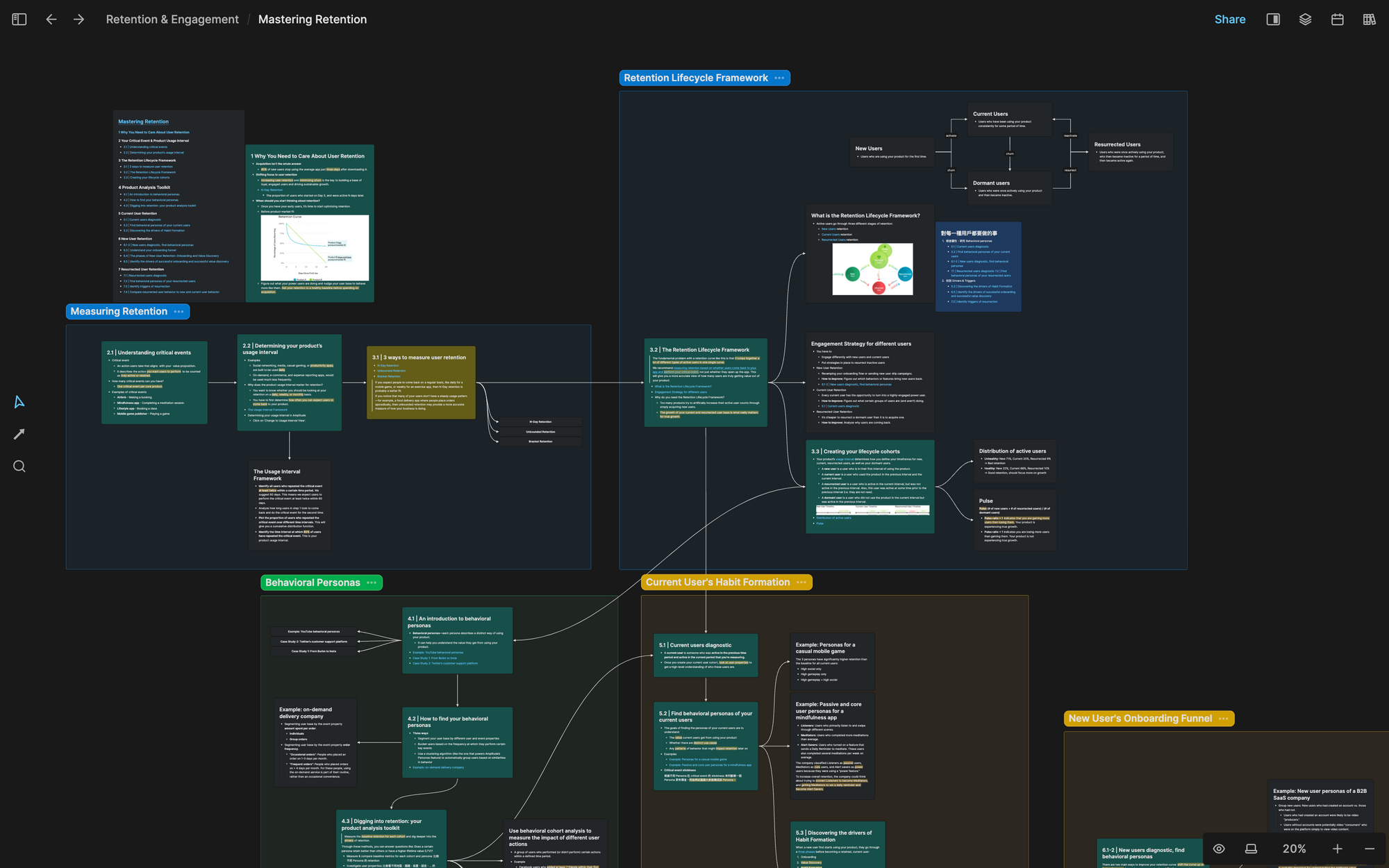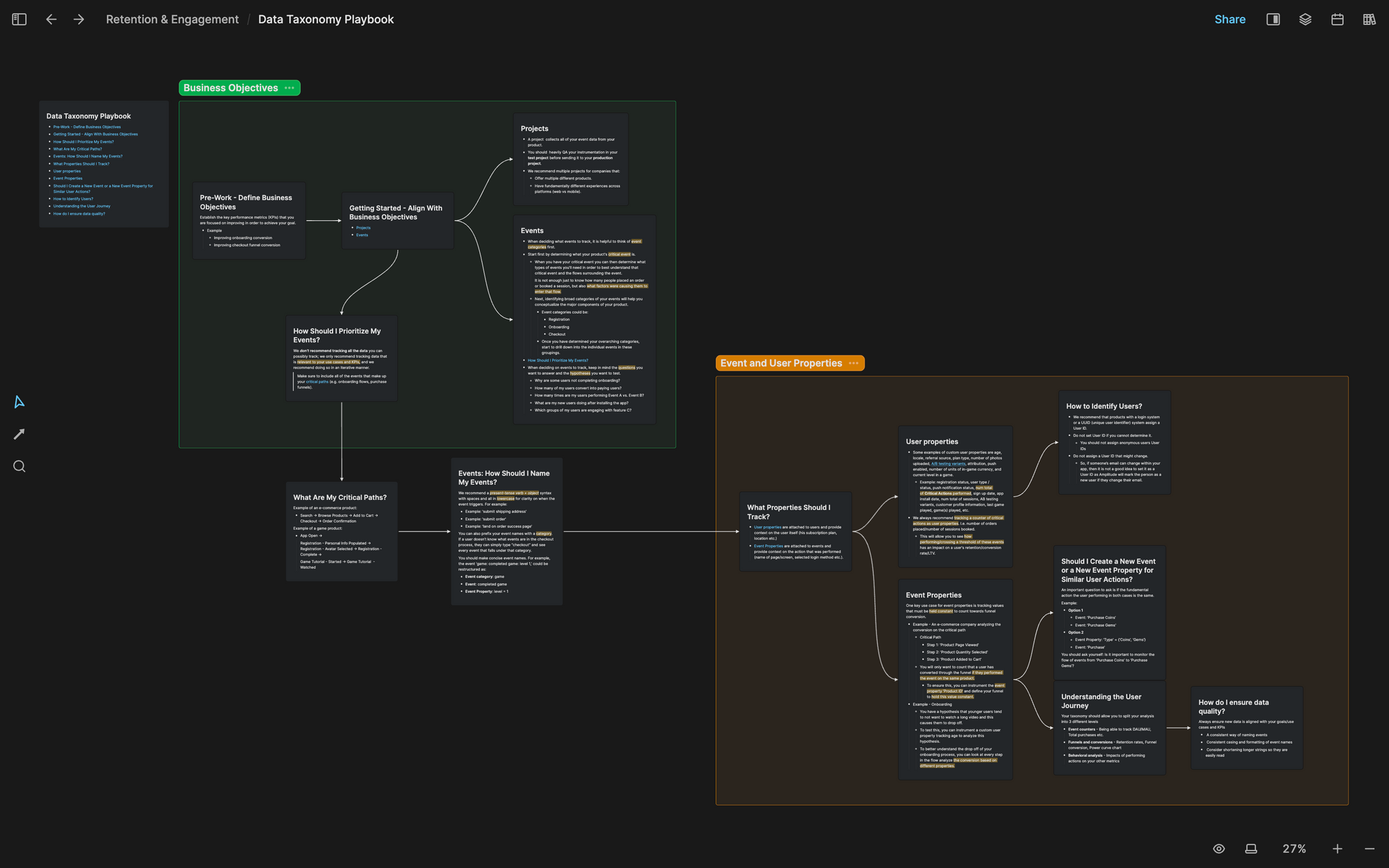 為這二本電子書製作卡片的過程不只加深了我對數據分析的理解與記憶,我在未來二年遇到數據相關的問題時,也時常會回到這二個白板複習。令我震驚的是,當筆記以視覺化的形式被保存在白板上時,我複習時可以用十倍以上的速度回憶起已經忘記的知識,這是我過去在學習時從未體驗過的感覺。大概是在這個時候,我確信視覺化筆記是最好的學習方式。如果我人生所學的一切都能被用視覺化的方式保存,我就能在任何時候輕易地找到並重新憶起我過去所學的一切。
創業筆記
在暸解到視覺化筆記的力量後,我決定把我以前記過的、跟創業有關的學習筆記也一併整理到 Heptabase 裡頭。在幾年前,我曾在 Youtube 上看過一門叫 How to Start a Startup 的課程,內容是 Y Combinator 在 Stanford 開的創業經驗分享,每一堂課主題都不一樣。我在當時有對每一堂課整理一份筆記,這些筆記都非常長。也因為這些筆記很長,我平常根本不會回去看。
我把這門課的所有筆記拆解成一個又一個的創業概念卡片,然後將這些概念卡片全部串連起來變成創業的知識地圖。在打造這個知識地圖的過程中,我不只更加理解了創業是怎麼一回事,還發現了很多我以前上課時沒注意到的概念連結,看到不同的講者是如何用不同的方式和案例去講述相同的創業概念。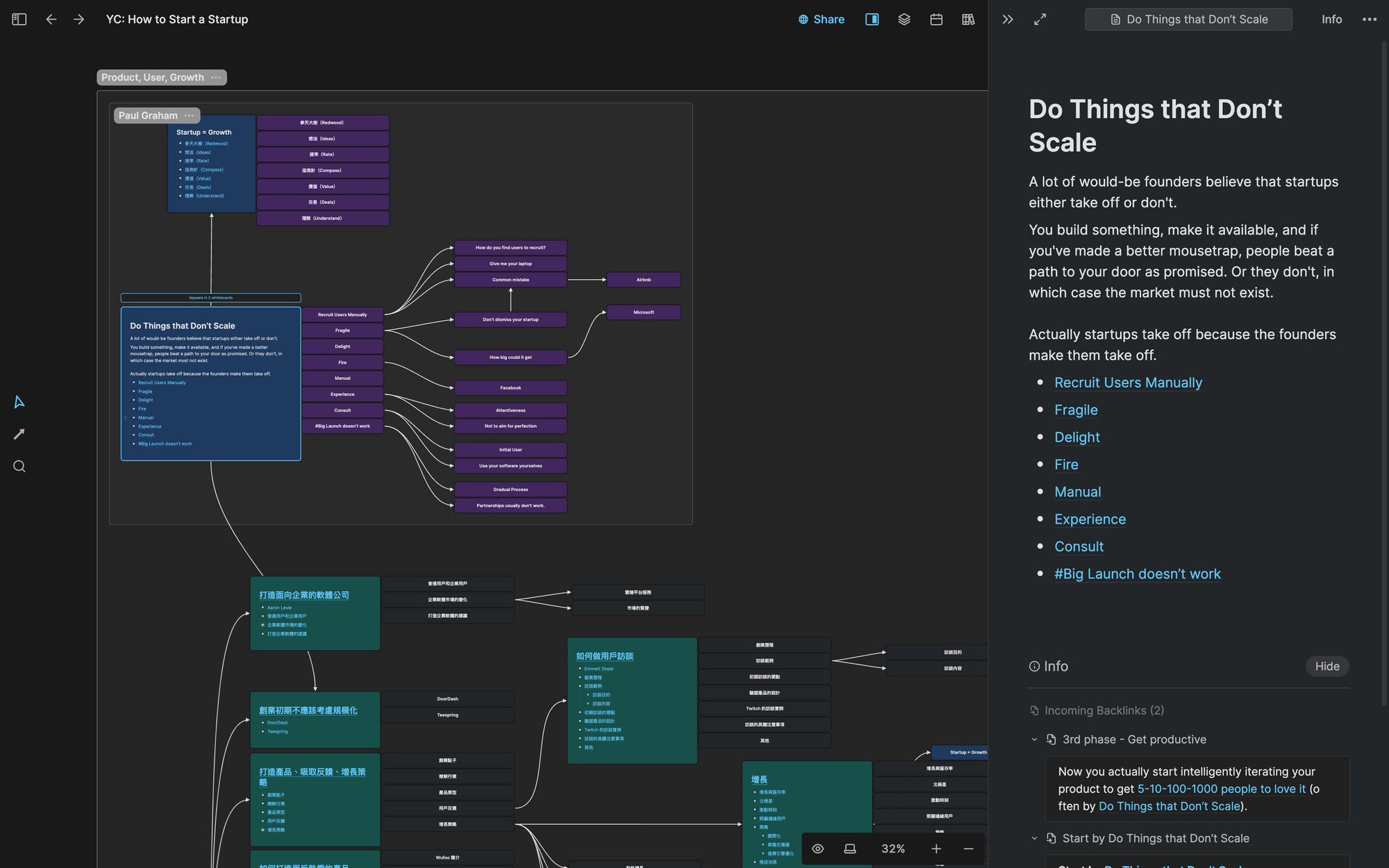 成立公司
在最小可行性產品迭代了快四個月的時候,我們收到了天使投資人的投資意願,並決定接受這筆投資。為了接受投資,我必須花時間設立公司,這又是一個我完全沒經驗的事情。我一如既往地上網查了很多與成立公司有關的法律資訊,並創建了一個叫 Company Legal 的白版整理我學到的相關知識,包含股權的運作原理、83(b) Election、Vesting Schedule 等新創公司不得不知道的重要觀念。我很清楚這些觀念我一年後一定會忘記細節,所以相當認真地在這個白板中把每個概念的細節都寫清楚。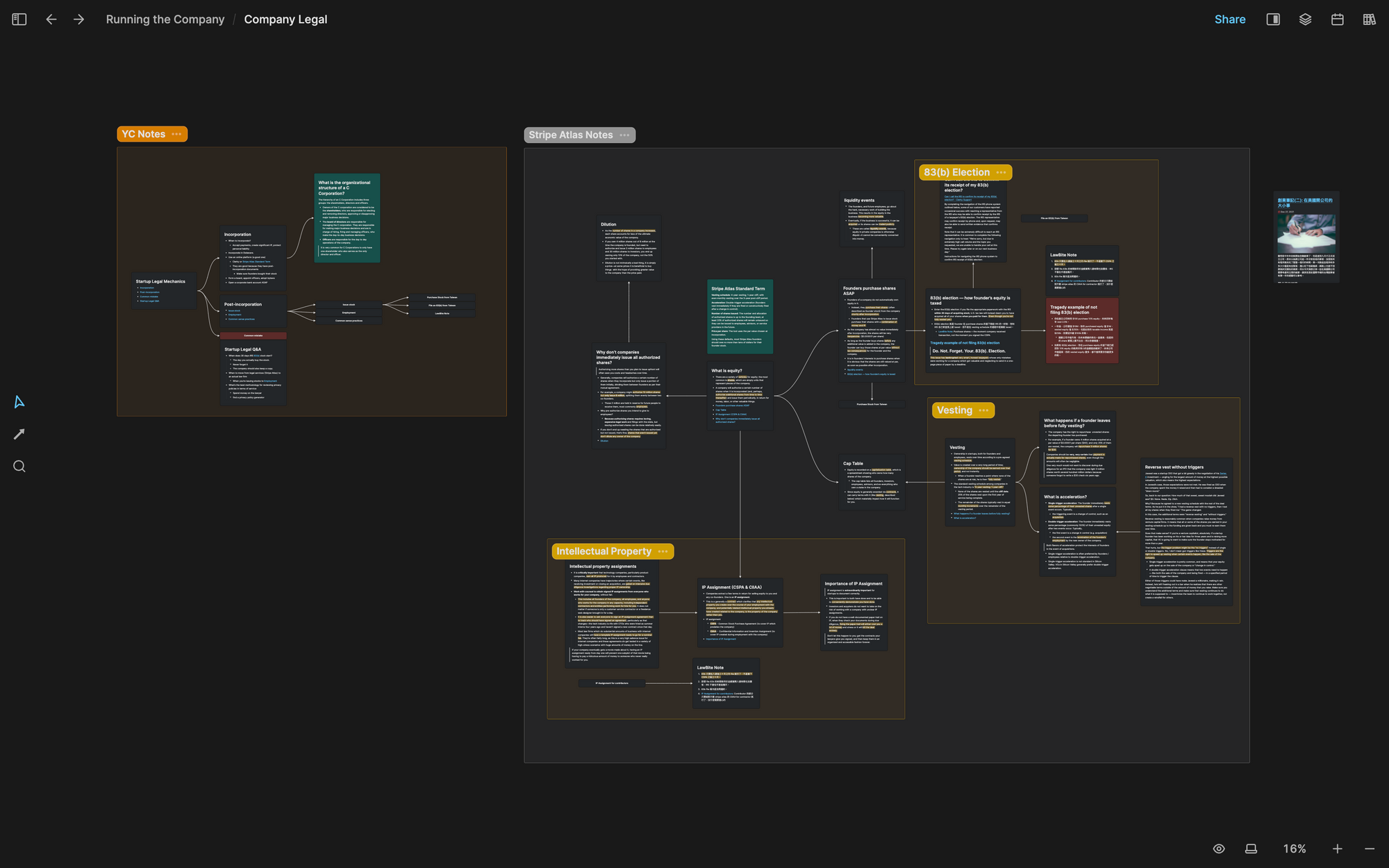 除了法律觀念以外,我還需要學會一些基本的會計知識,以便更好地和會計師溝通報稅相關的事務,並掌握公司每個時節點的財務狀況。為此,我創建了一個叫 Company Finance & Accounting 的白板,整理我學到的會計知識與公司的財務狀況。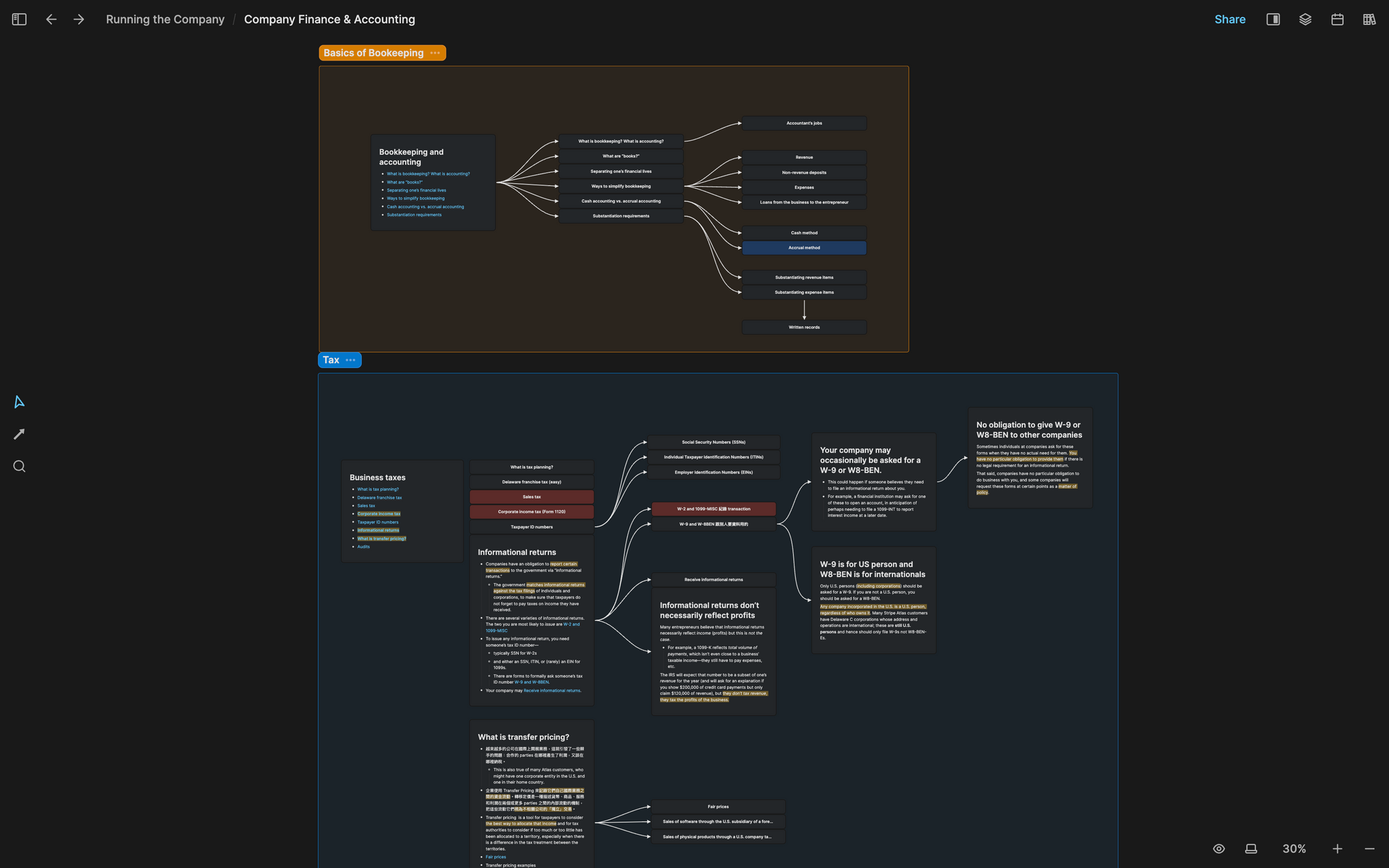 申請 Y Combinator 加速器
Y Combinator 是我心目中世界最好的創業加速器,我的很多創業觀念都是從 YC 公開的免費資源中學到的。也因此,在剛開始打造最小可行性產品時,我就已經打算要申請 YC 該年度的冬季梯次。申請 YC 需要做的事情包含書審和面試,這二個環節的共同點就是要回答許多對創業者來說至關重要的問題。
為了準備書審和面試,我創建了一個名叫 Pre-seed & YC Application 的白板,將所有 YC 列的重要問題按照類型分門別類,為每個問題創建一張卡片,並在裡頭寫下我的回答。我會用綠色標示我胸有成竹的問題卡片、用藍色標示我正在思考的問題卡片、用紅色標示我還沒什麼想法的問題卡片。同時,我也將一些其他 YC 創業者在網路上分享的經驗整理到這個白板裡頭,讓我可以一邊參考、一邊思考。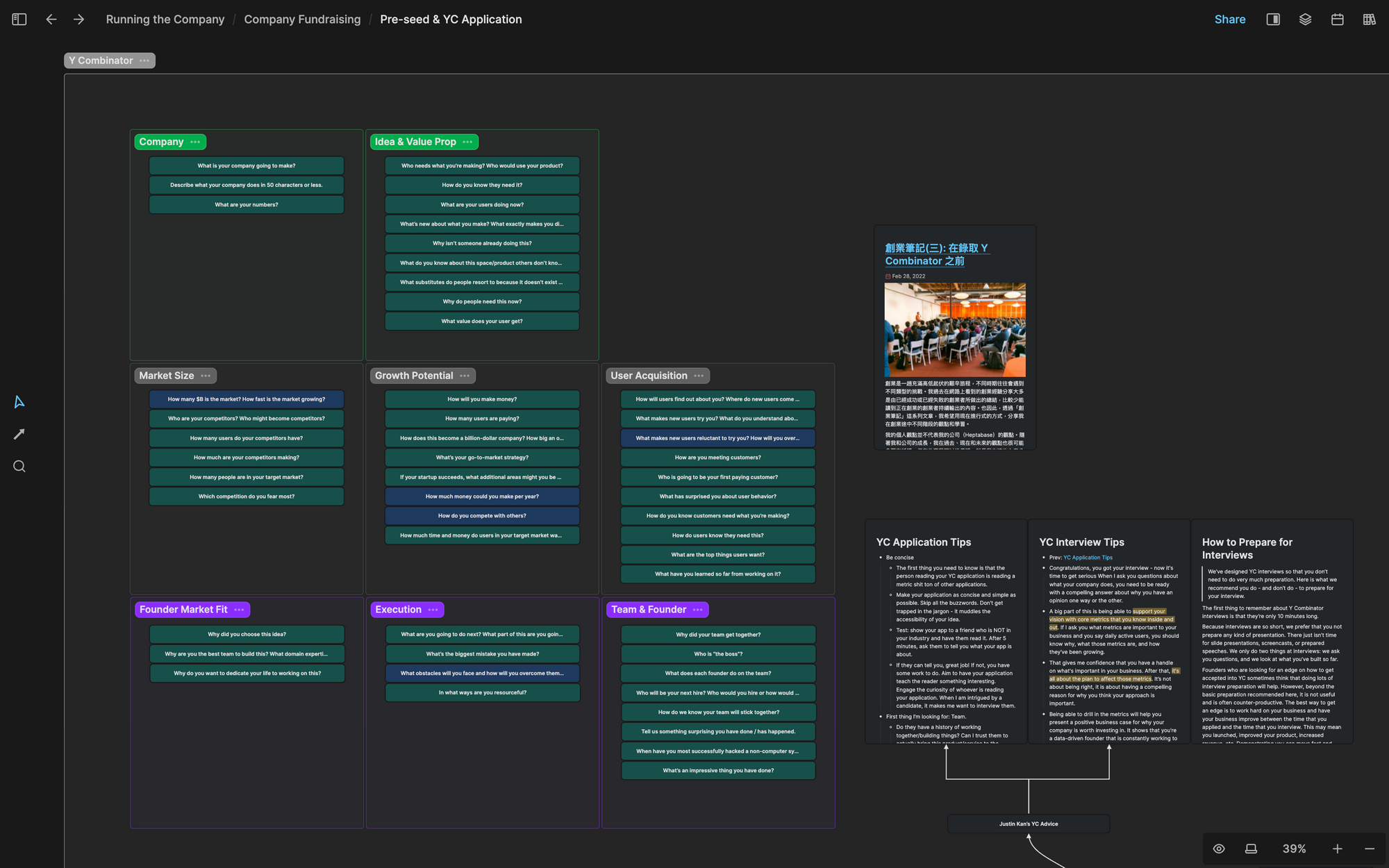 最終,我們很幸運的入選了 YC,而當時我在思考的這些問題,事後都被證明確實是創業過程中非常重要的問題。在一開始好好地將它們想過一遍確實幫助我少走了很多彎路。
加入 Y Combinator: 2022 Q1
銷售與成長訓練營
在 2022 年一月,我們正式進入 YC 的冬季梯次。YC 培訓的期間長達三個月,所有公司在這三個月只有一個目標:快速成長。為了幫公司快速成長,YC 提供了許多內部的學習資源讓我們可以根據自身需求去閱讀,另外也設了一個專門在銷售與成長的訓練營,請許多創業前輩分享經驗。為了將這些知識完整地吸收,我創建了一個叫 YC: Sales & Growth Bootcamp 的白板,整理我在 YC 學到的重要創業知識。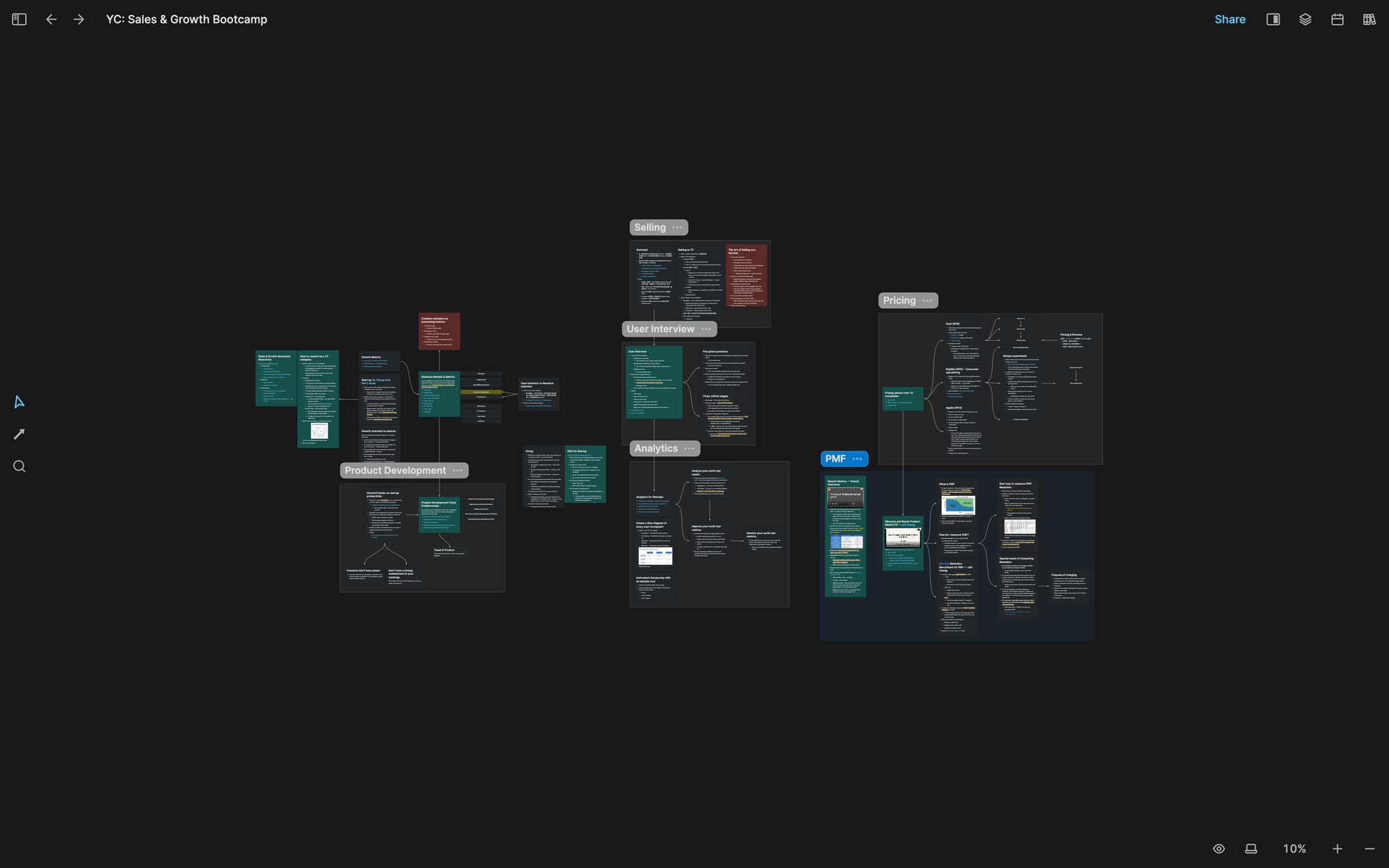 籌資
在公司快速成長了三個月後,我們很快地就迎來了 YC 的 Demo Day。在 YC,大部分的公司都有相同的目標,也就是在 Demo Day 前後二週向矽谷的投資人完成種子輪籌資。這也是為什麼快速成長如此重要:當你成長的愈快,你籌資時有的籌碼就愈多。
為了協助創業者籌資,YC 一樣提供了非常多相關的學習資源,像是如何建構好的 Pitch、如何展示公司的亮點、如何判斷好的跟壞的投資人、如何解讀不同的投資術語等等。我建立了一個名叫 Seed Fundraising 的白板,在裡面整理所有我學到的籌資知識,並一邊參考這些知識、一邊建立我的 Pitch Deck。
在準備我的 Pitch Deck 的時候,我發現這個 Seed Fundraising 的白板和我之前申請 YC 時建立的 Pre-seed & YC Application 的白板都跟籌資相關,所以我決定建立一個名叫 Fundraising 的白板,並將這二個子白板放到裡面去。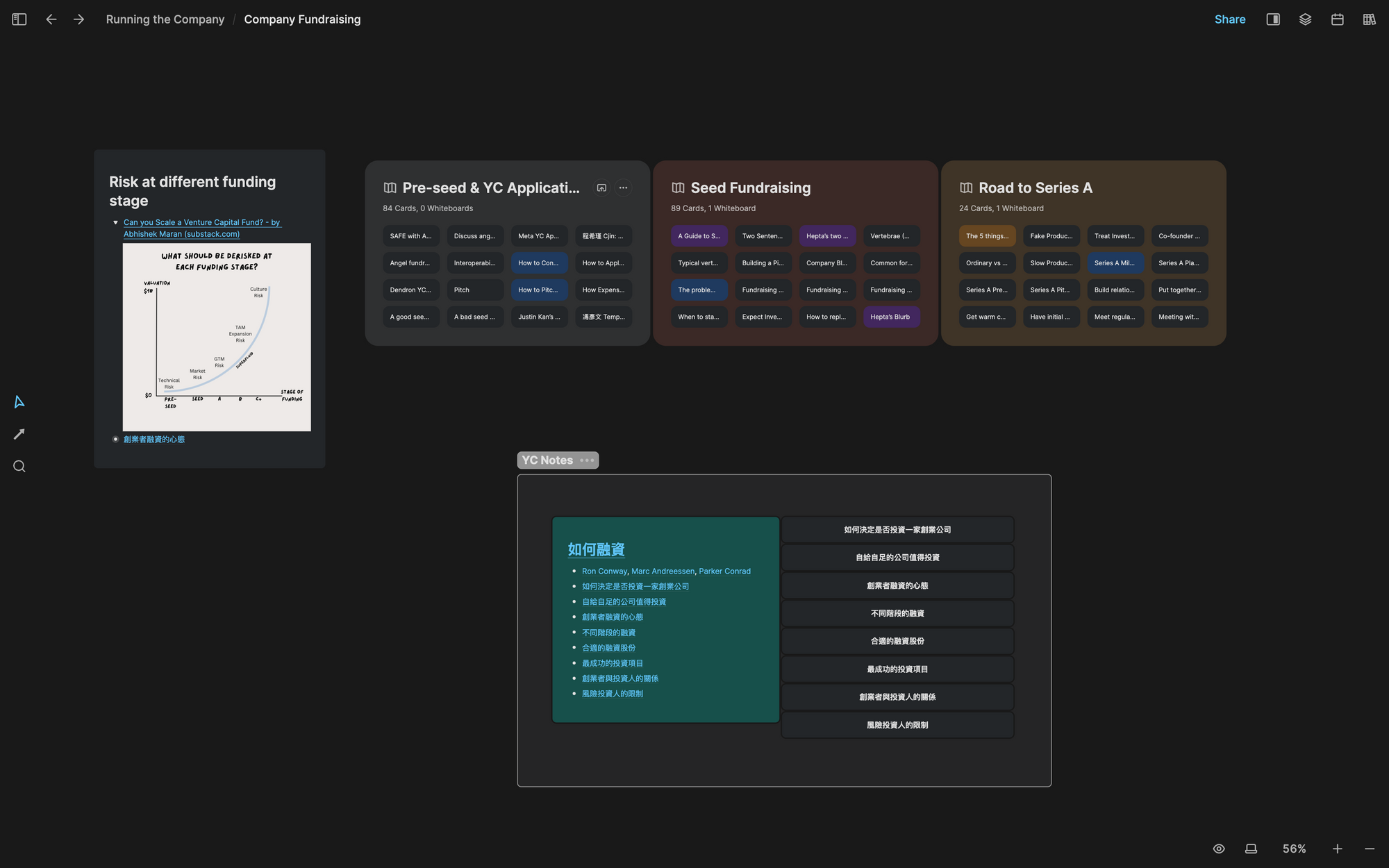 公司長線思考
在 YC 期間,我關注的都是比較近的、未來三月要做的事情。在 YC 結束後,我決定花多一些時間去想比較長遠的、未來幾年要做的事情。於是我創建了一個叫 Company Long-Term Thinking 的白板,在裡面佈局 Heptabase 未來五到十年的計畫和願景。每當我對公司未來有新的想法時,我都會回到這個白板去新增和修改裡面的卡片內容和佈局。
產品研究: 2022 Q2-Q3
個人知識管理研究
在 YC 結束後,我花了非常多時間在研究個人知識管理工具的未來。我創建了一個名叫 Product Research: PKM 的白板,在裡面放了我所有的研究筆記。由於筆記實在太多了,我決定將它們按照主題分裝在不同的子白板裡頭。這裡面的有幾個子白板特別重要,舉例來說,Better Capturing → Thinking 這個子白板專門研究用戶在將快速紀錄的筆記轉換成有用的思維架構時會遇到的問題;Better Exploring → Capturing 這個子白板則負責研究用戶在將外部資訊轉換成筆記的過程會遇到的問題。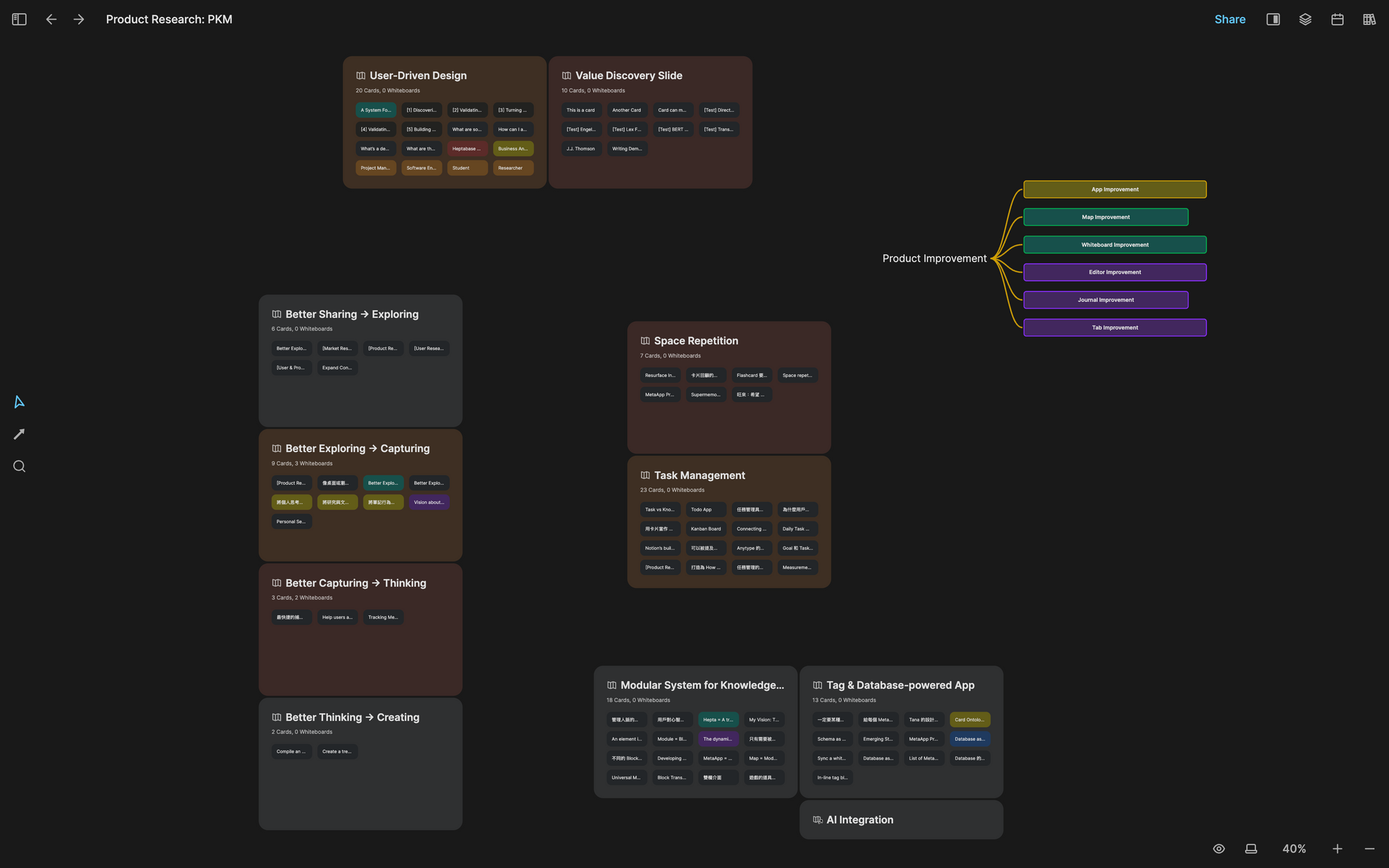 每當我針對某個問題有比較完整的理解後,我就會再創建一個子白板來將這些理解轉換成 Heptabase 的功能設計。舉例來說,在 Better Capturing → Thinking 這個白板底下有一個子白板叫 Journal: Fundamental Research,這個子白板負責研究如何整合 Journal 和白板的功能,讓用戶可以將零散的日誌想法轉換成白板上有用的知識卡片。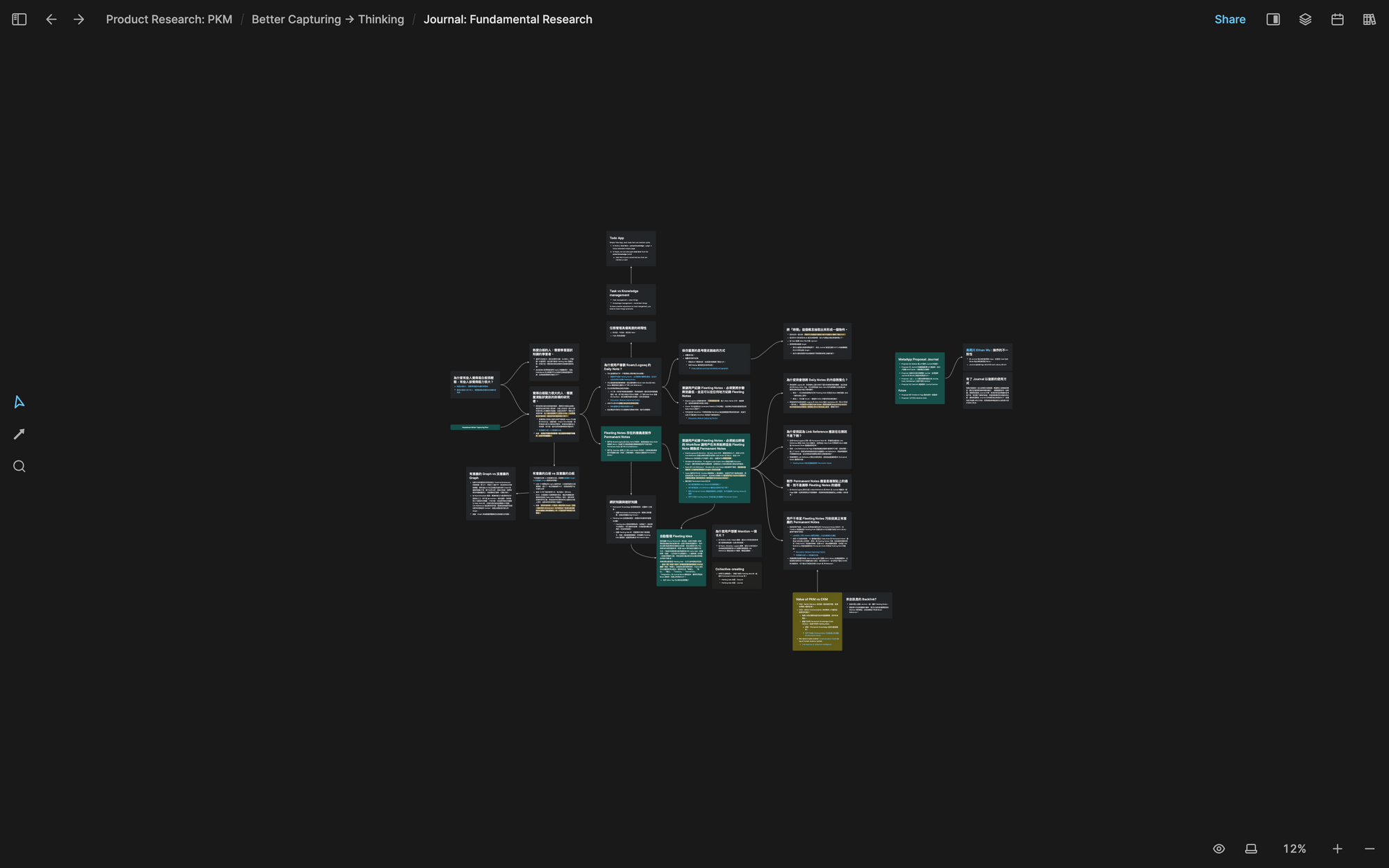 在 Better Exploring → Capturing 這個白板底下,有另一個子白板叫 Hepta as a Browser / Reader,這個子白板負責研究把 Heptabase 與瀏覽器功能整合的可能性,也就是讓用戶可以直接在 Heptabase 中瀏覽網頁,並將網頁中重要的資訊轉換成筆記。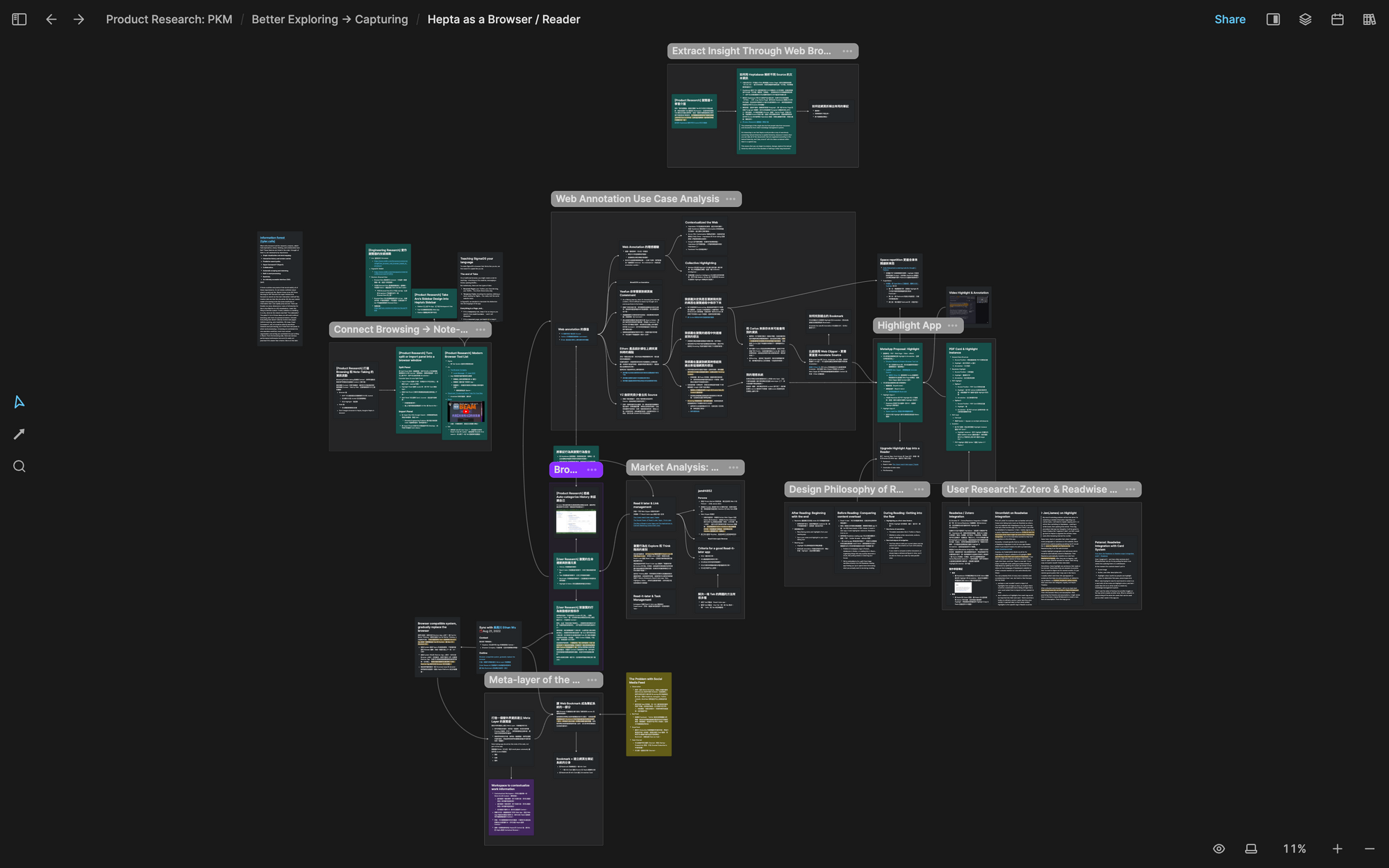 群體知識管理研究
除了個人知識管理以外,另一個我在這段時間大量研究的主題是群體知識管理,特別是團隊和社群這二個場景。這個研究的目的是幫助我思考當未來有一群用戶把知識放在 Heptabase 時,我們應該設計什麼樣的機制來讓他們可以溝通和整合彼此的知識來完成重要的工作和研究。針對這個主題,我創建了不同的子白板來研究不同的領域,像是團隊工作區、網路論壇、通訊工具、部落格平台、AI 整合等等。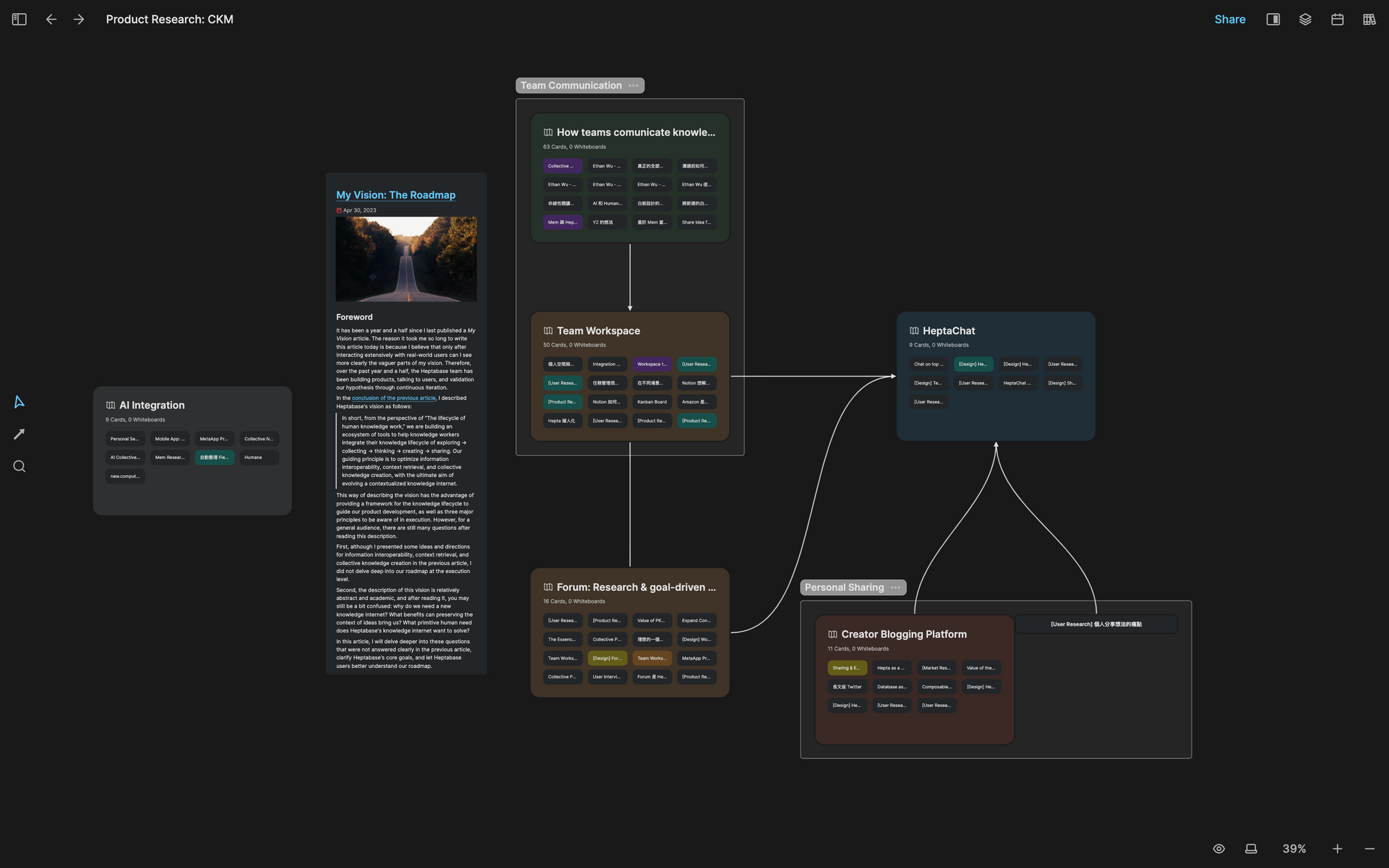 舉例來說,我有一個叫 How teams communicate knowledge 的子白板專門在研究不同的團隊如何交流工作上的知識。為此我訪談了許多團隊,並在這個白板中拆解和分析這些訪談中共同出現的規律和線索。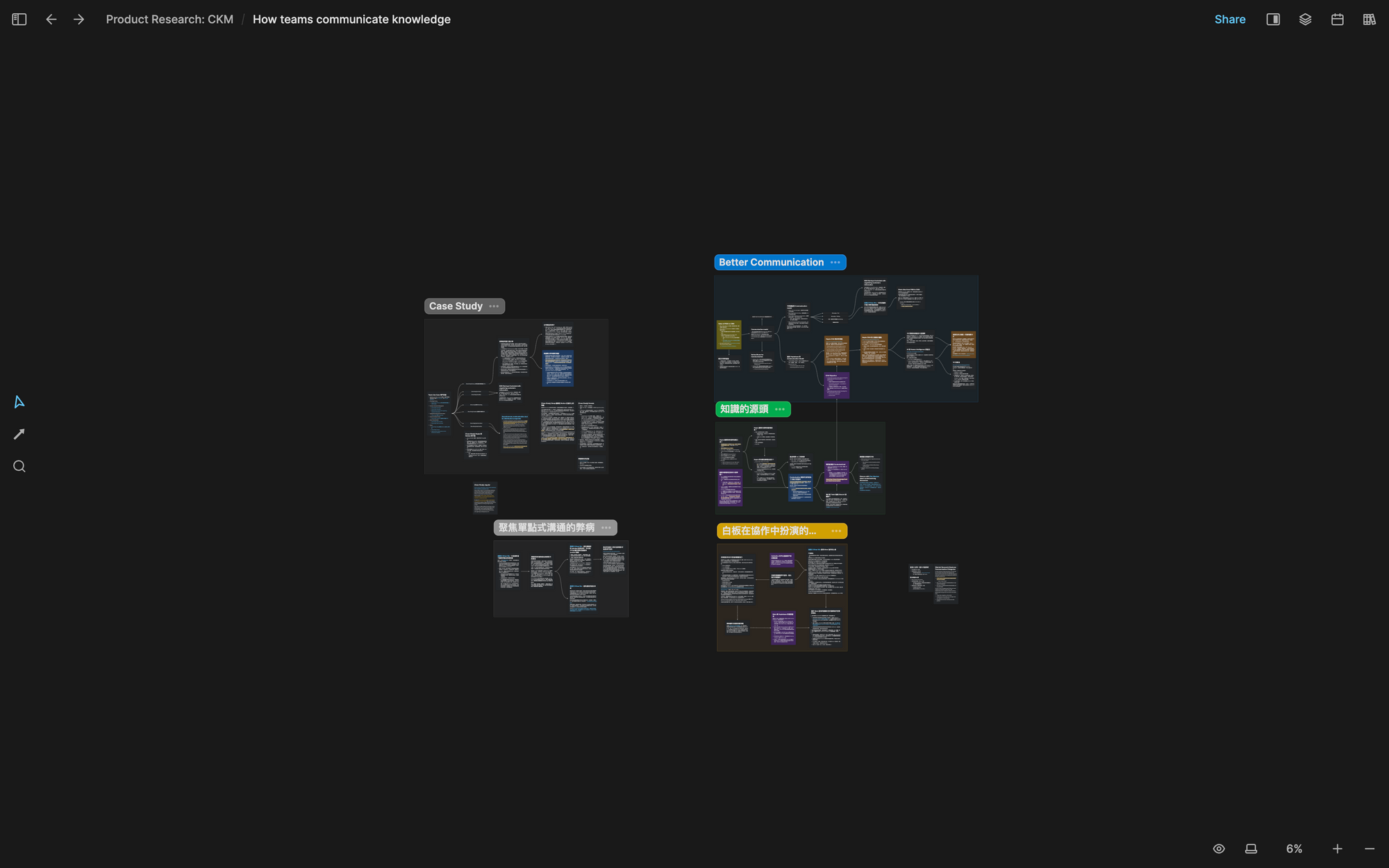 當我找到了一些重要的規律和線索時,我就會到另一個名叫 Team Workspace 的白板中,以這些線索為原點去思考 Heptabase 未來可能可以嘗試的發展方向、設計基於 Heptabase 的卡片溝通協議。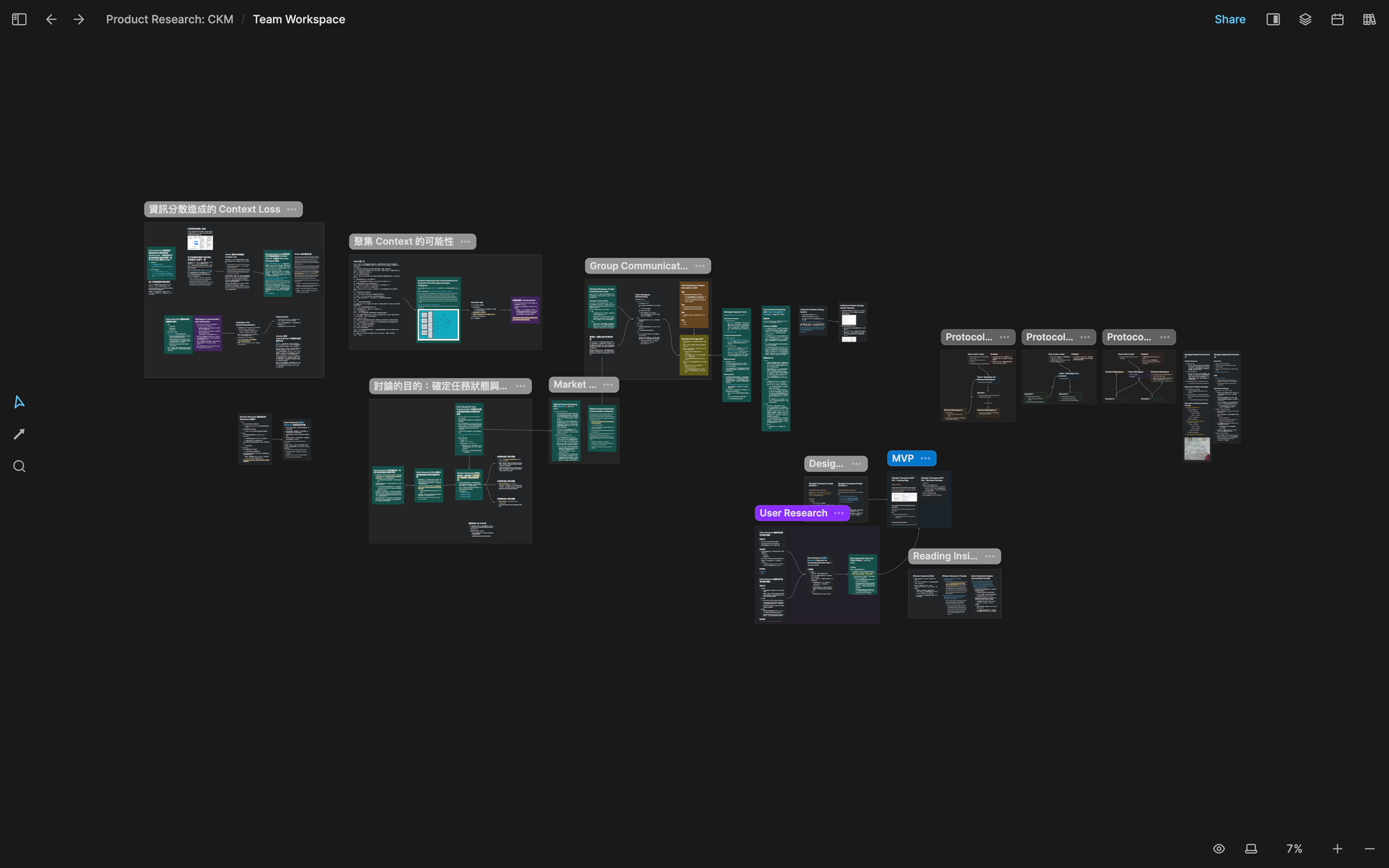 不管是 PKM 白板還是 CKM 白板,它們帶給我的最大好處是讓我可以連續幾個月去逐步發展針對某個主題的研究。每當我有新的訪談資料或產品想法時,我總是可以回到這些白板中去將它們整合到我既有的研究成果上,我認為這件事情至關重要。
很多人使用筆記軟體時會過度聚焦在把所有的筆記都整理進一個「完美的架構」裡頭,但我一直覺得這不僅很難做到、就算做到了意義也不大。每一個研究都有它獨一無二的架構,而白板的自由度讓我可以讓每一個研究都按照適合它的架構去成長、積累。做筆記從來都不是我的目的,而是幫助我把研究做好的一個過程。傳統的筆記軟體雖然也能累積很多筆記,但卻難以將這些筆記整合成重要的研究成果。
公司策略: 2022 Q4
產品成長理論
在 2022 年的最後一季,除了繼續進行我的產品研究以外,我也開始投入一些時間學習更多與產品成長有關的理論,讓我能更加清晰地制定公司未來二年的成長策略。一個產品的成長是由三件事情所驅動的:留存率、獲客能力、定價。我為這三件事情各自創建了一個白板做深入研究。
在 Retention & Engagement 這個白板中,我研究了測量留存率的方式,以及提升留存率的三種方法,並將這些知識與我以前寫的跟產品數據分析有關的筆記整合在一起。除此之外,過去投資人給我們的建議,我也會放到這個白板上和相關的筆記做比較。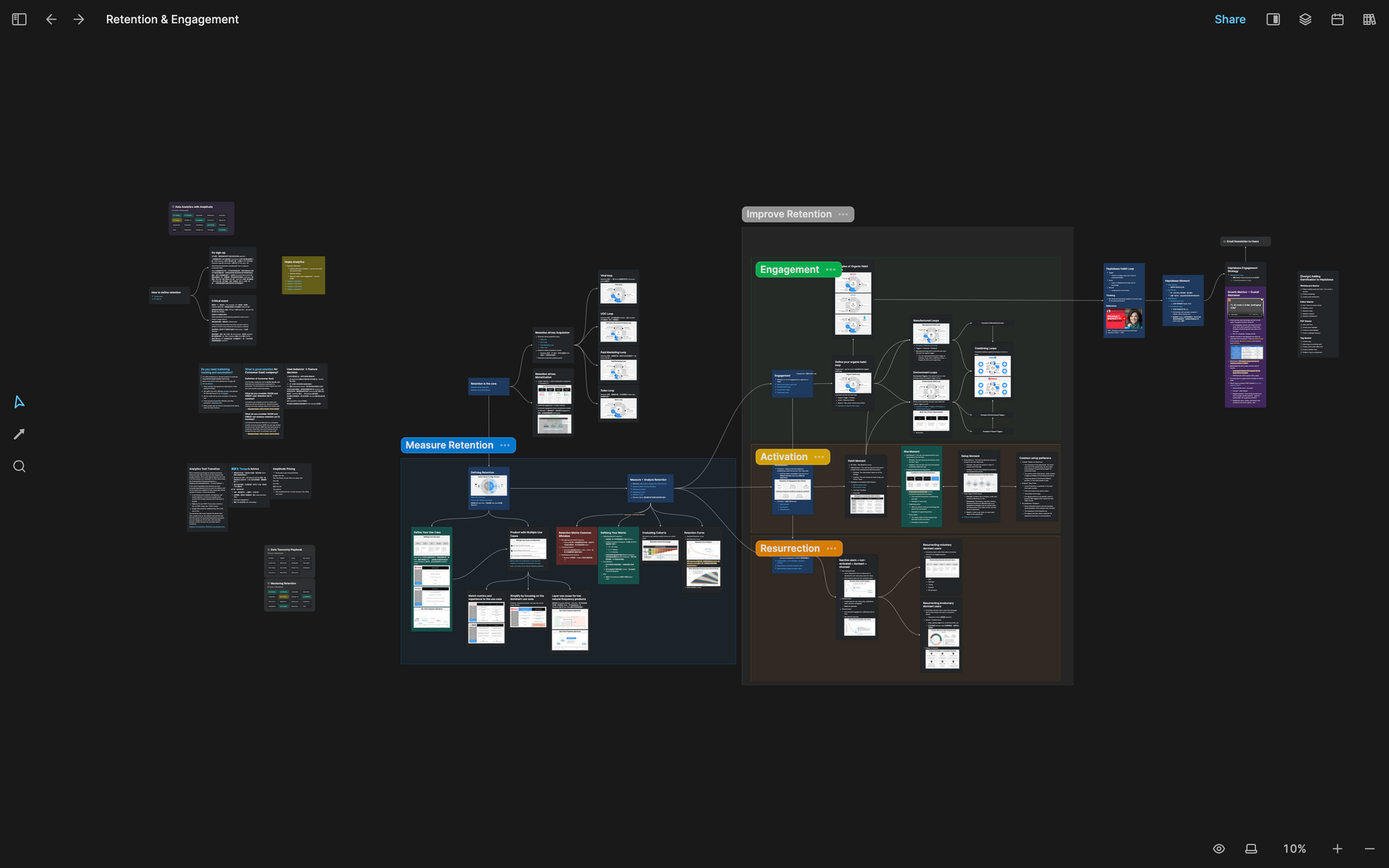 在 Acquisition: Marketing & Sales 這個白板中,我研究了不同類型的獲客方式,像是病毒式行銷、內容行銷、付費行銷、業務銷售等等。我同時也創建了一些子白板,在這些子白板裡整理我們公司在面向客戶的渠道上使用的素材。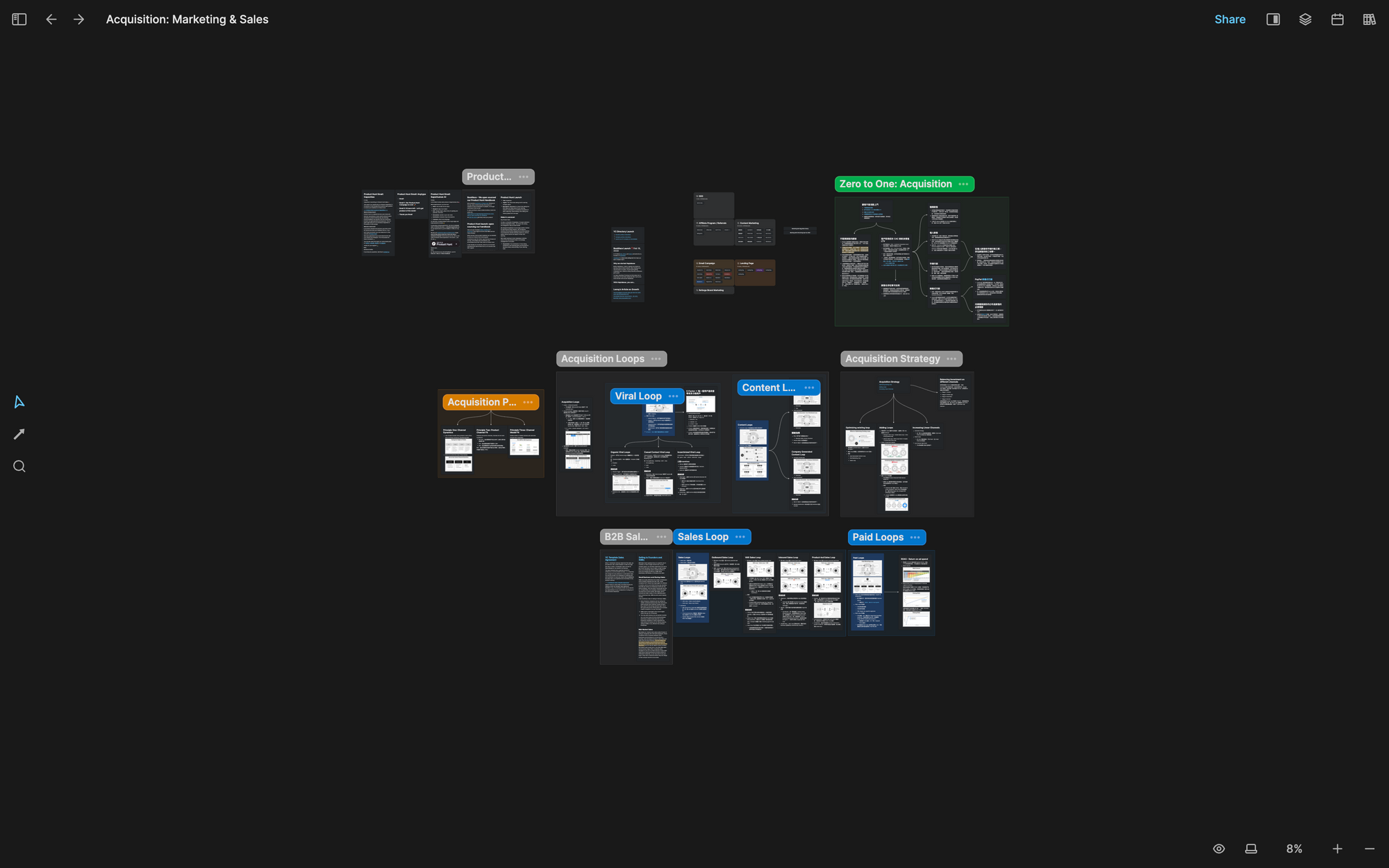 在 Monetization & Pricing 這個白板中,我將我所學到的定價知識都整理在一起,包含定價策略、測量定價成效、優化定價等等。我也把產品在 Closed Alpha 和 Open Beta 階段我對定價的思考全部整理到這個白板裡頭。每當公司邁向下一個階段時,我就可以根據這個白板中的知識去思考定價策略上該如何調整。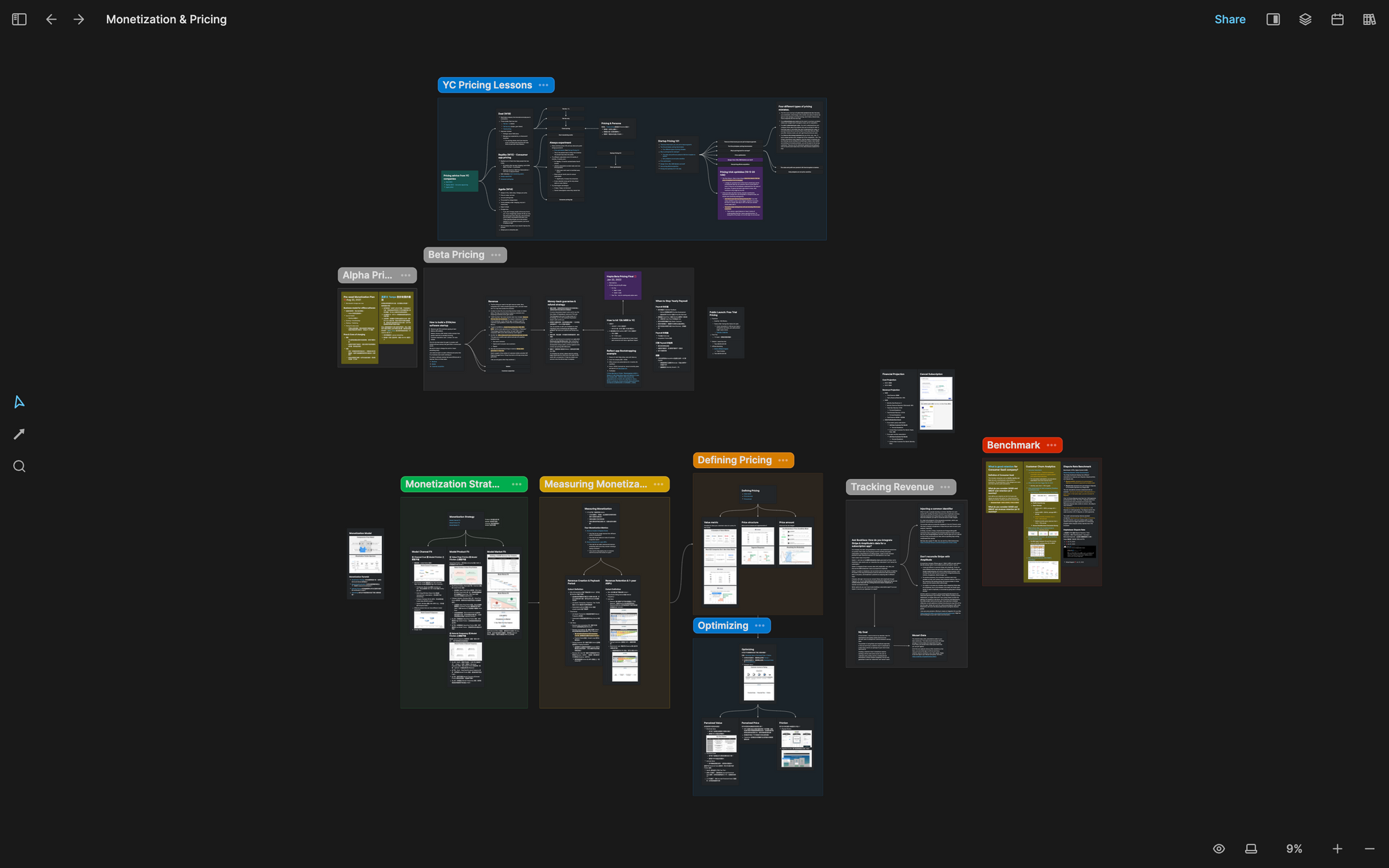 成長和競爭策略
在 Retention、Acquisition、Monetization 這三個白板的研究告一段落時,我創建了 Company Growth Strategy 和 Company Competition Strategy 這二個白板,專門用來制定公司的成長和競爭策略。
在創建 Company Growth Strategy 這個白板後,我做的第一件事是把 YC 和投資人分享過的重要觀念以及我們過去一年半採用過的成長策略全部都整理進來。我將用戶成長劃分成不同階段:1-10 個付費用戶、10-100 個付費用戶、100-1000 個付費用戶、1000-10000 個付費用戶、10000-100000 個付費用戶、… 依此類推。我為每個階段都創建了一張卡片,在裡面寫下我在這個階段已經採用、或是未來打算採用的成長策略,以及在關鍵指標上要達成的目標。我同時也將我搜集到的幾個關鍵指標在市場上的 Benchmark,讓我可以將公司當前的表現與這些 Benchmark 比較、判斷我們的強項和弱項分別有哪些。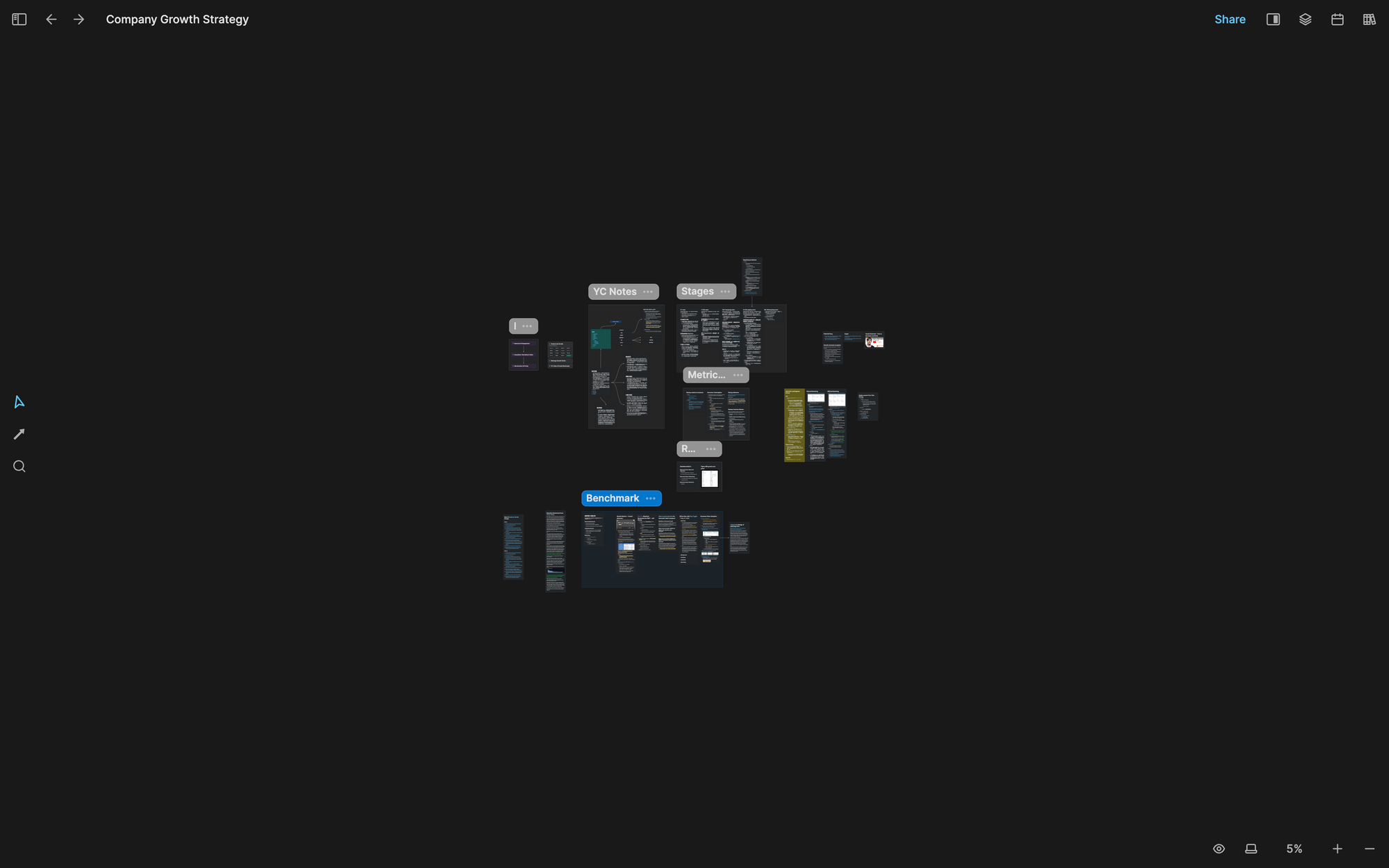 在 Company Competition Stragtegy 這個白板中,我放了很多我以前紀錄的、跟競爭有關的讀書筆記。我有一個白板叫 Reading Notes,裡面的每一個子白板都是我以前讀過的某一本書。舉例來說,Peter Thiel 的 Zero to One、Clayton Christensen 的 Innovator's Dilemma、中國古代的孫子兵法都各自擁有一個白板。我會從這些白板裡頭選取所有與競爭思想和策略有關的卡片,將這些卡片復用在 Company Competition Strategy 的白板上,幫助我一眼看清楚許多偉大思想家的競爭思想之間的共性和差異。每當我們遇到新的競爭對手時,我都會回到這個白板上去思考我應該如何看待這些競爭。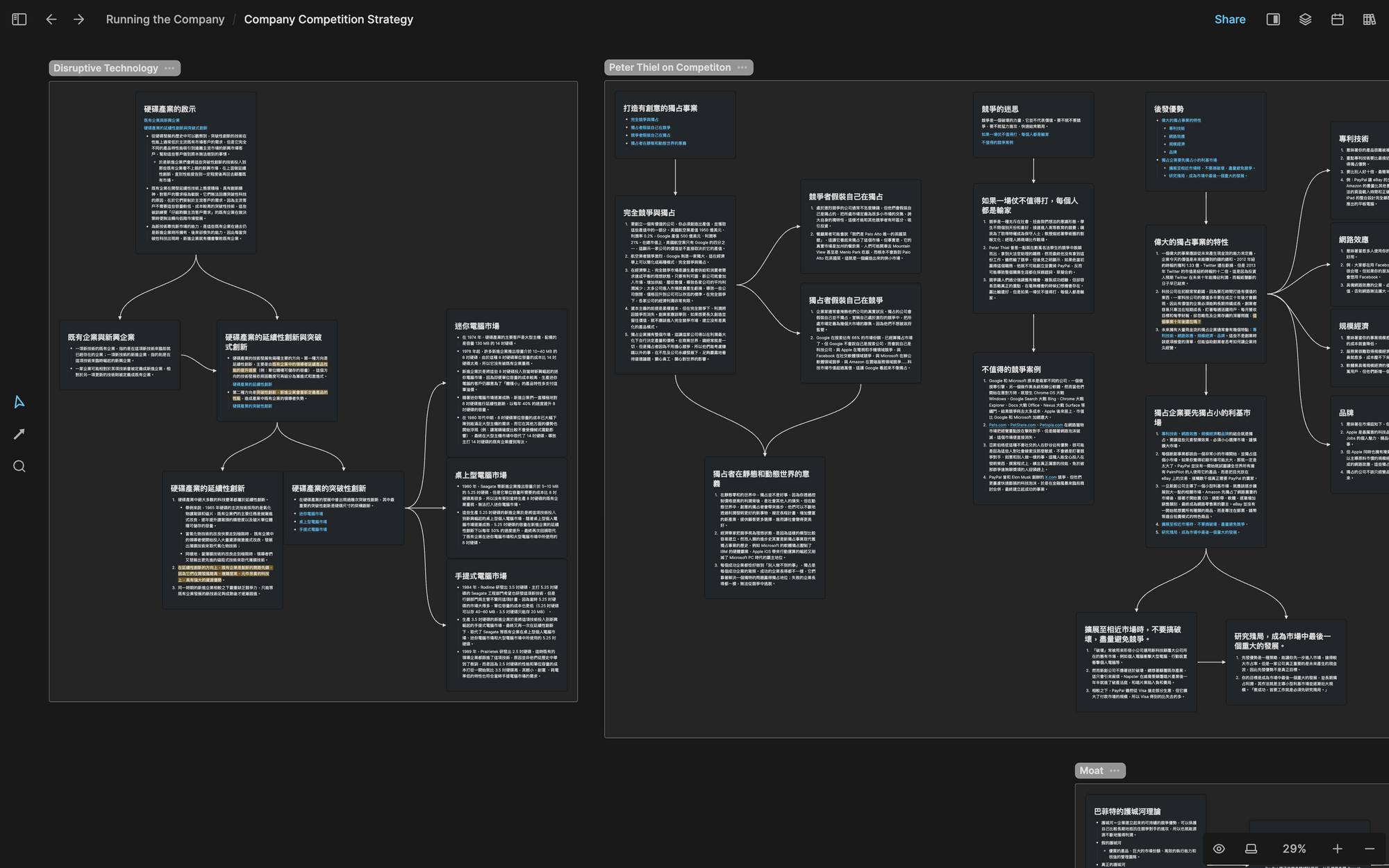 公司營運
除了產品研究、籌資、成長策略、競爭策略外,我在經營公司的過程中還需要做很多其他事情,像是招聘、建立公司文化、帶領團隊與任務分派等等。隨著與公司有關的白板愈建愈多,我決定創建一個叫 Running the Company 的白板,將大部分與公司營運和策略有關的白板放進來。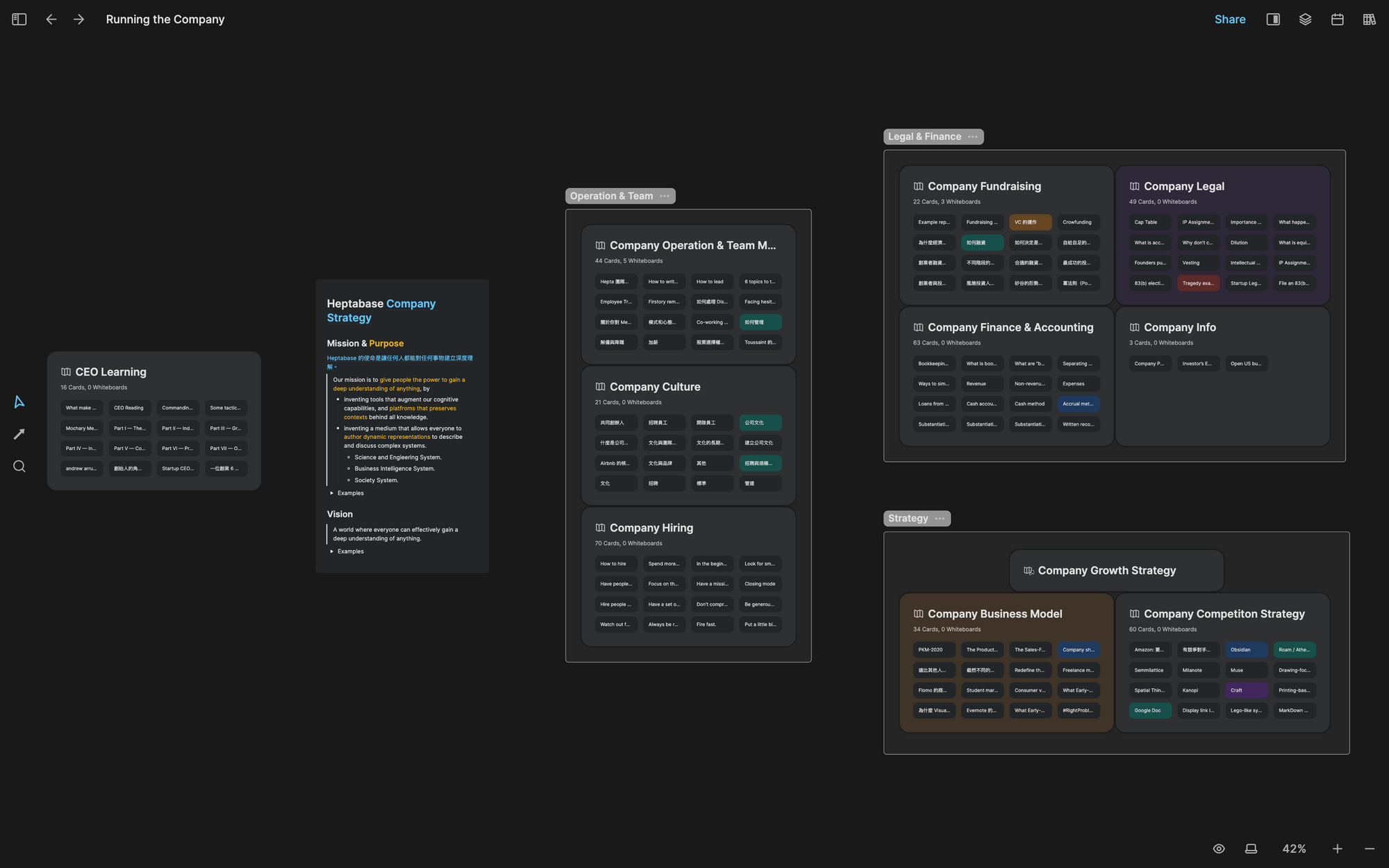 透過這個例子你會發現,在 Heptabase 寫筆記時,你不需要在一開始就把白板之間的階層架構關係想清楚。你只要按照你的學習和研究方式去發展你的白板,時候到了你自然會將相關性高的白板用最適合它們的方式整理在一起。在 Heptabase,梳理架構是一件自然、低阻力的過程,兒不像在其他筆記軟體那般痛苦。
產品研究: 2023 Q1-Q2
人機互動研究
在 2023 年的上半年,隨著既有的產品逐漸成熟,我再次把重心轉移回產品研究上,規劃產品下一階段的發展。
與前一年的研究不同的是,我這次的研究花更多時間在重新研讀重要的人機互動文獻,彙整計算機先驅們在過去七十年提出的許多想法,以及這些想法在當代的可行性。我第一個回顧的文獻是 Mitchell Waldrop 寫的 The Dream Machine 這本書,這是我認為迄今在計算機歷史脈絡上寫得最好的一本書。我為這本書創建了一個白板,從左到右是時間軸,藍色的卡片代表人機互動想法、綠色的卡片代表計算機先驅、黃色卡片代表專案和新科技、其他卡片代表公司和事件。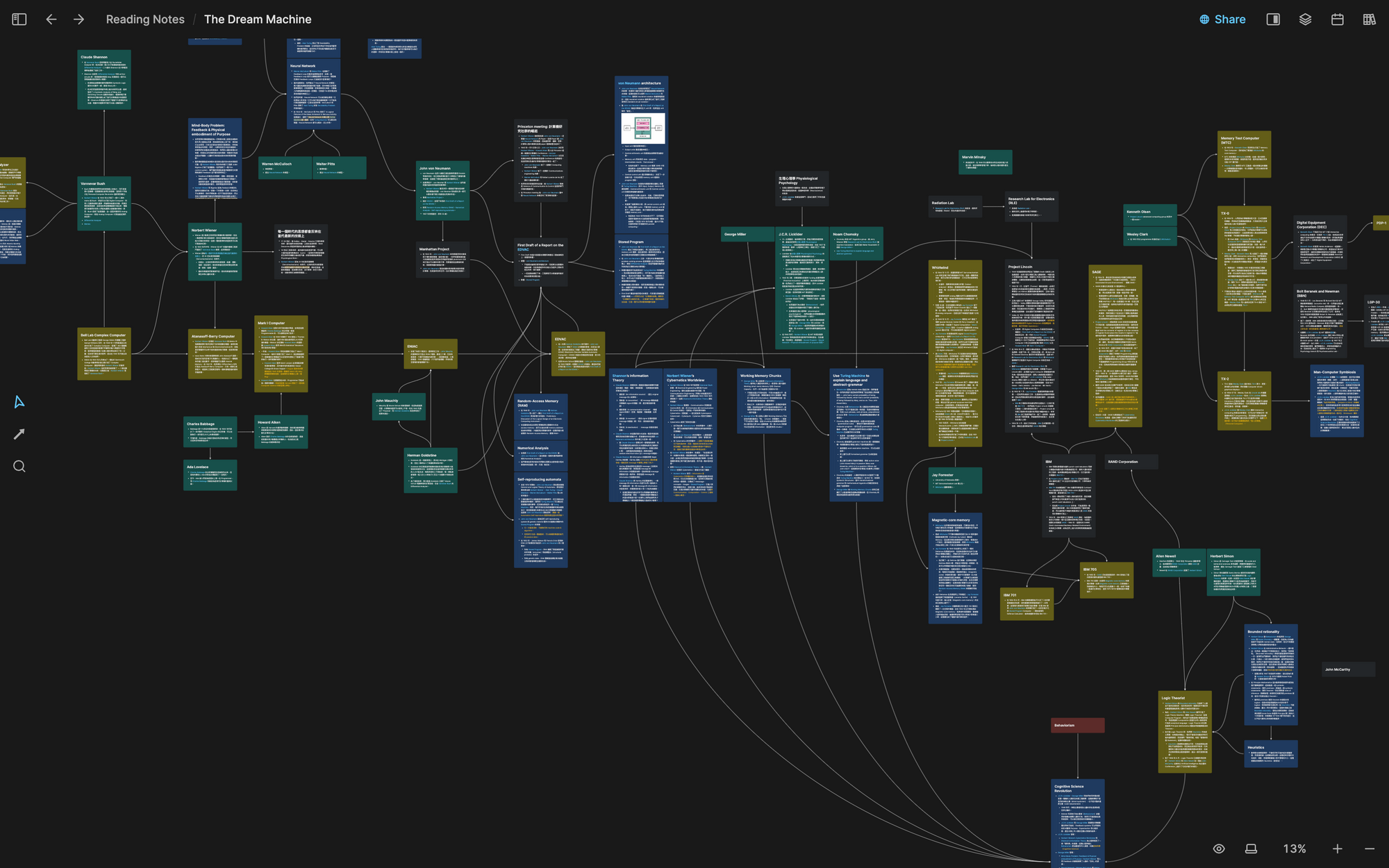 在將歷史脈絡梳理清楚後,我開始深入研究幾個我認為思想跟我們公司目標較相近的計算機先驅的思想。舉例來說,我為 Alan Kay 創建了一個白板,在裡面研究他在 Xerox PARC 發起的 Smalltalk 專案,以及這個專案背後有關物件導向程式設計的啟蒙思想。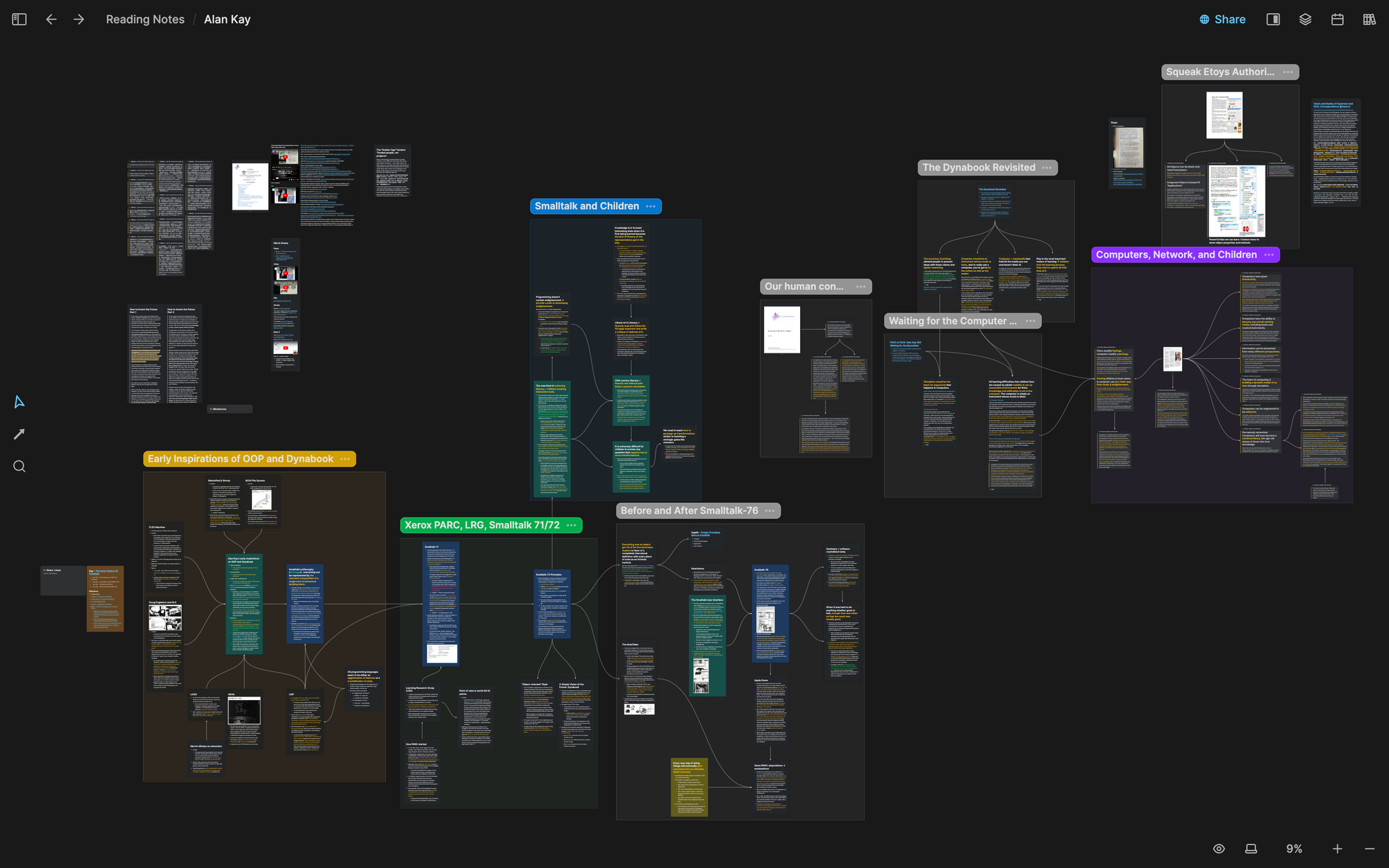 另一個影響我很深的計算機先驅是 Seymour Papert,我為他創建了一個白板叫 Mindstorms,這是他最經典的一本著作,內容在講他如何以 Jean Piaget 的認知發展理論為基礎思考計算機可以如何影響兒童教育。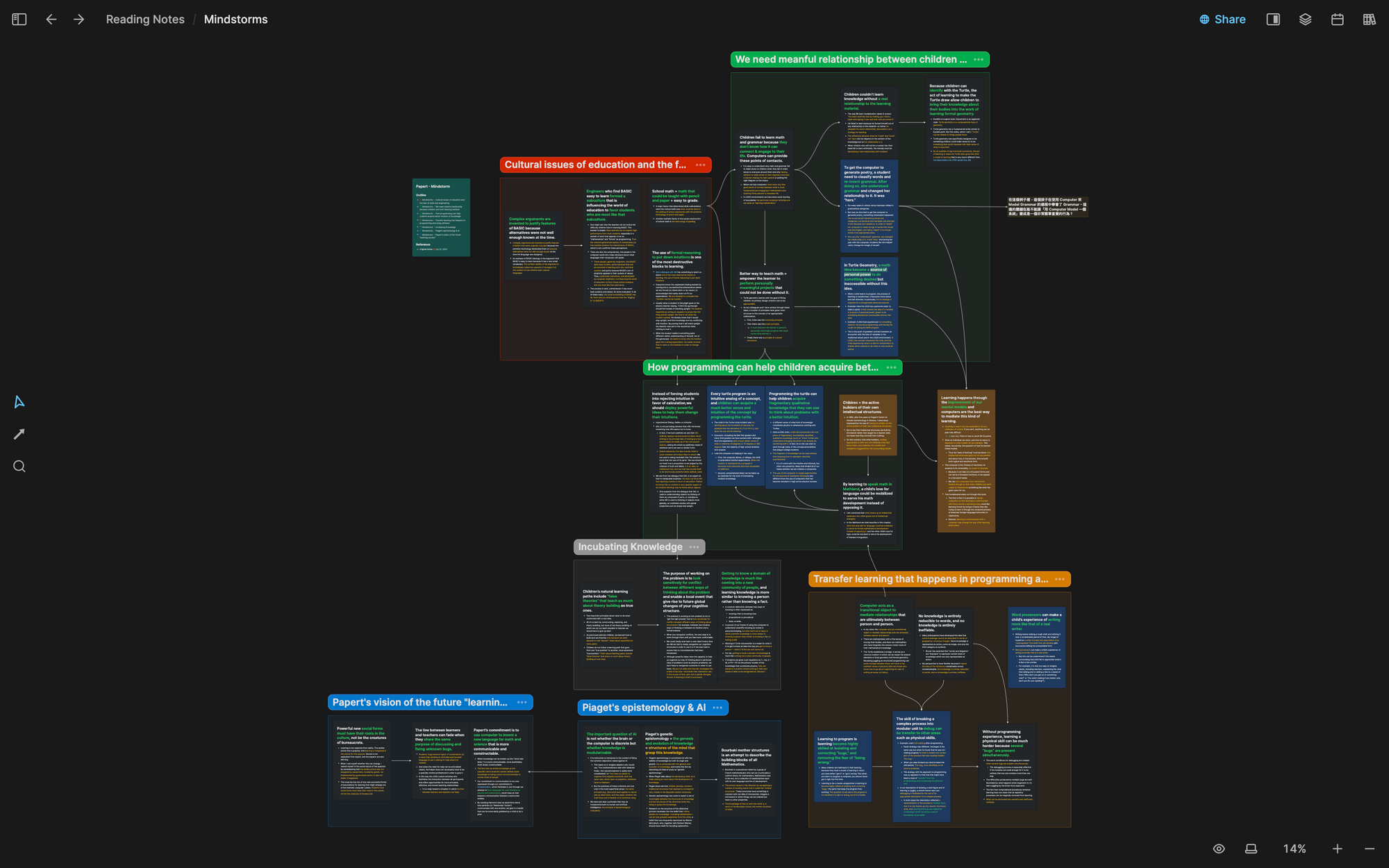 除了 1970 年代的計算機先驅外,我也花了不少時間在研究當代的人機互動研究,其中對我啟發最大的無疑是 Bret Victor 和他的 Dynamicland 專案。我為 Bret Victor 創建了一個白板,將他給過的每一個演講以及發布過的每一份報告拆解成卡片筆記,利用 Section 和心智圖在這個白板上梳理這些卡片之間的關聯性。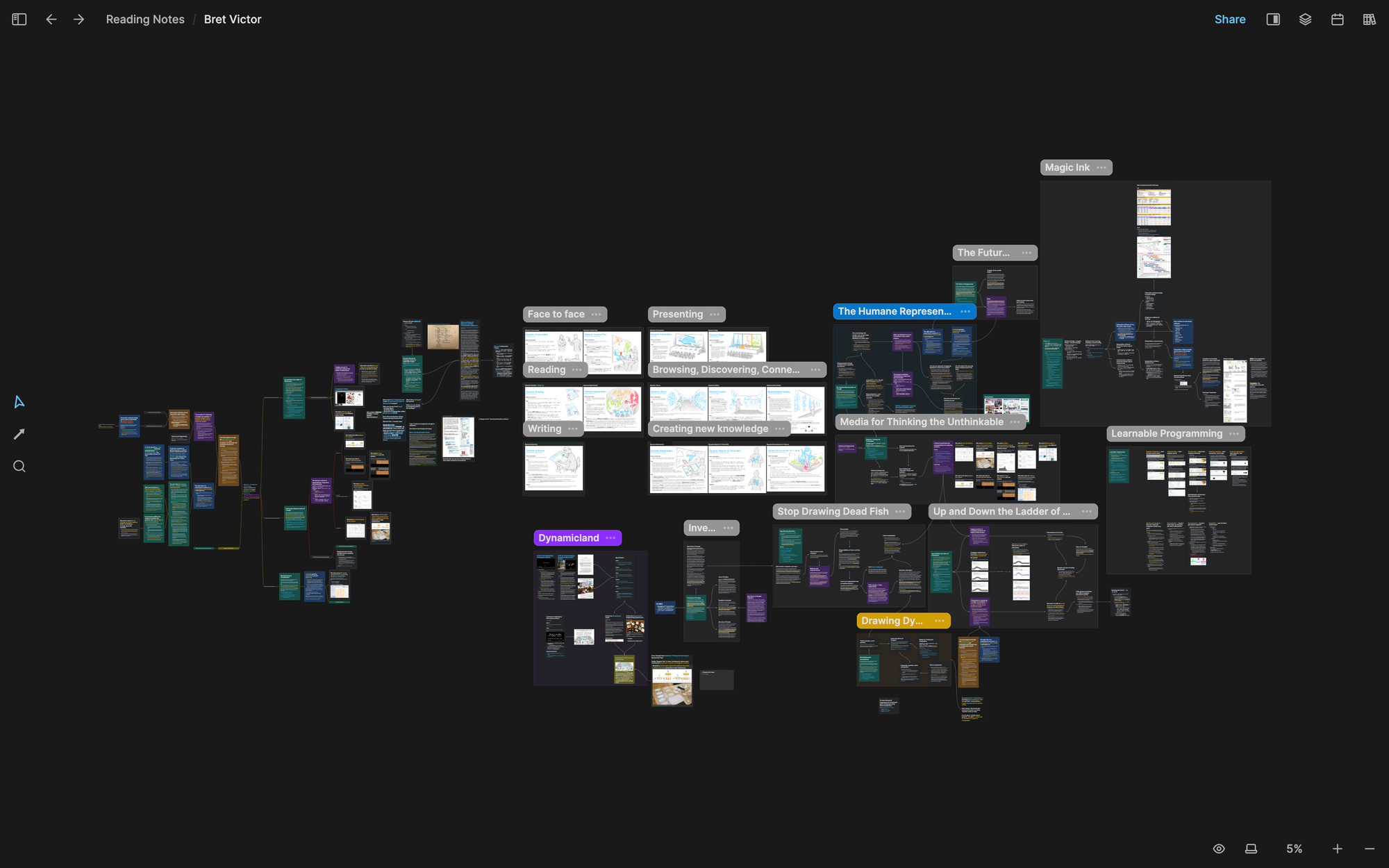 隨著我的研究筆記累積的愈來愈多,我對於 Heptabase 下一個階段的發展目標也變得愈來愈清晰。為此,我創建了一個新的白板,將所有我認為對接下來產品設計和開發方向至關重要的研究筆記復用進來彙整。我的這些研究筆記不只能幫助我理解和複習我的研究主題,它們更是確確實實地對我正在做的工作產生巨大的影響力!
結語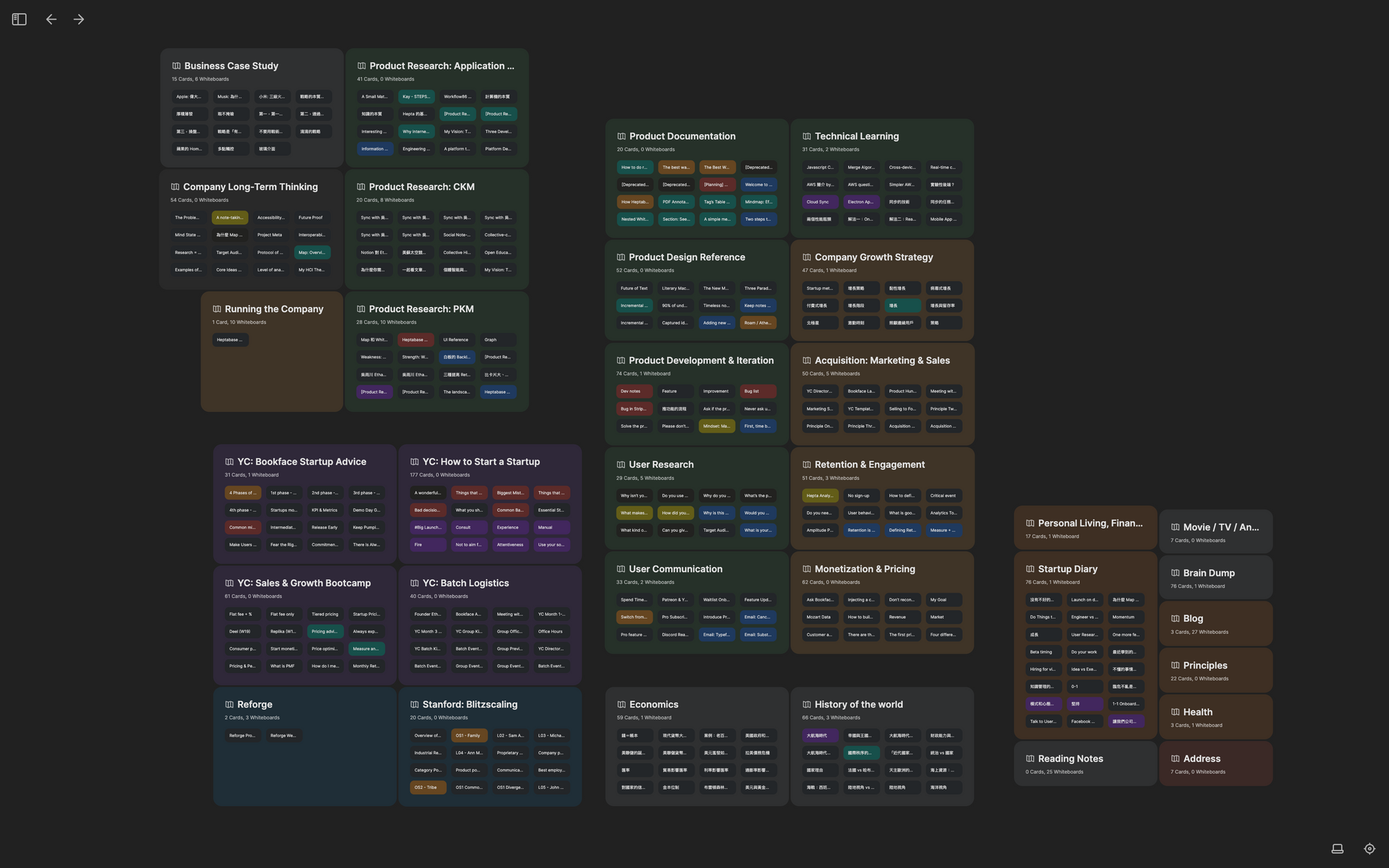 這篇文章記錄了我在過去二年使用 Heptabase 學習、研究、規劃和寫作的重要經歷。這二年下來,我創建了約四千張卡片、一百八十個白板。即便如此,我總是能找到我以前寫的學習和研究筆記,並透過它們所處的白板輕易地回憶起當初的思考狀態。除此之外,我還可以以我過去的所學、所知為基礎,持續地拓展新的學習和研究、規劃新的專案、寫出新的文章。
在這二年來,我從來沒有強迫自己一定要很有紀律地使用某個特殊的方法論來寫筆記。相反地,我每次寫筆記時只會專注在當下的目的,然後試圖在白板上把筆記整理成最能幫助我達成目的的架構。這樣的方法令我百試不厭,我也總算獲得了安寧、不再擔心自己會隨時間忘掉我過去的所學,因為我知道我習得的一切知識通通都以最適合它們的結構保存在 Heptabase 裡頭,等待著下一次被我用上的時機。
如果你是第一次使用 Heptabase 的用戶,我鼓勵你不要花太多時間去想「什麼是適合我的筆記方式」,因為就像我在文章開頭所講的,記筆記只是一個過程,而非目的。當你把問題換成「我想透過我的筆記達成什麼樣的目的」時,你會更容易豁然開朗、進而達成你的目的。而 Heptabase 基於卡片和白板的視覺化筆記系統,正是在你問出這個問題時才會發揮它最大的功效。
延伸閱讀